Replace Email With Private Messages
Focus on providing employees a better employee experience by eliminating the drawbacks
of using email for internal communications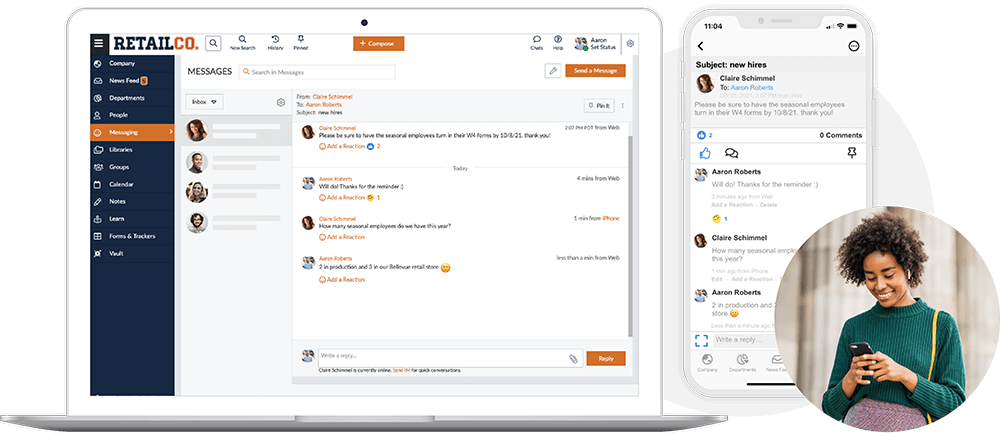 We've got a lot of delivery drivers and warehouse associates that don't have a company email address. MangoApps allows us to reach them and helps bridge the gap between our workers. Anyone can talk to anyone now and I think it is helping our drivers and warehouse employees feel more in the loop.
- Rebecca Stone, Internal Communications Coordinator, Ram Tool

MangoApps Email ID
All active users are assigned a unique MangoApps Email ID. This allows employees without company-issued email addresses to still receive important communications, helping integrate them further into the workforce.
Select Message Recipients
When creating a message, you receive access to the full company directory, and can filter recipients by office location, department, skills, and any custom fields you have in your directory.
Edit Messages
At Any Time
Unlike email, users can edit messages after they've been sent to fix typos or add additional thoughts, without ever having to recall a message.
Transparent Communication
Participants can be added to a thread at any time, making past messages visible and searchable by anyone in the conversation. To ensure transparency, private messages cannot be forwarded or BCC'ed.
Respond To
External Emails
External emails can be set to forward to your private message inbox, and you can send responses without leaving MangoApps.
There is no limit to the number of files or file size sent in private messages. Simply drag and drop the file into the conversation, or use the attachment tool!
Active users & whitelisted external email addresses can send full HTML emails to any MangoApps user or team.
Emails from a sender, system, or IP address range not on the 'allowed' list are automatically marked as undeliverable, ensuring only relevant internal communications make it to users.
Recover past conversations or look for a keyword by using the search functionality. All matching search terms are highlighted, making it easy vto find the right message.
I'm ruthlessly getting rid of firm-wide email, and driving traffic to the intranet. Firm-wide email isn't searchable. If I don't read something, or don't see it, or let it get a hundred down in my inbox, or hit the delete button by accident, there's no institutional memory. With MangoApps, we know what we did, and when we did it. We know where to find the answer if we're not sure what we said. This creates an archive and holds us to what we said we were going to do, which is fantastic.
- Debra Helwig, Senior Internal Communications Manager, KCoe Isom

Additional Private Messaging Features
Get immediate insight into who has read a sent message (and when) with read receipts.
Conversations can be muted by the user as they lose their importance, allowing messages to remain in the inbox without active notifications.
New messages can be ordered by oldest or newest first, while unread and pinned messages can be filtered to determine urgency for response or follow-up.
Archive conversations to keep the inbox tidy, while keeping the conversation searchable for future reference.
Users can set a reminder for any given time/date, prompting them to respond or react to a message at a more appropriate time.
How Our Customers Use Private Messages
Distraction-free
Communicate free from external distractions
Foster Collaboration
Ask questions or collaborate privately with the right people
Keep Everyone In The Loop
Find and add colleagues to the conversation at anytime
Stay Organized
Keep important messages sorted and flagged for follow-up
Improve Company Culture
Improve company culture with engaging reactions, images and emojis