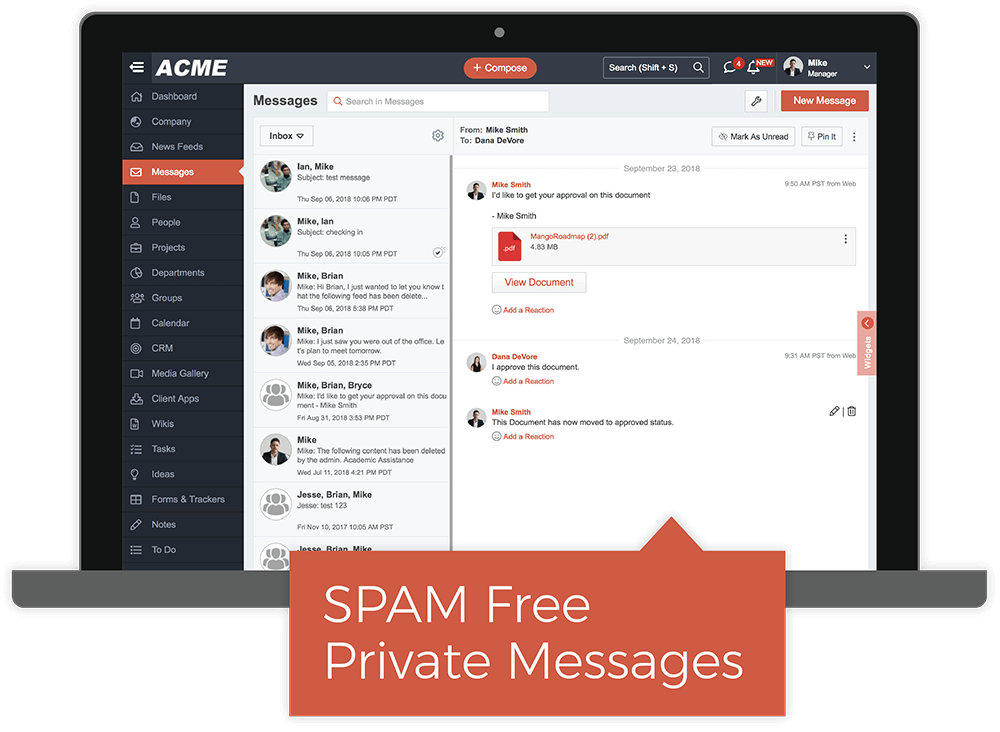 Replace Email With Powerful Private Messages
With Private Messages, MangoApps has removed the drawbacks of using email for internal communications while improving the user experience. Without the external distractions of SPAM or having to overcome the fear of phishing emails, users can focus solely on communicating. All messages are sent safely and securely and provide instant dialogue with any number of coworkers, all in the MangoApps environment.
Everyone in MangoApps Gets an Email ID
All active users are assigned a MangoApps Email ID, regardless of their role or job function. While some employees may already require traditional email accounts, giving employees without a company issued email address a place to receive important email-centric communications without using their personal email, helps integrate them further with the workforce.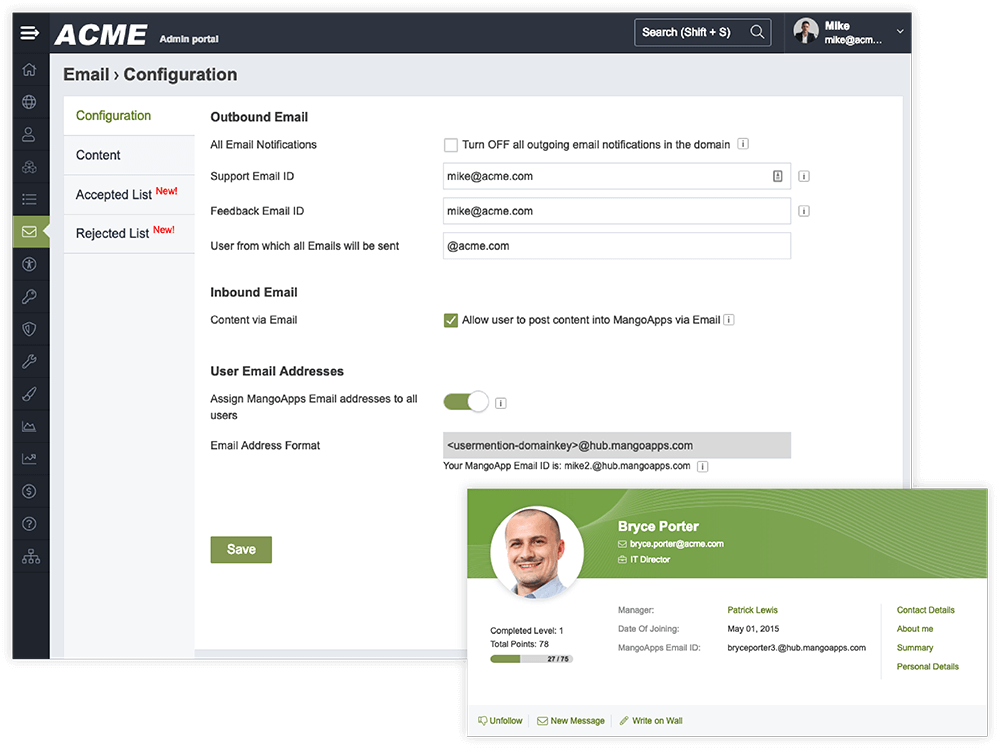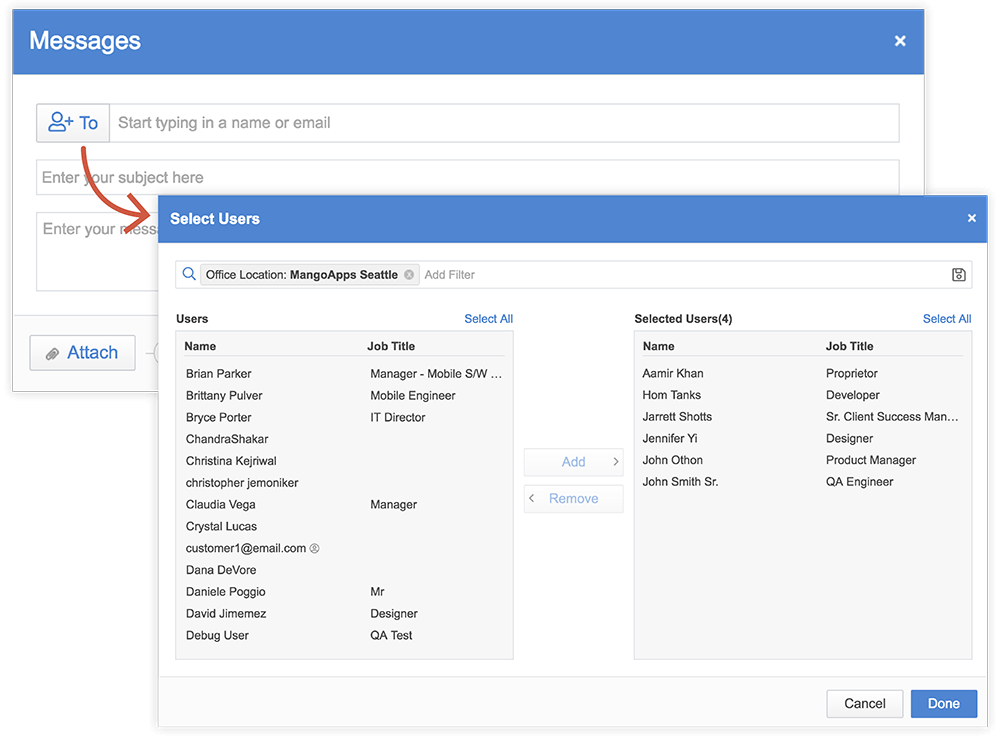 Filter and Select Recipients Like Never Before
Users can start conversations directly from any page using the static 'Compose' button or directly from the inbox. Unlike email, a full employee directory is immediately available, with an extensive number of available filters. Users can filter their recipient(s) based on a number of specific criteria and attributes, including: office location, department, team, join date, skills, and more.
Transparent and Consistent Communication
Unlike email, users can edit messages to fix typos or add additional thoughts, without ever having to recall a message. Participants can be added to a thread at any time, making messages visible and searchable by anyone in the conversation. In addition, to ensure transparency, private messages cannot be forwarded or BCC'ed.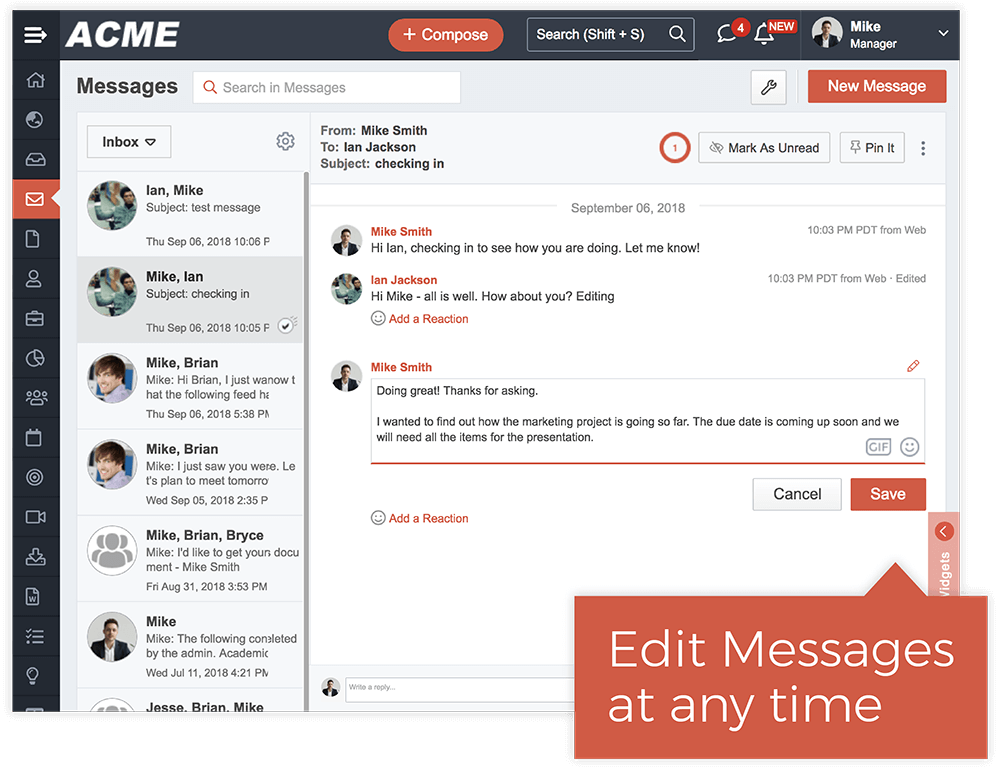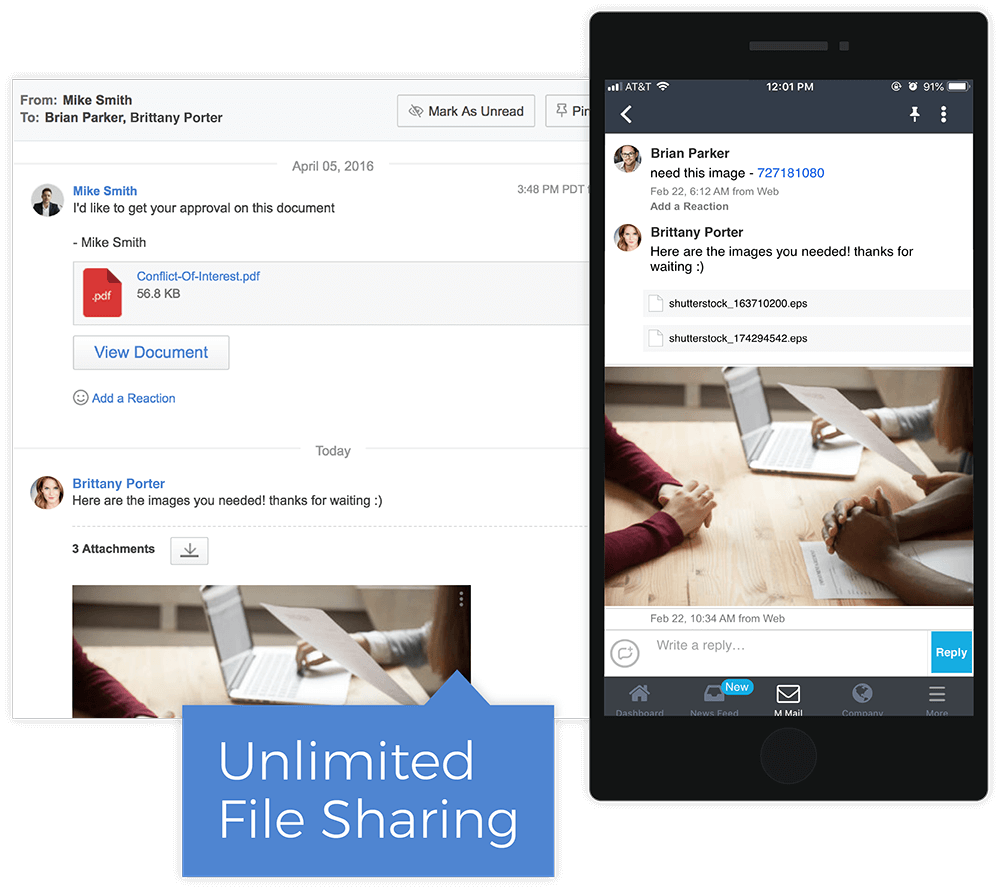 Message In Style With No File Attachment Limits
With no limit to the number of files or file size, users no longer need to worry about sharing attachments over the email provider's limit. Attaching files or media is made easy with the simple drag and drop of files into the conversation or with the attachment tool. MangoApps also make conversations interactive and engaging with animated GIF images, emojis or the ability to react with emotion directly to messages instead of sending tedious short replies.
Receive Full HTML emails as Private Messages
With MangoApps email IDs enabled, active users and white-listed external email addresses can send an email to any MangoApps user or team using their MangoApps email ID. These emails are then received in MangoApps as a full HTML private message or news feed post.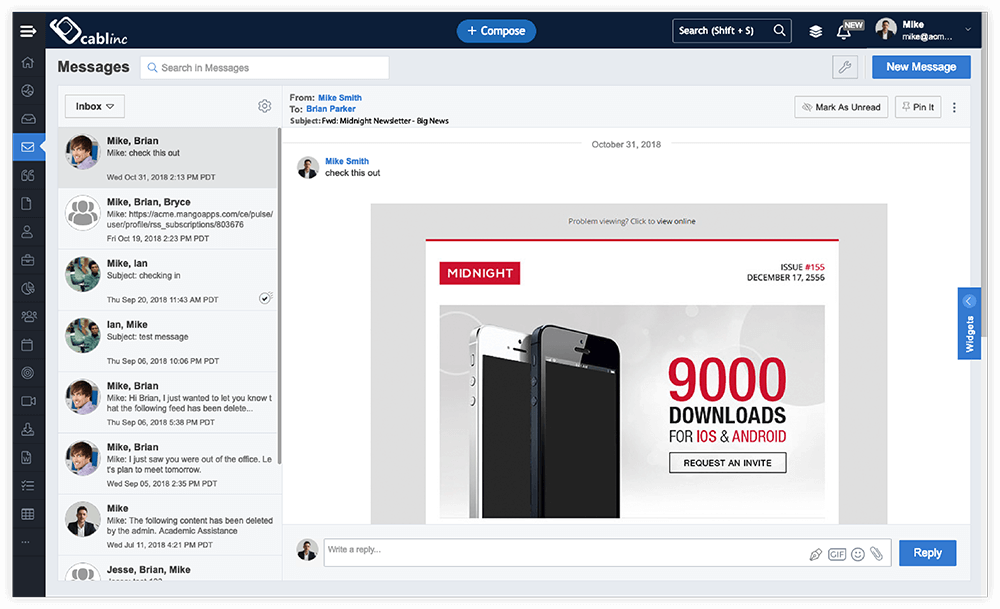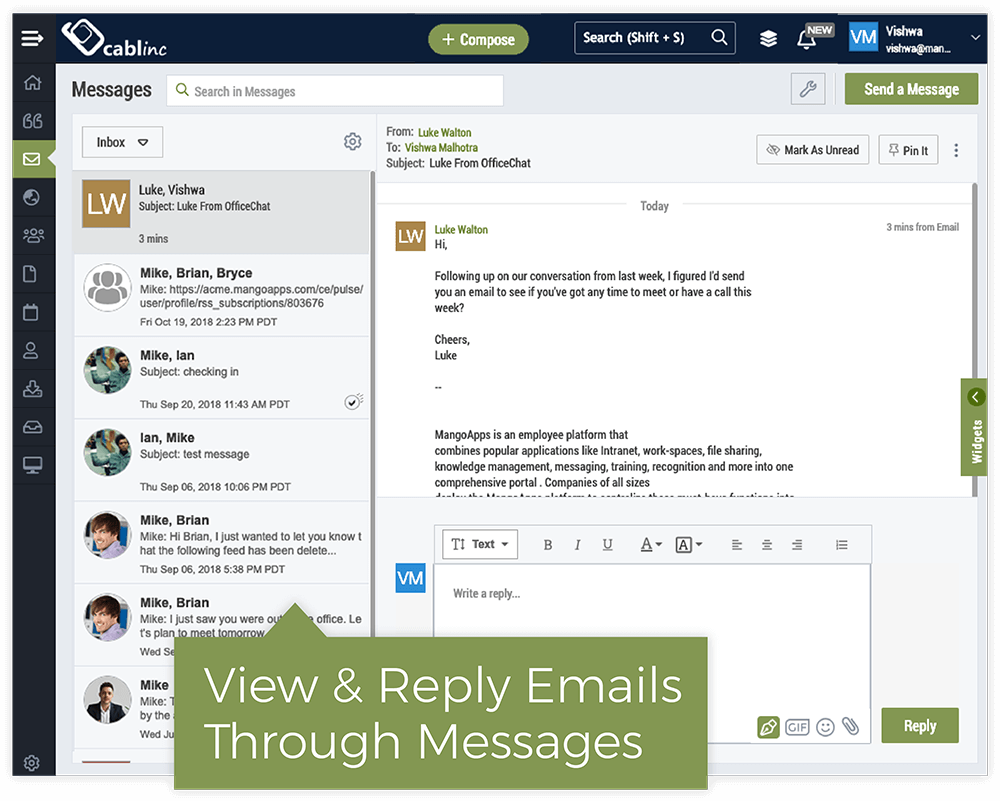 Two-Way Private Messages To External Email Addresses
When a comment/reply is posted in response to a private message received over email, the external email address will receive the reply back over email. This also applies to comments or replies that are posted on the newsfeed when posted via email.
Control Approved Incoming and Outgoing Addresses
Domain admins will setup a list of allowed email addresses that are able to send an email converted to a private message to users in your domain, or to a team which converts the email to a news feed item. This not only allows for white-listing email addresses or trusted external systems, but allows permissions to be set for allowing 1-way or 2-way communication.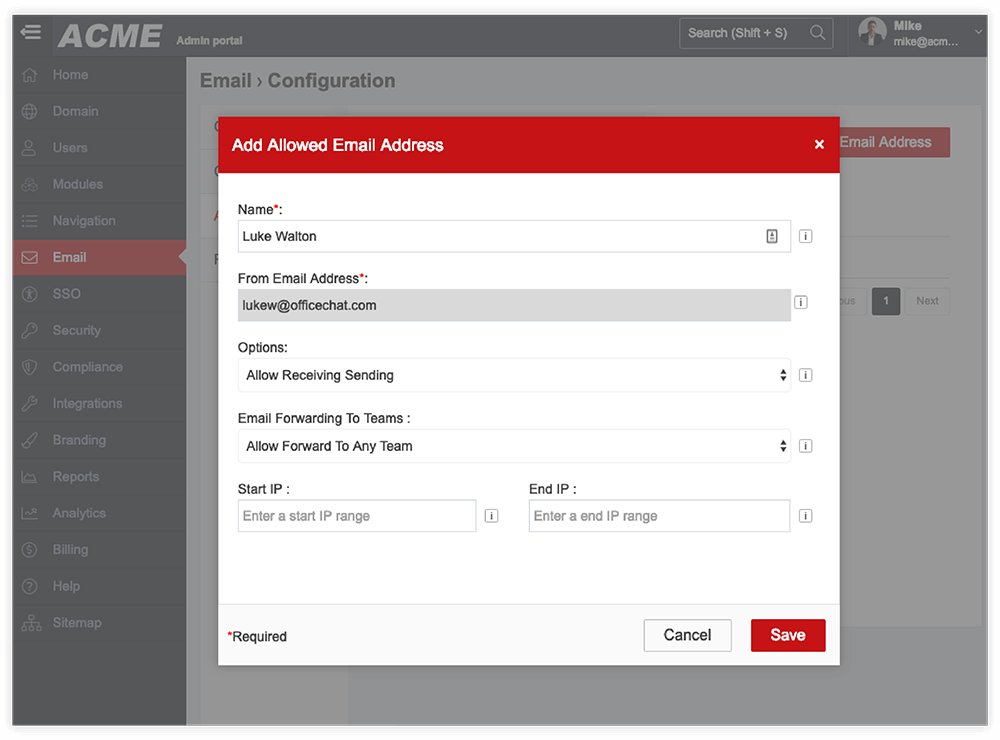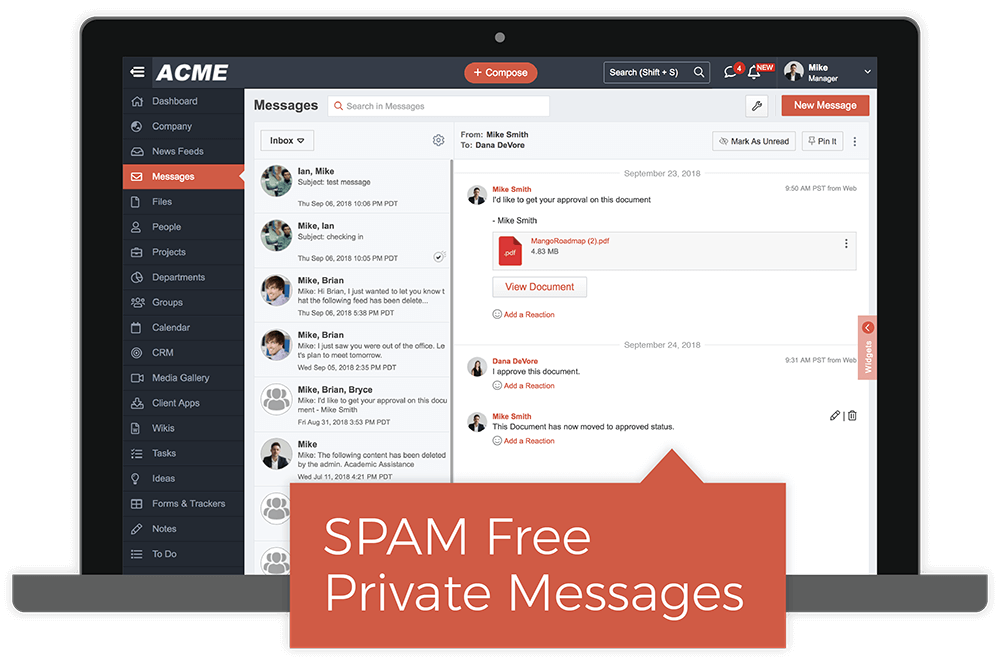 Never Get Unwanted Communications
Emails sent to a user or team that are from a sender, system or IP address range not on the allowed list, will be automatically dropped by MangoApps making it undeliverable. This ensures that only important or internal communications make it to users, and MangoApps remains 100% SPAM free.
Deep Search of Message Content
Search thoroughly through the full content of all messages to quickly find what you're looking for. All search results are actionable, allowing users to respond back, invite others or flag messages for follow-up. All matching search terms are highlighted, to make finding the right message easy.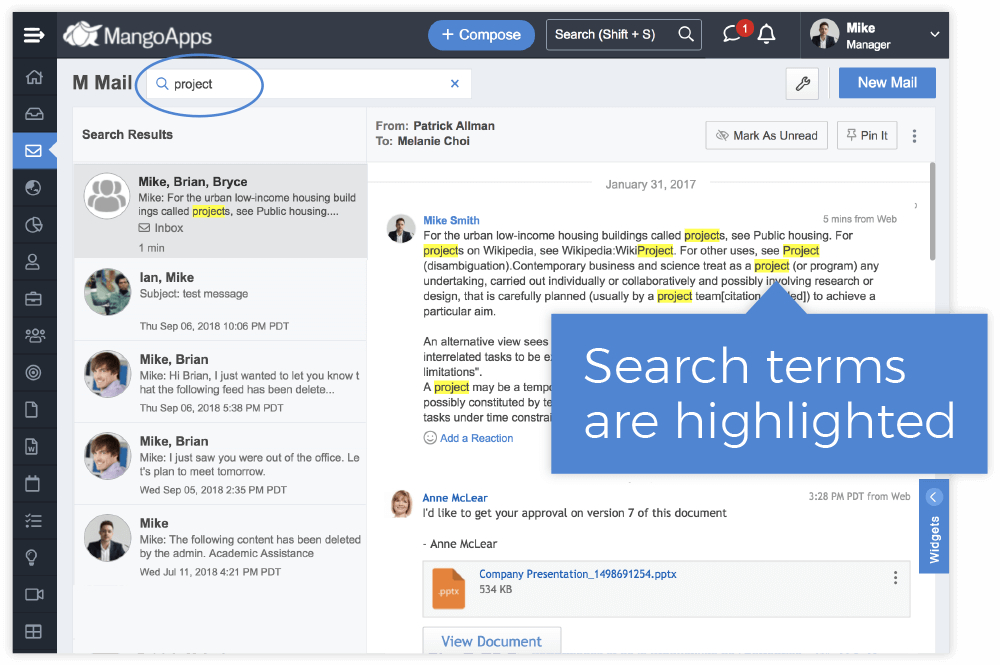 Reminders For Follow-Up
Much like emails, messages may come through at an inopportune moment, which results in a forgotten response. Aside from marking a message as 'unread', users can easily set a reminder for any given time/date with a note, prompting them to respond or react at a more appropriate time.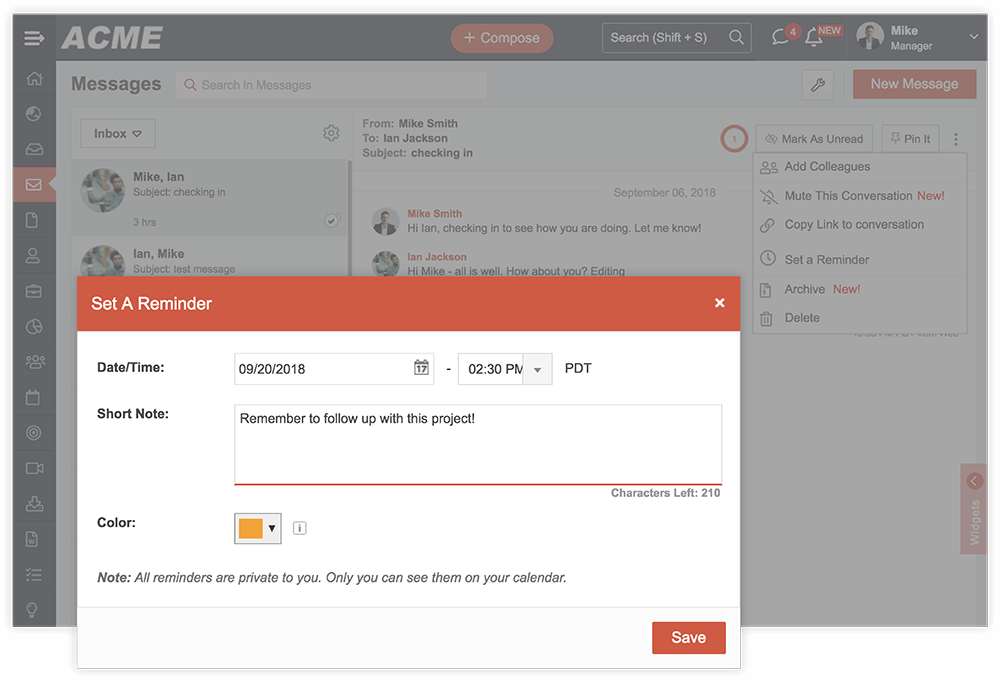 Additional Private Messages Features
Save Money on Every User
Many employees only communicate internally and have no need for a traditional email account, which incurs a substantial expense for the business. By having those users utilize MangoApps private messages for communication, businesses can cut considerable expense, while providing a tool better suited for communication.
Mute or Archive Conversations
Conversations can be muted by the user as they lose their importance or become a distraction, allowing messages to remain in the inbox without active notifications. As message strings reach closure, conversations can be archived to keep the message inbox tidy, while keeping the conversation searchable for future reference.
Expedite Responses with Instant Messaging
If the message recipient is online, users will be given the option to switch the conversation to private messaging to expedite response and more quickly resolve time sensitive communications.
Organized By Importance
Private messages are filtered into the inbox as expected. New messages or replies can be ordered by oldest or newest first, while unread and pinned messages can be filtered to determine urgency for response or follow-up.
Automated Messages
Automatic messages can be triggered to inform users of new certifications or changes to their learning transcript, among other things.
How Our Customers Use Private Messages
1

Communicate free from external distractions

2

Start composing messages from anywhere in MangoApps

3

Ask questions or collaborate privately with the right people

4

Find and Add colleagues to the conversation at anytime

5

Keep important messages sorted and flagged for follow-up

6

Search messages at depth and take necessary action

7

Improve company culture with engaging reactions, images and emojis

8

Remove distractions by muting or archiving selected conversations
Bring your frontline and office teams together on one common platform
It has never been this easy to create the perfect employee experience for your deskless and deskbound workers. Contact us to discuss requirements, pricing, rollout and support. Get your free demo today!