Informative Org Charts
Visual and well-defined org charts help employees see and understand company hierarchy and collaborate more effectively.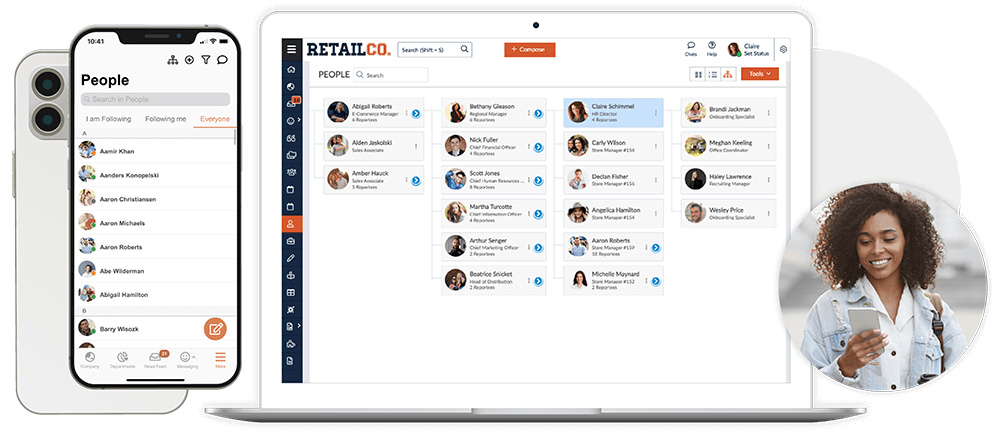 Increase Organizational Transparency
Give employees insight into the responsibilities of colleagues, and provide them with the required contact information to reach out.
Foster Workplace Connections
Clicking on any of the images in the organizational chart leads you directly to that person's internal profile. This makes it easier to see what colleagues are up to and to engage with them.
Active Directory Integration
Automatically build an org chart based on an existing LDAP/Active Directory database. Any changes made in the LDAP/AD server are automatically reflected in MangoApps.
Having a graphical org chart, where you can see your colleagues' faces in pictures and connect to things visually makes a difference. Having a robust people directory helps create efficiency in getting work done, and it's also helpful in maintaining culture.
- Debra Helwig, Senior Internal Communications Manager, KCoe Isom

Complete Admin Control
Any org chart can be edited by a network admin. Admins have the ability to create or invite users manually, and can control permissions, departments, locations, and more.
Export Your Org Chart
The employee directory supports exporting the full organization chart to an image file. This allows people to share the org chart externally, or create a wall poster of the organization chart.
How Our Customers Use Org Charts
Discover Colleagues
Connect the organization and create a catalyst for collaboration and success
Improve Transparency
Allow employees to better understand the company hierarchy
Enhance Coordination
Create an easy visualization of departments to enhance coordination and networking
Upload Lists
Easily upload existing organization lists from file lists or LDAP, or easily add new employees to the chart
Define Org Hierarchy
Clearly indicate the relationships between department heads, management, and direct reports