Capture Employee Ideas In A Instant
Capture employee ideas and thoughts with screen capture.
Annotate screenshots and send them to your colleagues for instant learning.

Screen Recorder
Record videos (up to 120 minutes) of your computer screen, add comments, and share them with your colleagues within minutes.
Webcam Recorder
Provide a personal element to your video recordings by adding your webcam to it. Set the right tone and quickly get your message across.
Annotate Videos & Screenshots
Easily convey information to your colleagues with annotations. Mark up your screenshots and videos with text boxes, lines, arrows, and more.
Create Learning Courses From Scratch
Improve the knowledge of your colleagues. Quickly transform your video recordings into
full-fledged learning courses, directly from the Recordings Gallery.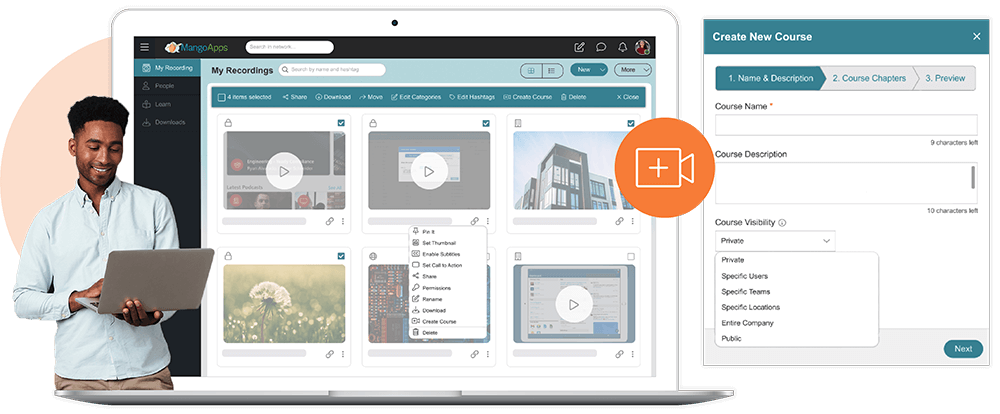 Share With Your Peers
Skip the meeting room. Share screenshots and video recordings with intended colleagues to allow for instant asynchronous collaboration.
Contribute To The Company Brain
Have a video/learning course that you think might be good for the company? Submit a learning course for approval and have it added to the shared company brain, so it never gets lost.
How Our Customers Use Mango Recorder
Build Company Culture
Provide faces to the names of colleagues you wouldn't otherwise have interacted with.
Collaborate Asynchronously
Easily collaborate with your peers without struggling to align your calendars for a meeting time.
Improve Employee Learning
Ask questions and take notes on important content within your Groups, Departments, Projects, and more.
Capture Ideas
Share ideas or screenshots with your colleagues on the News Feed.
Retain Company Knowledge
Ensure knowledge isn't lost by capturing moments/lessons in real-time with video recording and screenshots.