Collect Ideas & Take Action
Encourage employees to submit new ideas, then turn them into tasks and track their execution and completion.

Create A Campaign
Create an idea campaign to help users collect ideas focused on a particular problem or question. Colleagues can then provide feedback/comments that are relevant to that topic.
Gain Insight
Into Ideas
Keep up to date with the most recent, top voted, or most discussed ideas, right from the convenience of your dashboard.
Capture Ideas From The Mobile App
Record ideas or contribute to existing idea campaigns right from the mobile app, making it easy for users to capture unique ideas from wherever they are.
Share, Collaborate, and Vote On Ideas
Empower employees with the opportunity to have their ideas heard and feel valued, while making a real business impact.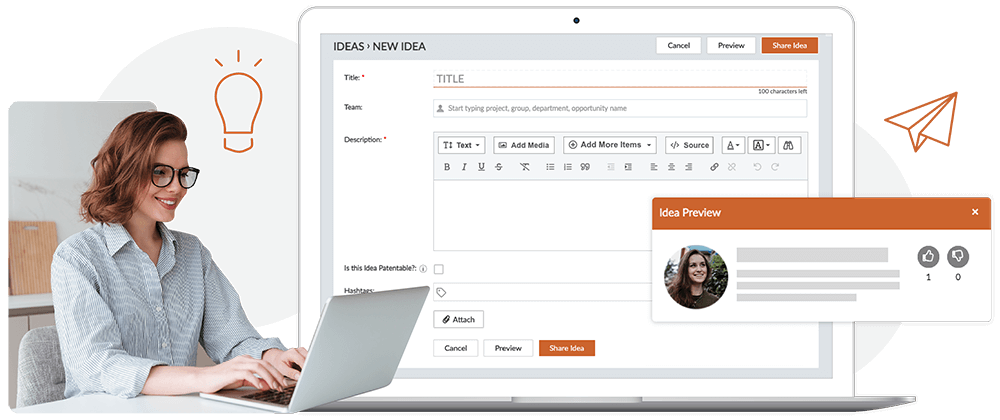 Idea Leaderboards
Give employees a voice and improve engagement by cultivating a list of idea contributors who are topping the charts at the company.
Voting & Comments
Discuss and vote on ideas, with the best ideas rising to the top. Colleagues can comment to refine and prioritize ideas, as well as ask questions.
Idea Lifecycle
Configure idea stages to help align the idea management process with the goals of the company. Ideas pass through phases such as 'in review', 'implemented', and more.
Additional Features
Admins can designate a group of users to form the 'idea management committee', whose purpose focuses on determining if further steps should occur for ideas.
Users can indicate if they believe their idea is patentable, creating urgency for the company to review and take action.
Ideas and campaigns can be sorted by particular status, or to only show ideas created by a specific user.
How Our Customers
Use Ideas
Encourage Collaboration
Create a collaborative environment to collect new ideas
Foster Innovation
Allow employees to submit product development/business practice ideas
Improve Engagement
Keep employees invested in product growth by giving them a voice
Optimize Operations
Reduce R&D investment by running idea campaigns
Gauge Interest
Create a space for ideas to be executed by tracking the popularity of unique ideas