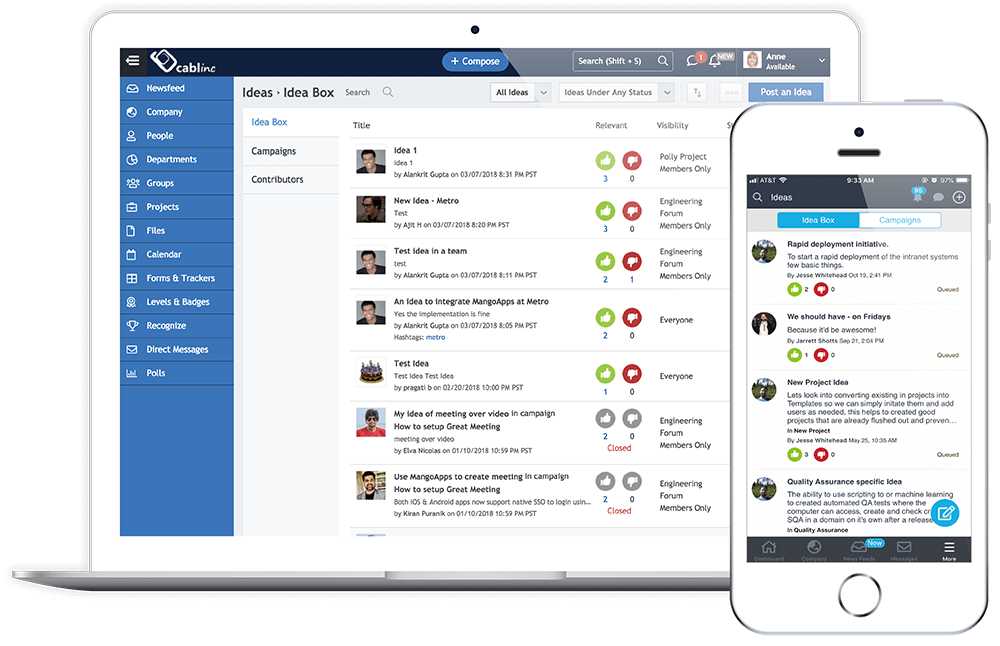 Share, Collaborate, and Vote On Ideas
Give your company a permanent brainstorming session and empower employees with the opportunity to have their ideas heard and feel valued while making real impact. Employees can come up with new product ideas based on market trends, or find efficiencies in processes that will help grow the business. These ideas improve productivity, cut costs, and drive improvements in a short time period.
Give Employees and Guests The Freedom To Share Ideas
Ideas are a way for users to share ideas with the entire network to improve products or business processes. Other colleagues can then comment on a new idea to help a small idea grow into a well-designed process or refined product breakthrough. Ideas are given a title and description, and can be assigned to a particular project, group, department, and their respective guests or any opportunity. Attach any file to expand on the idea, and assign hashtags to allow users to follow its progress.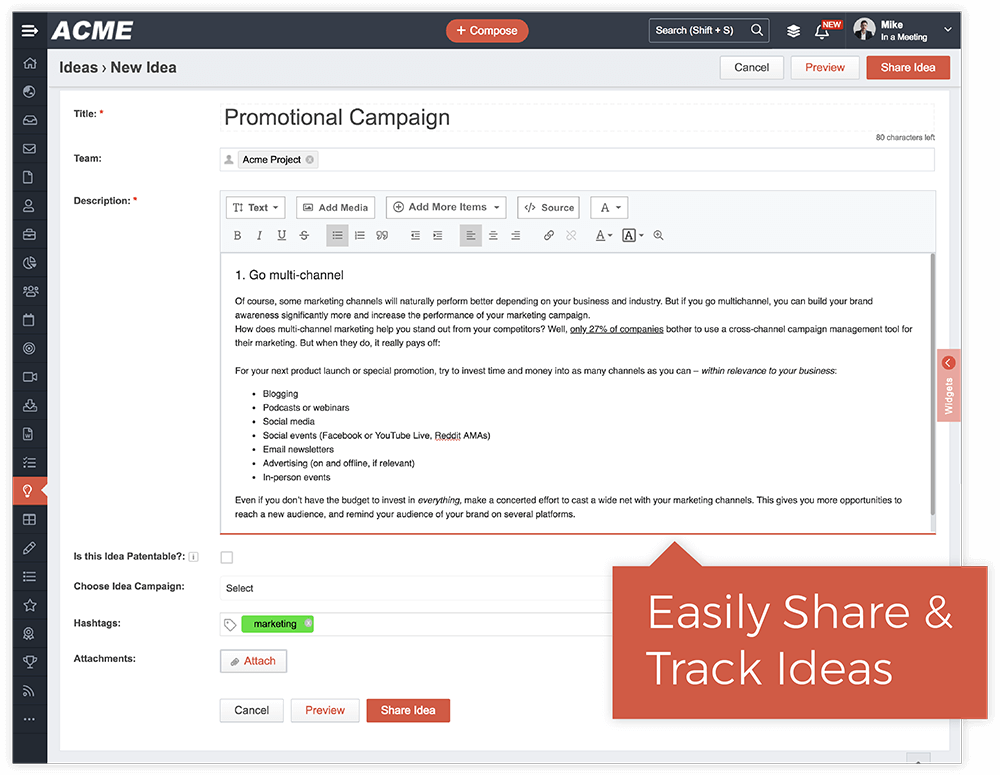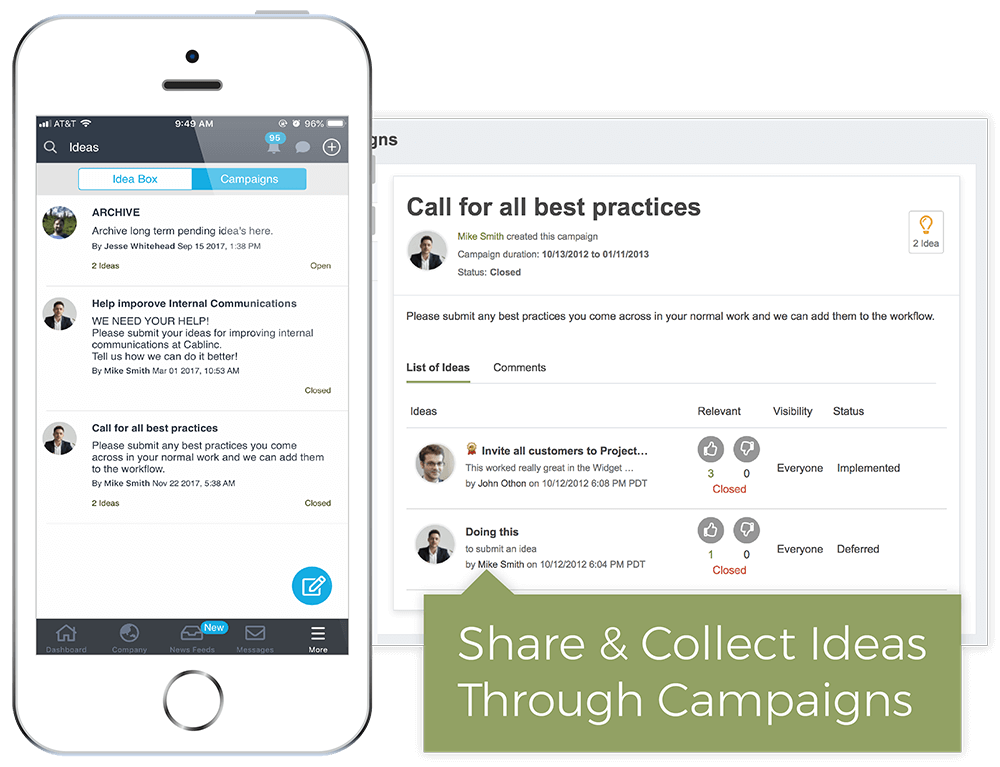 Capture Valuable Thought With Idea Campaigns
Idea campaigns are created to help users collect ideas focused around a particular problem or question. Colleagues can then reply to posts with relevant ideas, or vote for the ideas others have submitted and leave comments. Starting a campaign is easy, users select a new campaign, give it a title and description, assign campaign managers and start/end dates. Much like sharing ideas, campaigns can include image or document attachments, plus hashtags for followers.
Voting & Comments
As employees discuss and vote on great ideas, the best ideas bubble to the top. This gives visibility to everyone and provides a status on where ideas are in the life-cycle, and how likely it they are to be adopted. While an idea is is the 'idea socialization' phase, colleagues have the opportunity to provide comments to further refine and prioritize ideas.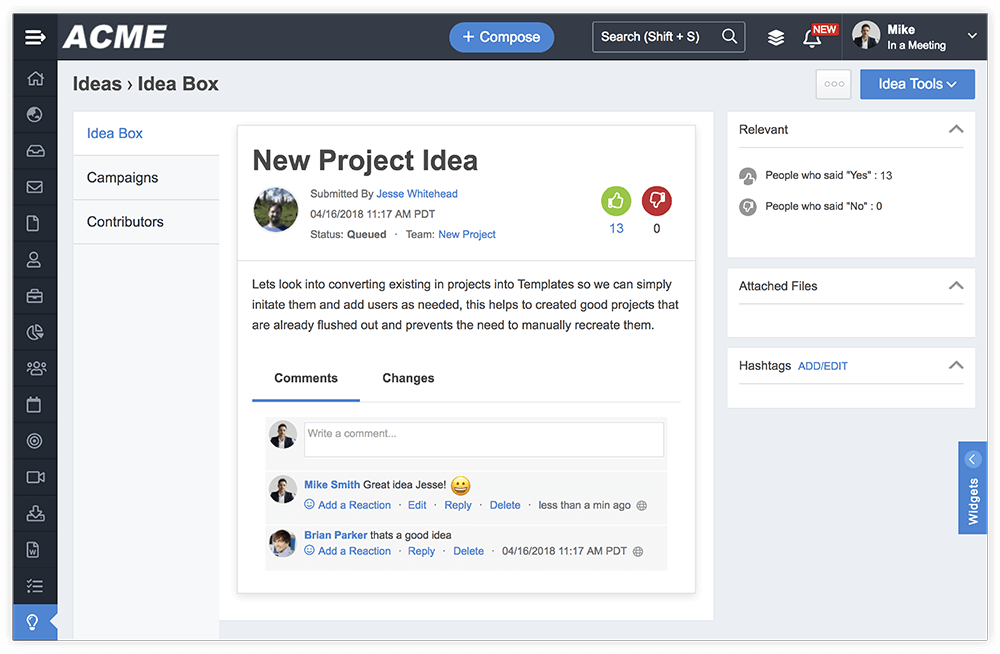 Additional Ideas and Campaigns Features
Patentable Ideas
Users can indicate if they believe their idea is patentable when they are submitting a new idea. This will create urgency for the company to review and take action if necessary.
Ideas On The Go
Users can create idea campaigns from the mobile app, or easily contribute to existing idea campaigns. This makes it easy for users to capture ideas and add unique thoughts or attachments from their mobile devices as they formulate on the go. Ideas can then be expanded or edited as needed from a mobile device or when a user returns to their desk.
Idea Management Committee
A group of users designated by Network Admins to review Ideas that are submitted. They determine if any next steps should occur or if the idea should be deferred. These users have the ability to change the status of each Idea submitted and have full visibility of the process.
Idea Lifecycle Status
Every idea goes through a status lifecycle as it moves from phase to phase. The management committee will acknowledge and mark ideas based on the status as it is being reviewed or implemented or necessary response if it is deferred or duplicate.
Sorting Ideas and Campaigns
Ideas and campaigns can be sorted by particular status or to only show those created by the user.
How Our Customers Use Ideas and Campaigns
1

Create a collaborative environment to collect new ideas, or solve business problems

2

Allow employees to submit ideas for new product development or business practices

3

Reduce R&D investment by running idea campaigns to ideas and answer questions

4

Track the popularity and interest in unique ideas with comments and voting

5

Keep employees invested and interested in product growth by giving them a voice

6

Track the status of submitted ideas as they move through the life-cycle phases
Bring your frontline and office teams together on one common platform
It has never been this easy to create the perfect employee experience for your deskless and deskbound workers. Contact us to discuss requirements, pricing, rollout and support. Get your free demo today!