Keep Content Secure & Organized
Safely and securely store and organize any kinds of documents, media or files into folders and sub-folders.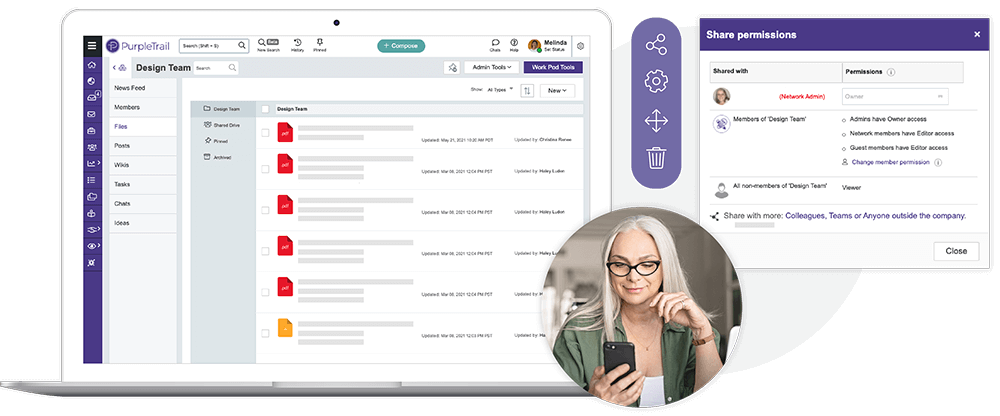 Search & Find Anything
Users can search deep inside files to find anything they are looking for. Enhance the search tool by associating custom meta-data with documents, making it easy to search and explore.
Collaborate With Colleagues
Users can 'check in' and 'check out' files to ensure that no other contributor is making edits at the same time. The latest version of the file is immediately available to colleagues.
Co-Author & Edit With Office 365 Integration
With MangoApps' Office 365 integration, employees can work together without downloading files onto their system, allowing them to edit files on the go.
Approve Documents
With Ease
Enable users to proofread or edit files. Users simply indicate the document recipients, set individual permissions for the approval process, and add a deadline.
Additional File Management Features
MangoApps integrates with Office 365, Google Drive, SharePoint, Box, DropBox, and more. All files and folders are synchronized across platforms, ensuring the highest level of security, compliance, and consistency.
As users share and collaborate on documents, MangoApps tracks and retains file versions.
Select any number of files from the list, set custom fields to update and apply with no impact to other custom field values.
Sharing specific files or folders with other users is made easy. Define who can view or edit files by setting granular sharing permissions to anything that is shared with others.
Audit File Usage
Admins and file owners get full visibility reports to their file usage to audit and track when anyone downloads, uploads, adds comments or views a document.
Ensure Compliance
Pick from multiple storage options including Amazon S3, SAN, and Box. Admins can specify auto-archival and auto-delete rules in the retention settings to meet IT compliance requirements.
Trusted Security
Keep data secure with file transfer over HTTPS from any device, 256-bit encryption at rest, HIPAA compliance and certification for EU, and more.
Other File Management Features
If a device is lost/stolen or an employee is no longer with the company, an admin can remotely wipe MangoApps files and data as needed.
A trash can is accessible from the Admin Portal, where all deleted files are held for 365 days. An admin can choose to restore the content in the trash can or permanently delete them from MangoApps.
All video formats can be uploaded and streamed directly from the web interface. This allows users to share and use media without the need for any additional software or plugins.
Give users the choice of quick access to lists of the most recent, most viewed, most discussed, most liked, or pinned files.
How Our Customers Use File Management Features
Stay Organized
Securely store and organize files into MangoApps content management system
Remain Compliant
Protect their business with virus protection, trusted security protocols and IT compliance
Save Time
Save time by finding files or documents with the powerful search tool
Track File Versions
Keep track of file versions, monitor usage, and set access permissions
Share Large Files
Easy sharing of any large files (up to 5GB) with any internal or external user