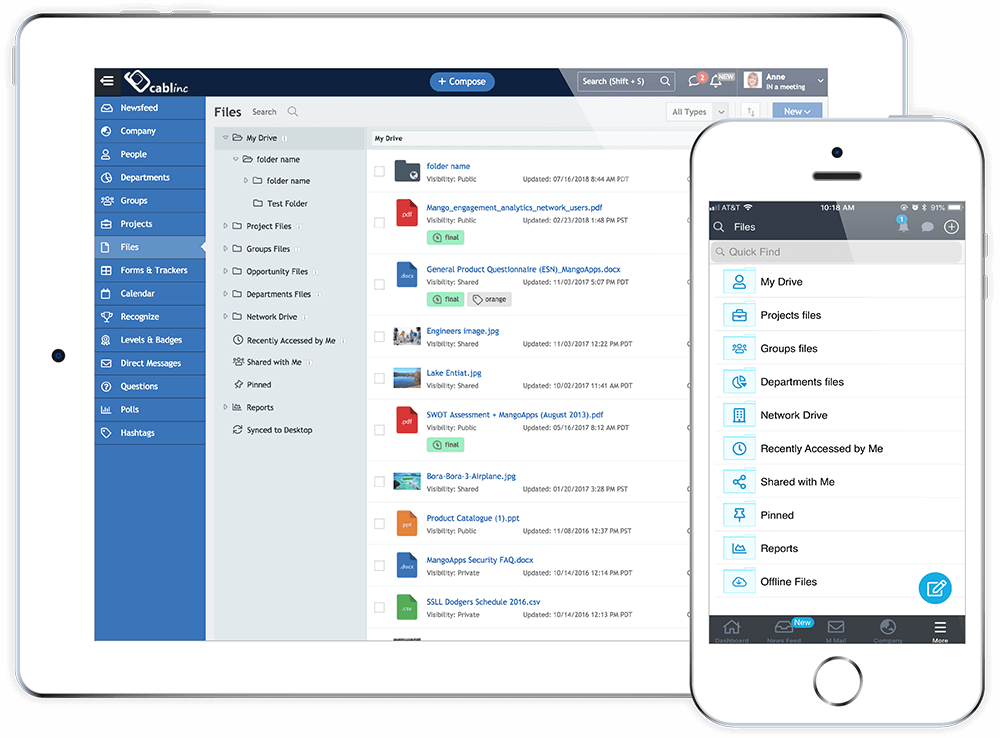 MangoApps offers a powerful online content management solution, built for any size business. With 10GB of storage per user, safely and securely store and organize any kind of document, media or file into folders and sub-folders. Uploading files up to 5GB is quick and easy, allowing users to drag and drop large files into the network drive or into a team folder.
Users can search deep inside files to find anything they are looking for. Supporting content search within documents, inside zip files, pdfs, html/xml files, rtf, text files, and more. Enhance the search tool by associating custom meta-data with documents, making it easy to search and explore.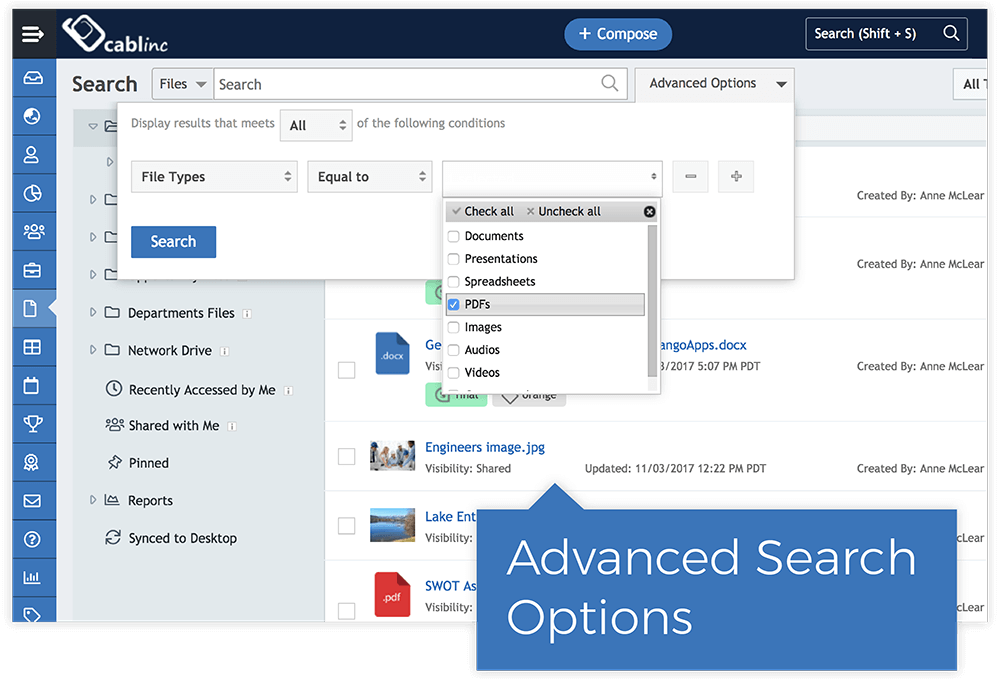 Co-Author and Edit With Office 365 Integration
MangoApps Office 365 integration makes viewing of office documents seamless and editing/co-editing in the browser or any device super easy. Employees work together without downloading files onto their system, allowing them to edit files on-the-go, with files that auto-save as changes are made by any user.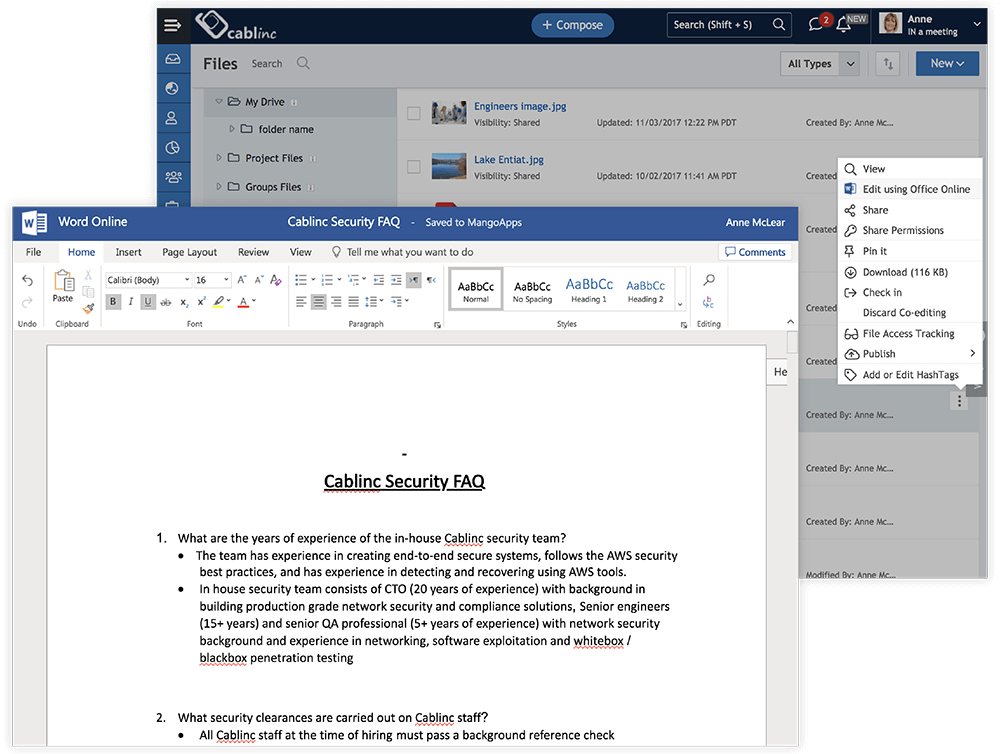 Manage, Report and Audit File Usage
Admins and file owners get full visibility reports to their file usage to audit and track when anyone downloads, uploads, adds comments or views a document. File and folder tracking provides detailed activity reports, and helps maintain safe file sharing. Users can also set the permission levels of files to make them private, or public for collaborating with colleagues.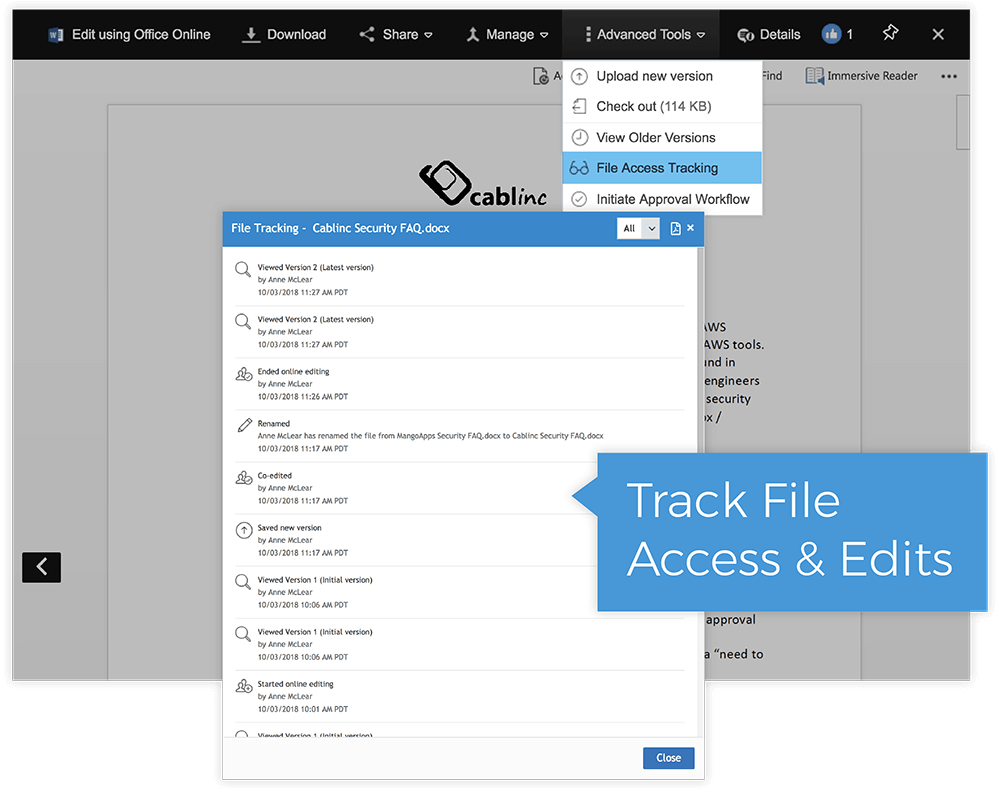 MangoApps takes all the necessary precautions to ensure confidential information and files stay safe. Files are kept secure by including safeguards such as file transfer over HTTPS from any device, 256-bit encryption at rest, HIPAA compliance and certification for EU, and Swiss safe harbor frameworks as provided by AWS.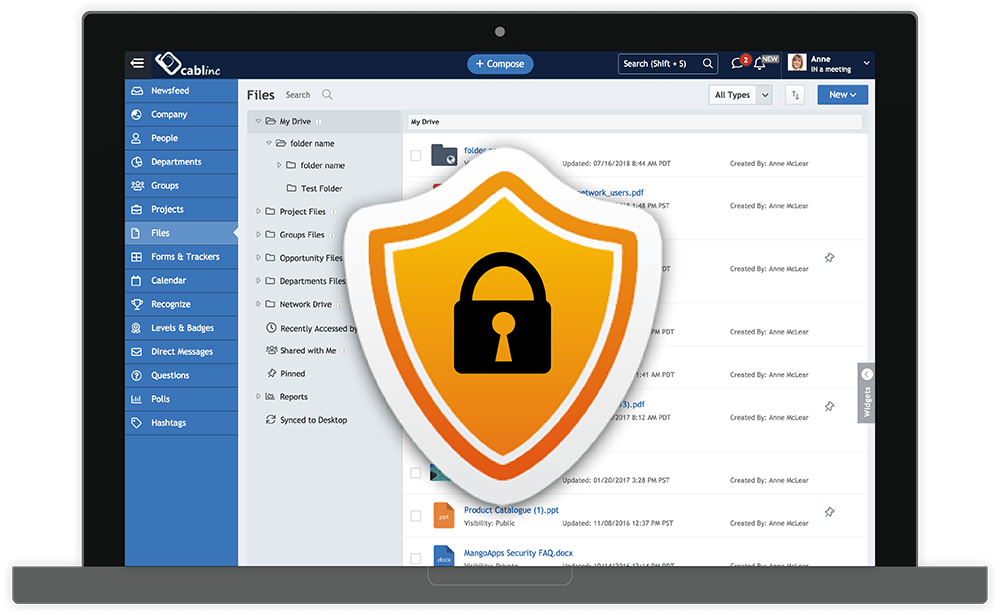 Additional File Management Features
Integration With Other File Repositories
MangoApps integrates with SharePoint, Box, DropBox, and more. All files and folders are synchronized and managed across the two platforms, while ensuring the highest level of high security, compliance, and consistency.
Document Version Control
As users share and collaborate on documents, MangoApps tracks and retains file versions. Restoring older revisions when required is made easy.
Automatic Virus Scanning
Armed with the ability to detect more than 1 million viruses, malware, trojans, and other malicious threats, MangoApps scans within archives, compressed files, and obfuscated files as well. Any threats are quarantined and unavailable for download/sync to avoid spreading the threat. Infections are logged and immediately sent to the admin and uploader via private message.
Granular File and Folder Sharing
Sharing specific files or whole folders with other users is made easy. Define who can view or edit files by setting granular sharing permissions to anything that is shared with others.
Remote Device Wipe
Admins have the power to remotely wipe MangoApps files and data as necessary. If a device is lost/stolen or an employee is no longer with the company, rest assured knowing that business files and data are not in the wrong hands.
Trashed File Recovery
A trash can is accessible from the Admin Portal, where all deleted files are held for 365 days by default. A network admin can choose to restore the content in the trash can or permanently delete them from MangoApps. Data retention policy settings set by the admin will be reflected for auto deletion of trash can files as well.
Share With Anyone
Users can share files with any recipient of their choosing, both internally on MangoApps, or by providing public sharing links to any file or folder.
Play Any Video Online
All video formats can be uploaded and streamed directly from the web interface. This allows users to share and use media without the need for any additional software or plugins.
Quick View Files On Dashboard
Give users the choice of quick access to lists of the most recent, most viewed, most discussed, most liked, or pinned files.
Edit File Custom Fields In Bulk
Select any number of files from the list, set custom fields to update and apply with no impact to other custom field values.
Set and Edit File Meta Data or Hashtags On Mobile
In addition to managing files on the go, mobile users can set and etc meta data, custom fields, and hashtags right from the mobile app.
How Our Customers Use File Management Features
1

Securely store and organize files into MangoApps content management system

2

Attach, share, and allow users to view files right inside the app

3

Protect their business with virus protection, trusted security protocols and IT compliancy

4

Save time by finding files or documents with the powerful search tool

5

Keep track of file versions, monitor usage, and set access permissions

6

As an easy to maintain and inexpensive alternative to FTP

7

Easy sharing of any large files (up to 5GB) with any internal or external user
Bring your frontline and office teams together on one common platform
It has never been this easy to create the perfect employee experience for your deskless and deskbound workers. Contact us to discuss requirements, pricing, rollout and support. Get your free demo today!