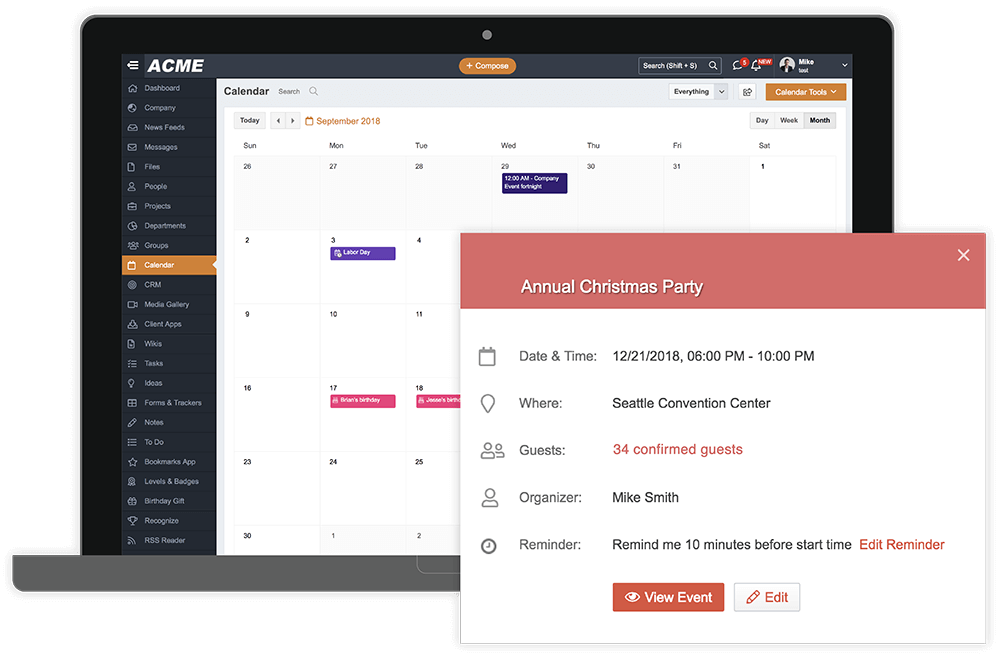 Create and Identify Calendar Events
MangoApps Calendar users can create four distinct types of events: companywide events, accessible to anyone in the company, team events, accessible only within teams, meetings, accessible only to invited members, and appointments, accessible only to the creator. Each event is distinguished with a different icon, helping users easily identify what kind of event it is, selecting a timezone if different than the user's default, and including a custom image for the event.
Event creators can determine who can see, access and RSVP to an event through customizable visibility. Events and their contents can be set as either public, private or secret. Public events are open to anyone, private events are visible to anyone but details can only be seen by invited members and secret events and their contents can be seen by invited members only.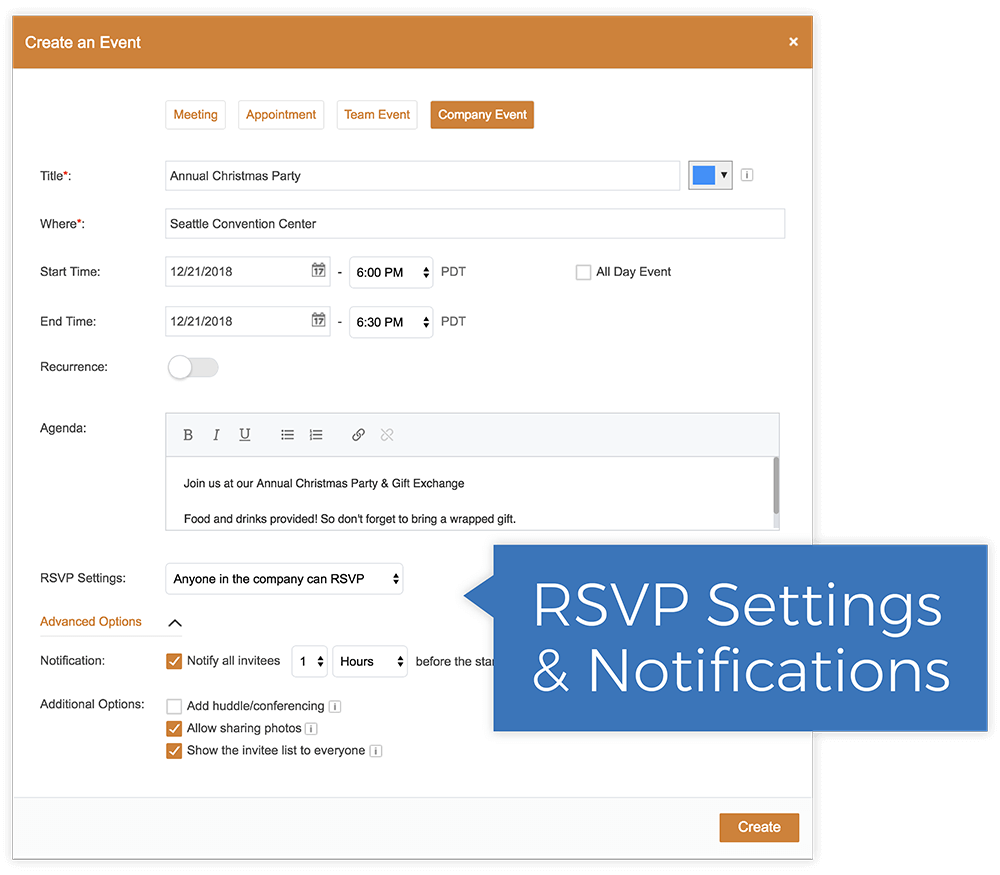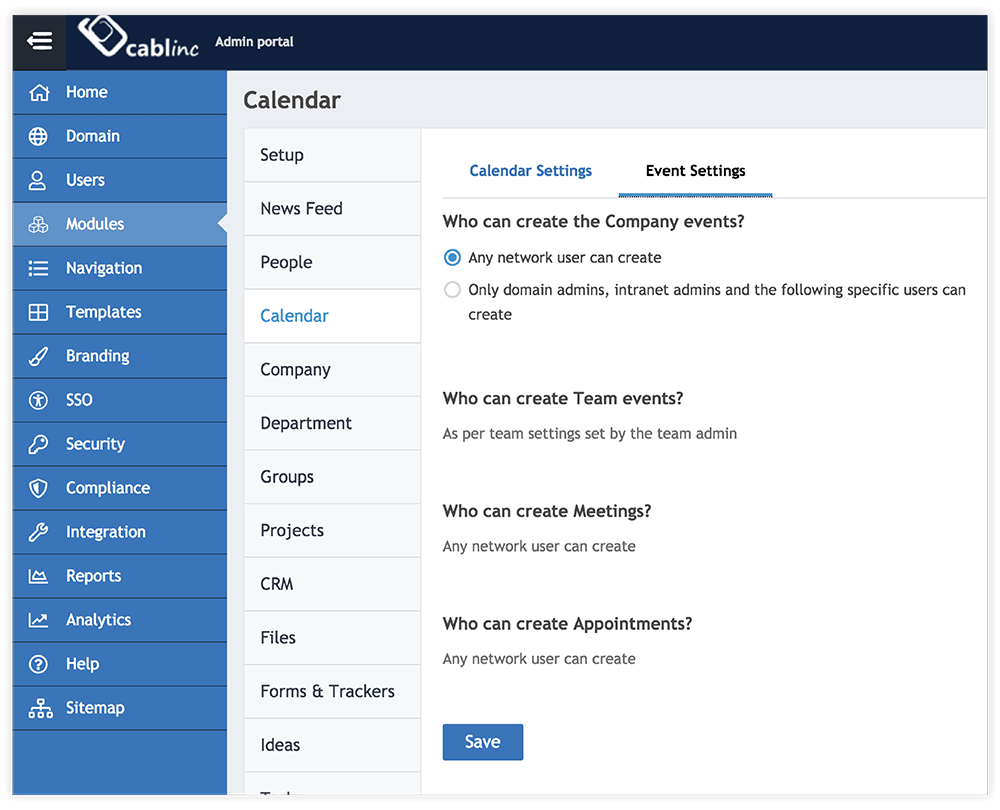 Manage Event Creation Permissions
Admins have the ability to control who can and cannot create an event, increasing organization and ensuring that company plans and schedules are never in conflict. Admins and designated event creators can also cause events to marked as all-day activities, can have events automatically reoccur on a regular basis or can cancel a single instance of a recurring event.
MangoApps Calendar makes tracking and managing event RSVP's efficient and simple. RSVP notifications are only sent to event creators, keeping event pages neat and organized. Invitees can choose to RSVP to events directly from notifications, or open the event to see more before responding. Event guest lists are also divided into three distinct categories for attending, not attending and not yet responded, making it easy to visually see RSVP's and plan events accordingly. Company events can also be created without requiring RSVP.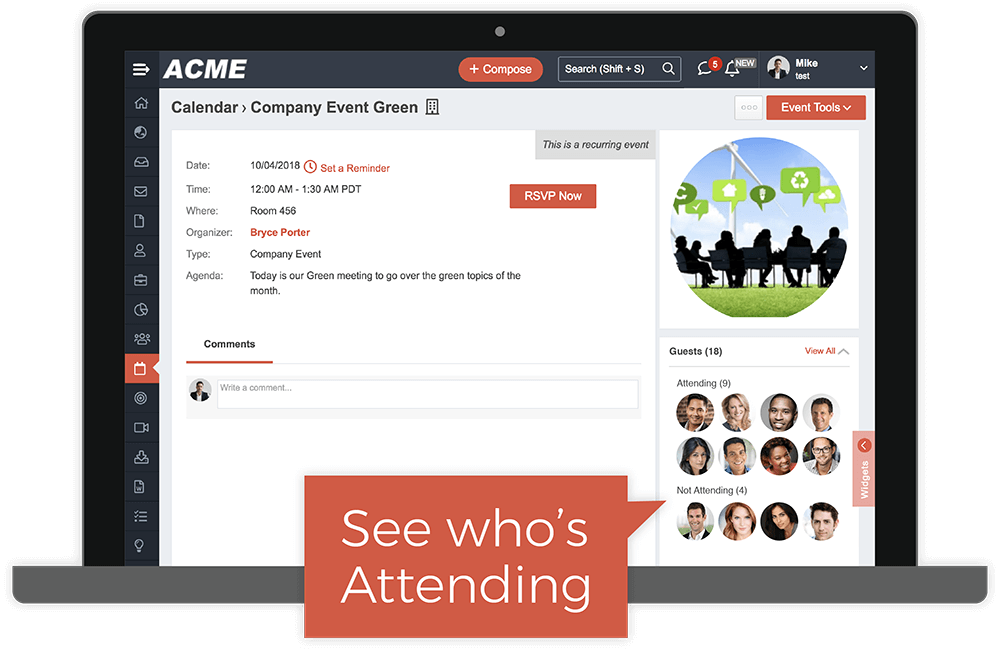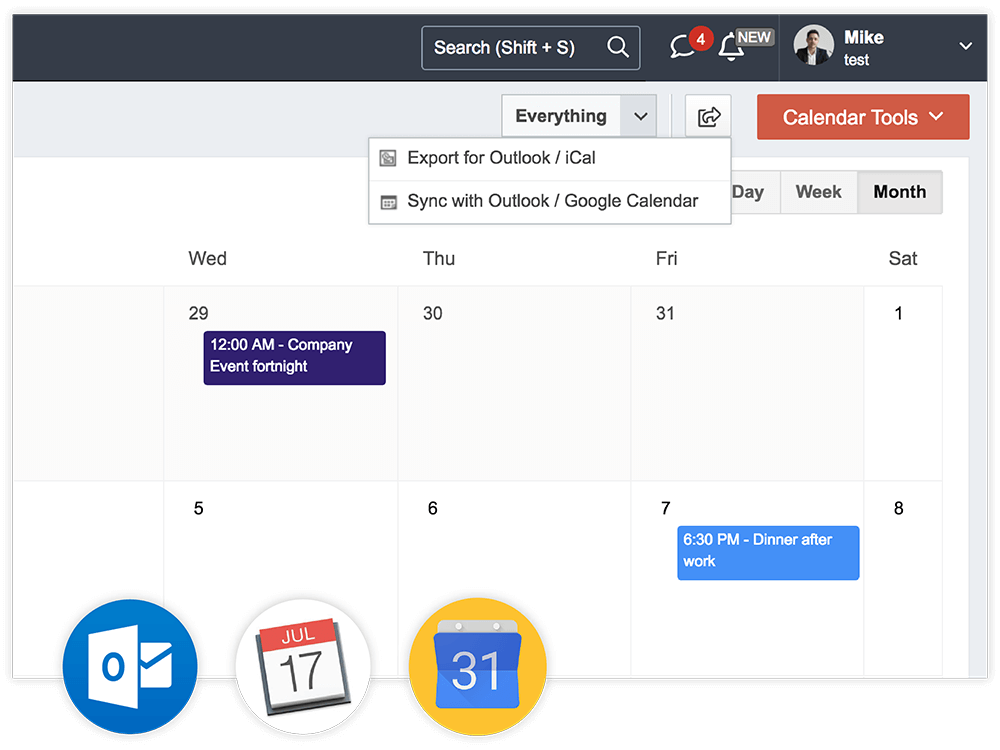 Smooth Calendar Integration
MangoApps Calendar syncs seamlessly with existing Outlook, Google or iCal calendars to keep user's scheduling up-to-date and provide helpful reminders wherever they are. Events can also be integrated with JoinMe, GoToMeeting and other meeting or screen sharing programs, making it simple to connect with coworkers and peers from anywhere.
Company Calendar and Holidays
Admins can set up a company calendar for a full year of location-based holidays and other important company dates and events. Wide-reaching company calendars help companies stay organized and plan more effectively throughout the year as employees can see, prepare and schedule around company events well in advance. Company events and important dates can be a single event or regularly scheduled. MangoApps Calendar also integrates with MangoApps Company Holidays to add Holiday events to the user's calendar based on their office location.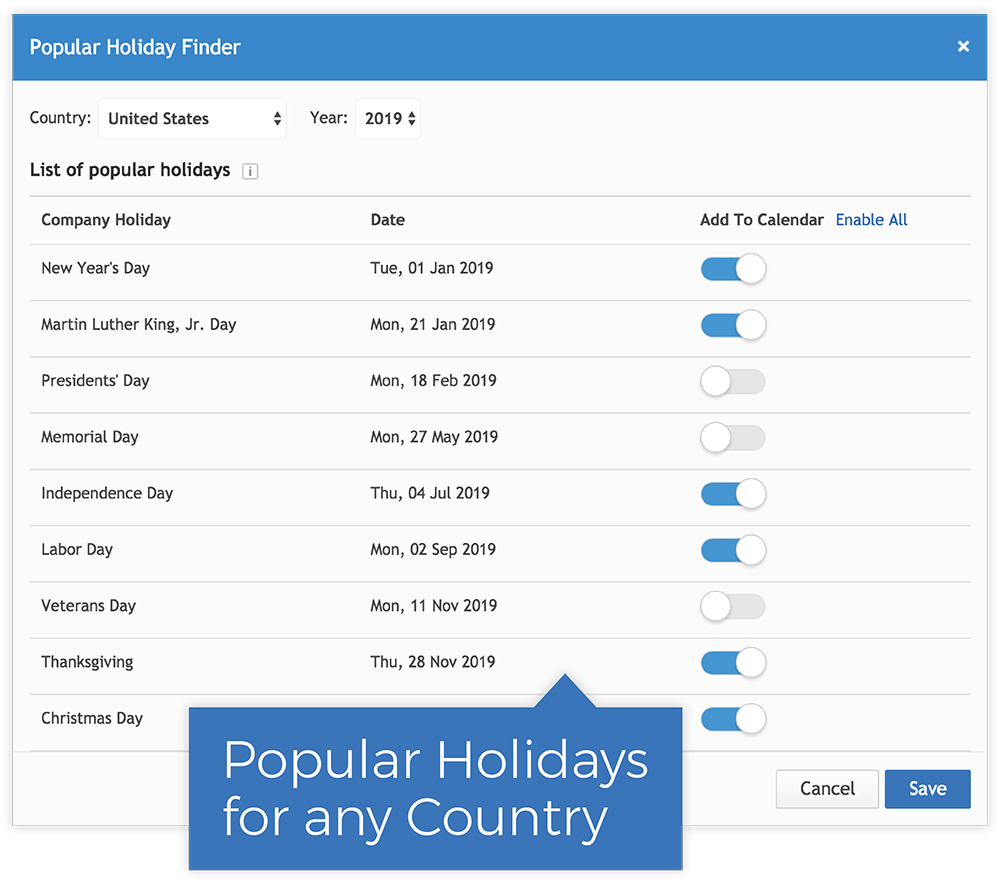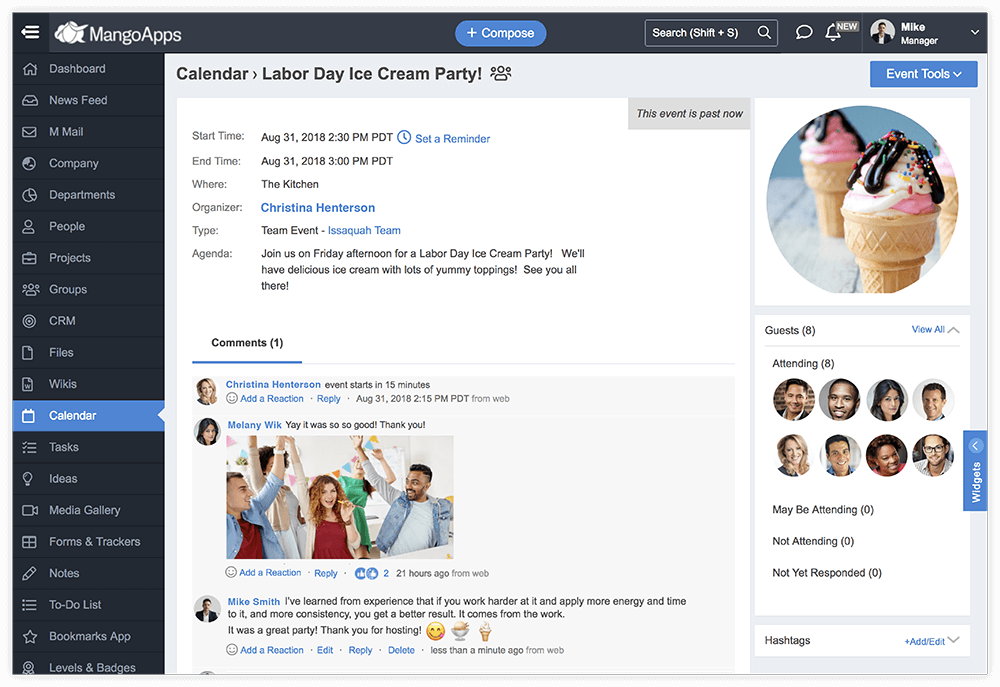 Interactive Event Pages
When events are created they automatically generate an interactive event page where attendees and invited guests can communicate, connect, share photos and information, post updates and changes and see other invited guests and RSVPs for the event. Event creators and admins have the ability to control who can access event pages and who can contribute content.
Additional Calendar Features
Anywhere Accessibility
Users can create events, add items and access calendar information from desktops, laptops, tablets and any kind of mobile device, providing constant organization. .
Invite Anyone
Event invitations can be sent to guests outside of the company and even outside of MangoApps. Guests are invited via email and receive a user-specific link for the event. .
Improved Organization
MangoApps Calendar lets users color code events, meetings and appointments for an additional level of visual organization.
Customized Invitations
Events can be designated as public and open to everyone, private and only available to invited guests or team events available to an entire team or only select team members.
Export Event Lists
Users can export company, team or personal calendar event lists into a CSV, allowing them to easily save, transport or share event information however they need.
Keeping Teams On Track
Every department, group, or project team can choose to have their own calendar. These team calendars are a great place to track and share project planning, milestones, with start/end dates. Import existing events in bulk from an XLS/CSV file.
Personal User Reminders
Keep track of important personal reminders that are private and not visible on any other user's calendar. Users can stay more productive and on top of tasks by setting reminders with a personal note, time/date, color, and even any frequency of recurrence.
Recurring Events
Setup weekly meetings, team huddles, and other recurring events and reminders with ease. Calendar events can be set with any degree of recurrence as needed, with a defined start date and the option to expire the repeating event after any number of recurrences or future end date. Summary text can be included to provide details of the re-occurrence.
How Our Customers Use Calendar
1

Keep employees up-to-date and aware of company-wide events and important dates

2

Organize team meetings, discussions, outings and other team-based activities

3

Schedule regularly occurring or one-time meetings across teams and locations

4

Stay up-to-date on event information and details with interactive event pages

5

Stay in sync with local holidays and location-based events and activities

6

Invite guests outside of the company to participate and attend events

7

Set up and manage individual appointments and personalized activities