Create Searchable, Task-oriented
Team Workspaces
Project workspaces offer a visible, consolidated area for collaboration, with communication
and task management features that ensure your projects make it across the finish line.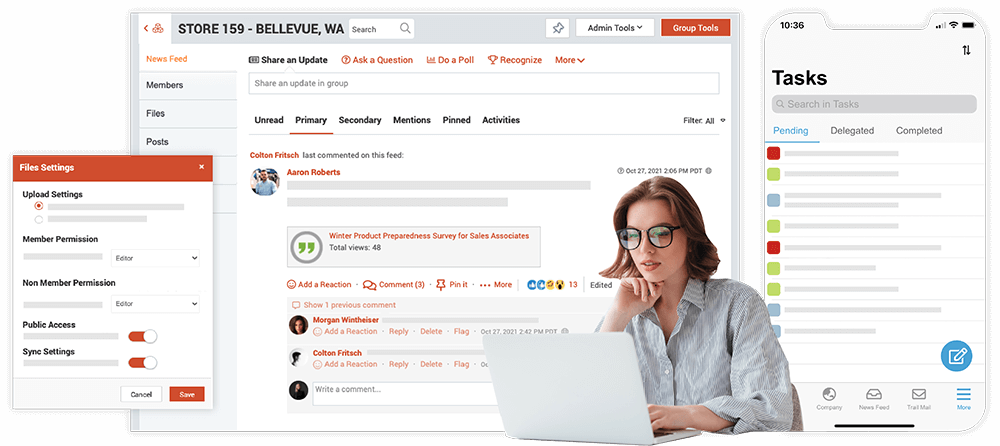 Stay On The Same Page With Team Updates
Familiar social media features like comment threads, emoji reactions, and multimedia make
team collaboration within MangoApps far more engaging than email.
Distribute & Oversee Action Items
Delegate tasks, break down assignments, and get both high-level and granular views of your projects.
Our deep task management feature set can fit into any team's workflow.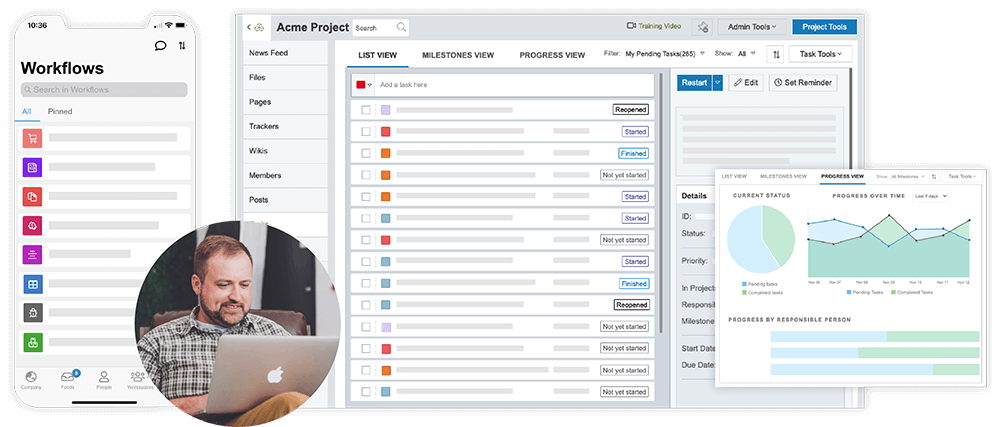 Promote Visibility With Shared To-do Lists
Each user gets a to-do list that collates all of their tasks across projects and teams,
and can be made visible to supervisors and colleagues.
Manage Events With
Personal & Team Calendar
Make scheduling one-off and recurring events easier with a centralized calendar
for everything from company-wide events to personal appointments.

Keep Yourself Honest With Reminders
Set up reminders for your events, pending approvals, due tasks, and pending actions, so you don't miss deadlines.
Manage Sales Collaboration
With CRM Workspace
When you're chasing big deals, there can be a lot of moving parts. Our deal workspaces give
you a space to manage all the tasks and conversations around each deal.

MangoApps has the potential to change the way a company thinks, and that's a difficult thing to do because a big company is like an oil tanker in the sea: Trying to shift it from one area to the next is a difficult thing. But when you have e-collaboration, you have multiple individuals working as a team, and the benefits are seen very quickly. And that's what we noticed when we deployed it.
I think it allows us to be more collaborative as an organization because we have offices across the country and across the world. Sometimes there's a habit of just seeking out information from those that are closest to us. Using [MangoApps] has really allowed us to share documents and share resources across the firm as opposed to just across our teams.
The collaboration space is the clear favorite. Our employees absolutely love the groups and projects, the fact that they can have all their information in one area and work on it together.
Break free from legacy systems and move forward faster with MangoApps.
A unified employee experience saves employees time, improves workplace efficiency and agility.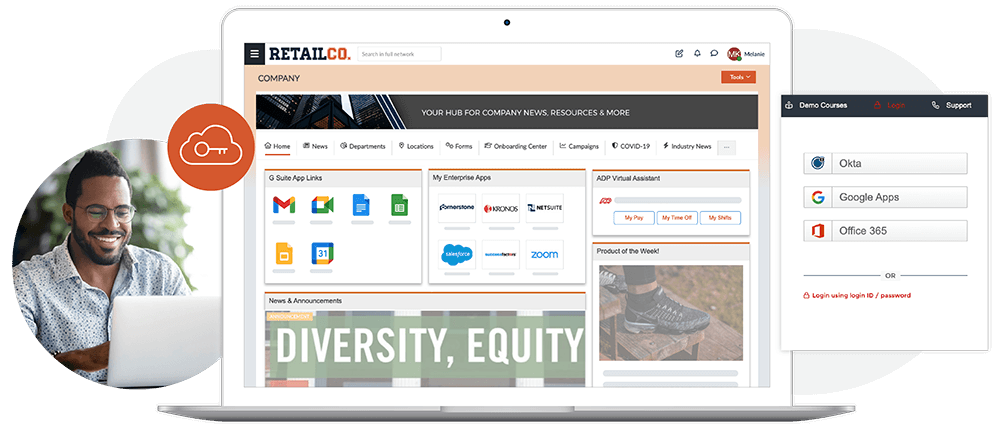 Talk to a product expert to learn more