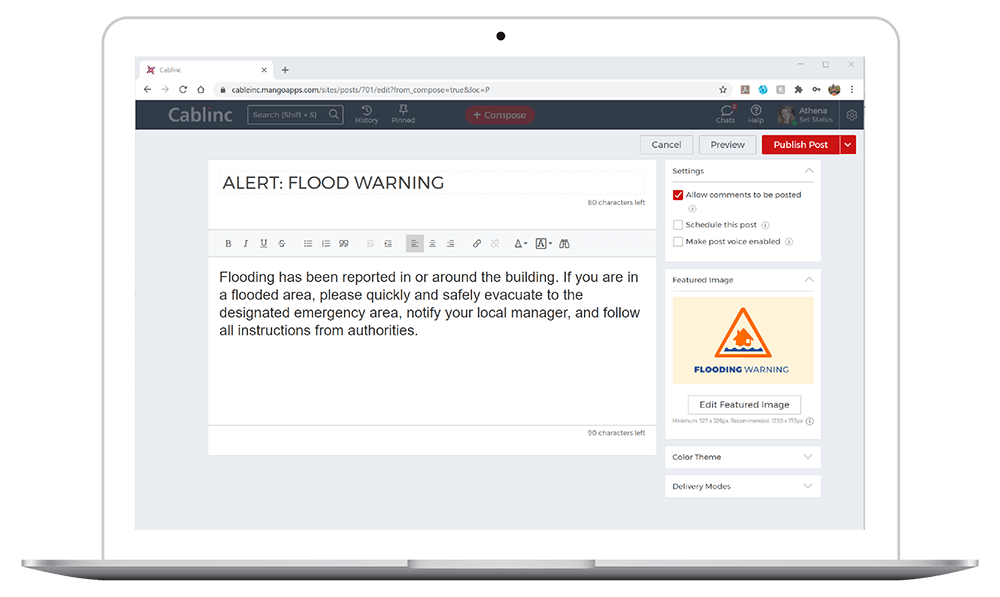 Use Alerts To Notify Employees of Urgent Communications
Alerts are used by admins to communicate urgent time-sensitive or required information to the entire organization or specific groups as events unfold. Bad weather, unexpected closures and serious unplanned events are easier to manage and navigate with alerts. Alerts also play an important role in notifying employees of updates as critical events unfold.
Out-Of-The-Box Alert Templates
Communicate business changes or disruption with ease with nearly 20 alert templates or create a custom alert template to match the needs of the business. Pre-shipped templates include alerts for criminal or bomb threats, civil disturbances, inclement weather or snow warnings natural disasters warnings, road closures, power or IT outages, cyber breach, and more.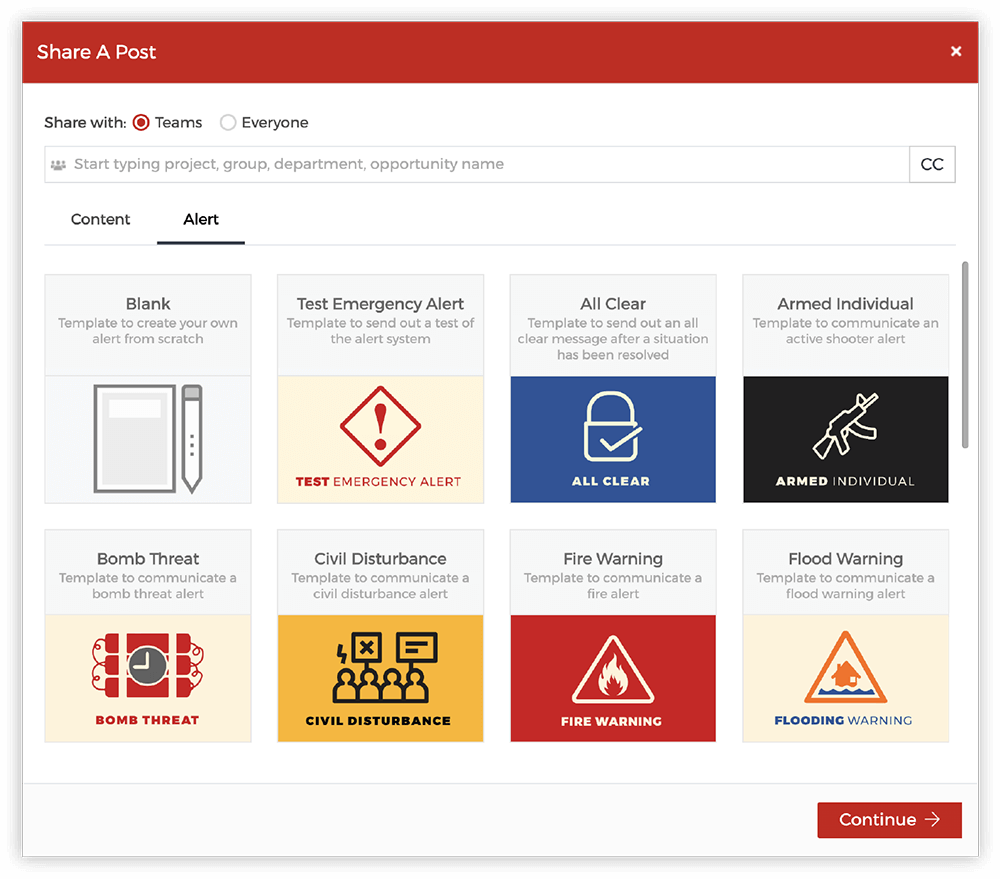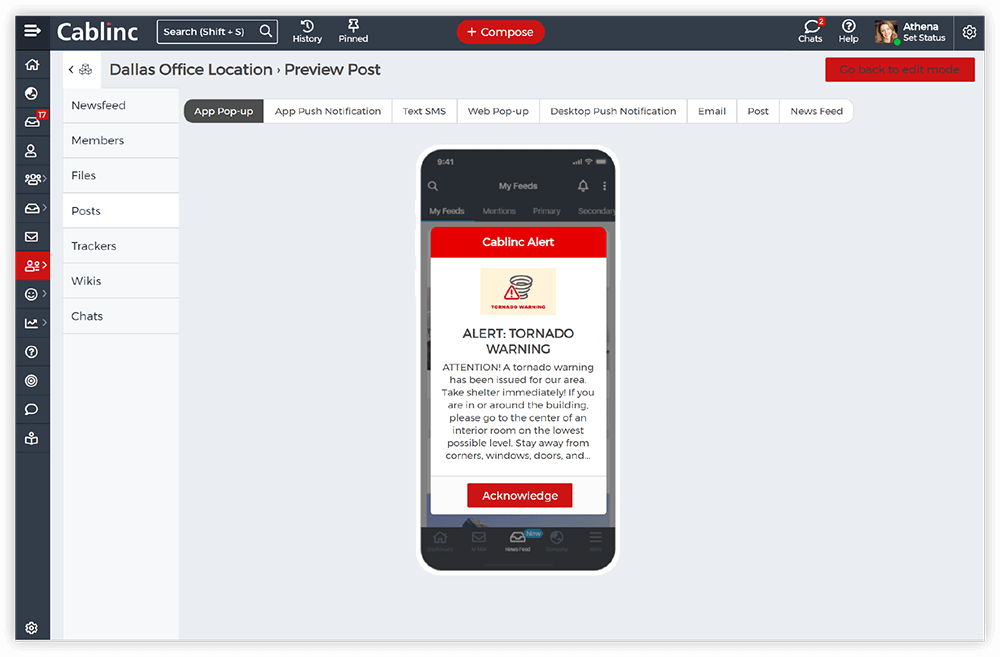 Distribute Crucial Alerts Through Multiple Delivery Channels
Reach 100% of your team or workforce by utilizing multiple delivery channels – Text/SMS, Mobile Push Notifications, Mobile/Web App Popup, Web App Banner, Desktop App Push Notification, or Email. Alert Posts are pushed in real-time, even if recipient notifications are turned 'off' for posts. Alerts also appear in the posts and podcasts widgets on the dashboard.
Preview Alerts Prior To Sending
Alerts are meant to be visually intrusive as they carry important time-sensitive messages. Draft alerts and preview how they will look across various devices. Ensure that push notifications and SMS messages display well on mobile and test the visual effectiveness on desktop/web and email.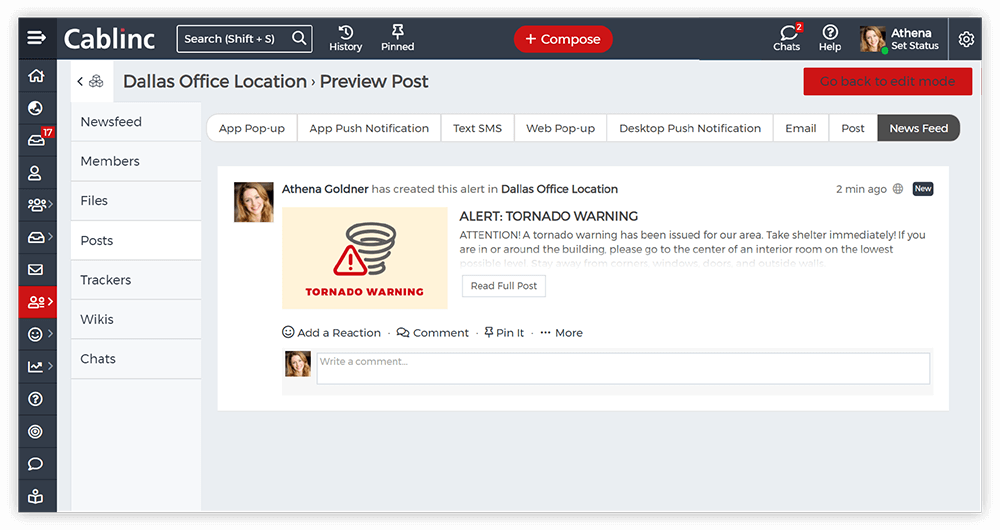 View Full Audit-Ready Insights and Resend Alerts
Admins get access to full insights on every alert post with a list of users who have or have not read/acknowledged the alert. Easily get day-by-day reports and download full insights in XLS format for detailed analysis or sharing. Based on this information, admins can choose to resend an alert to those who have not viewed it, and even add delivery methods.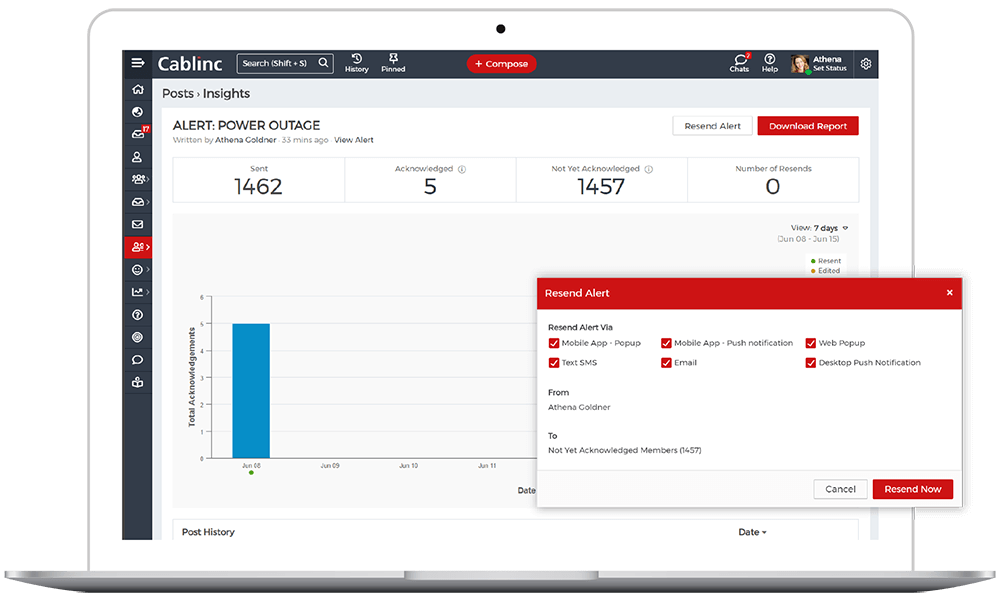 How Our Customers Use Alerts
1

Create and send time-sensitive announcements to the entire company, specific departments, groups, or office locations

2

Announce office closures or adjusted hours due to weather or other impeding events

3

Communicate matters of public safety or danger

4

Avoid business disruption with mandated temporary work from home policies

5

Notify employees of updates to unfolding events and scenarios
Bring your frontline and office teams together on one common platform
It has never been this easy to create the perfect employee experience for your deskless and deskbound workers. Contact us to discuss requirements, pricing, rollout and support. Get your free demo today!