Precise Predictive Search
Predictive search uses a powerful algorithm to predict a user's search query.
By providing matching documents and suggestions, users can quickly locate key information.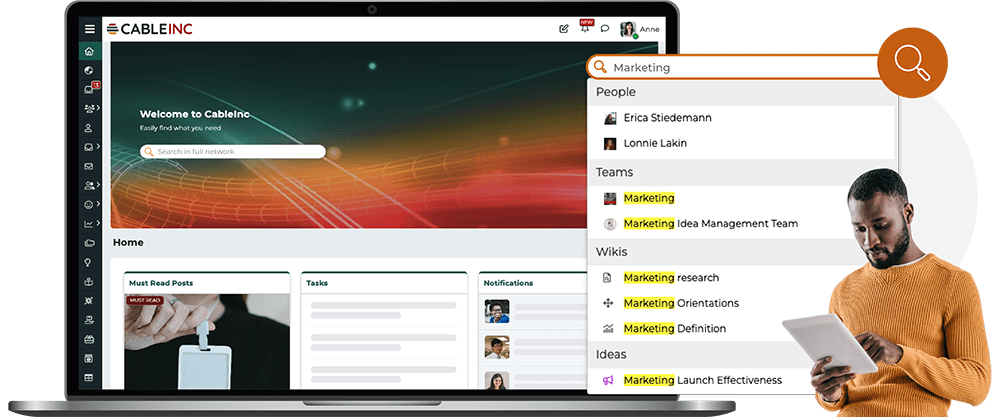 One of the features I like the most in MangoApps is the search function. When I need to make an announcement or communicate a program or a promotion with the field, over time... that information would get lost. But with the search function, any time someone comes in, whether they're new to the company or maybe new to the position, they can find the documents they need.
- Ryan Arakaki, Director of Marketing, Kelly-Moore Paints
Advanced Filtering Capabilities
Not getting the search result you're looking for?
Use our advanced filtering options to narrow your search and find the information you need.
Save Recurring Searches
Users can save recurring searches, including any advanced filter requirements. Saved searches are easily accessible and provide instant access to the most up-to-date search data.
Search History
Recently searched terms are available in the search bar. Search history will continue to appear for 30 days and can be cleared if desired.
Search By
Document Text
Every search automatically crawls all the content for specific words or phrases found within text, rather than just tags and titles, making it easy to find information inside documents, files, posts, wikis, and more.
Search Insight & Management
Admins have access to search reports, relevancy settings, and feedback, so they can identify patterns and fine-tune their domain's search function.
How Our Customers Use Global Search
Comprehensive Searches
Complete comprehensive searches throughout all of the info stored in MangoApps
Advanced Search Features
Find answers faster by conducting searches specific to individuals, teams, hashtags, or by date
Save Recurring Searches
Easily access up-to-date and current data by saving regularly conducted searches
Inverse Searches
Find vague content quicker when searching for information by using inverse or 'NOT' searches
Eliminate Wasted Time
Save time by no longer having to search for a specific version of a document within your intranet
Knowledge Capture
Capture knowledge from employees so their valuable skills, techniques and information stays with your company when they leave
Historical Information
Give new employees access to historical information from before their tenure, so they can hit the ground running on day one
Powerful Search Bar
Rather than looking through different tools, quickly identify information and resources with a simple search