Benefits of Process Management
A centralized hub for business process management and workflows, unlocking seamless information flow within your company.
Remove Repetitive Tasks
Let your employees spend less time wrangling spreadsheets and more time doing impactful work.
Promote Accountability
Visible, concrete processes ensure that employees are aware of project status and held accountable.
Accelerate Workflows
Amplify complex processes, so your business runs more smoothly.
Features
Enable higher team productivity and output.
Efficient Data Flow
Capture information with internal or public forms, and move it through business processes in an interactive spreadsheet format.
Visual Organization
Data filters, color coding, and user assignments make it easy to understand work status at a glance.
Automated Workflows
Automate repetitive tasks so action items spend less time waiting on individual interaction, and business gets done. No coding required.
Notifications
Stay on top of deadlines with automatic reminders and updates. Each user can view all their notifications in an individual dashboard.
Mobile
Enable employees to fill out forms and view trackers anytime, anywhere.
Comprehensive Workflow Templates
Workflow templates can automate everyday tasks, including approvals, informing colleagues, and moving information between trackers.
How Teams and Organizations of All Sizes
Use Mangoapps
Expense Tracking
Expedite expense tracking processes and compile data with reduced human involvement and lag time.
Employee Onboarding & Training
Save time by giving new hires all the tools for success with onboarding workflows, and monitoring their progress.
Customer Relationship Management
Coordinate marketing efforts and lead your sales pipeline to success with a consolidated, easy-to-use database.
Change Requests & Issue Reporting
Use forms to collect and consolidate suggestions, and turn them into actionable projects.
Project & Asset Management
Easily monitor project timelines to ensure deadlines are met and goals are achieved.
Team Transparency
Use shared trackers to hold teams accountable and ensure proper resource allocation.
See It In Action
Watch how our process management tools can help you streamline tedious aspects of your work and keep everyone on the same page. In this video, we walk you through an example of how you might use our product for expense reports and reimbursement.
How We Stack Up Against The Competition
MangoApps
Monday.com
KissFlow
Smartsheet
Airtable
Easily Customizable Templates
Data Sharing Within Own Intranet
Communication Within the Dataset
Search Tools to Quickly Find Data
Integration with Calendar Functions to Set Timelines
Instant Notifications to Keep Decision-makers Updated
Easily Create Forms to Collect Data
Functions Beyond Business Process Management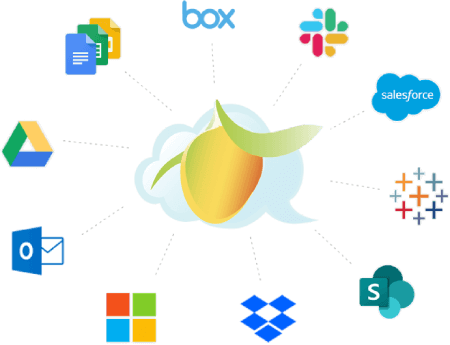 Integrations That Fit Your Needs
Easily integrate MangoApps with all SSO providers, Office365, Teams, Slack, and all common office tools. Extend it further with MangoApps Open APIs and Webhooks.
Learn More
Trackers are really helpful because people can contact who they need and then have that department reach back out to them with the person who needs to fulfill their request. It cuts down on a lot of 'who do I call for this or that?' Being able to submit information really quickly is a big benefit.
- Rebecca Stone, Internal Communications Coordinator

Elevate Your Process Management System
Keep your teams productive with MangoApps process management tools. Get your free demo today!
Get Free Demo