Out-of-the-box support for all popular languages
Out-of-the-box, MangoApps supports many popular languages (English, Spanish, French, Dutch, German) and allows you, the customer, to help translate in language of your choice. Simply choose the language you need to translate and with just a few clicks submit an updated word or phrase.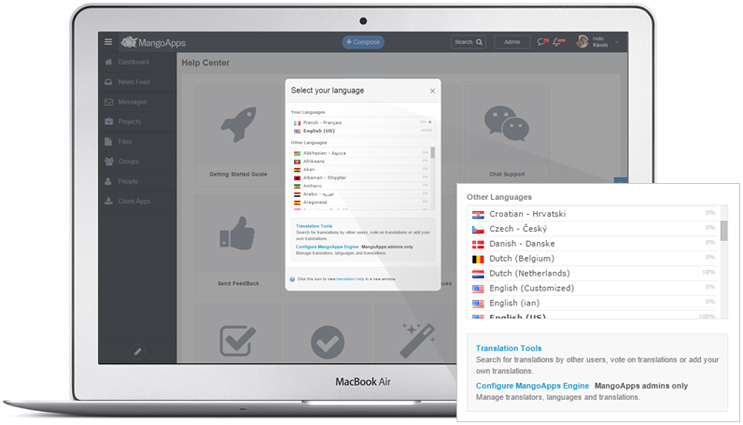 Inline context translation with in-built translation voting system
Any user is able to submit translations inline in MangoApps for any word or phrase that is underlined. There are three colors for the underlines. Red means there is not yet a translation submitted, yellow is translated into a fallback language, and green means the phrase has been translated. A simple right click on any underlined word allows you to submit a new translation, or an updated proper translation. Other users can vote translations up or down to crowd source the best translation.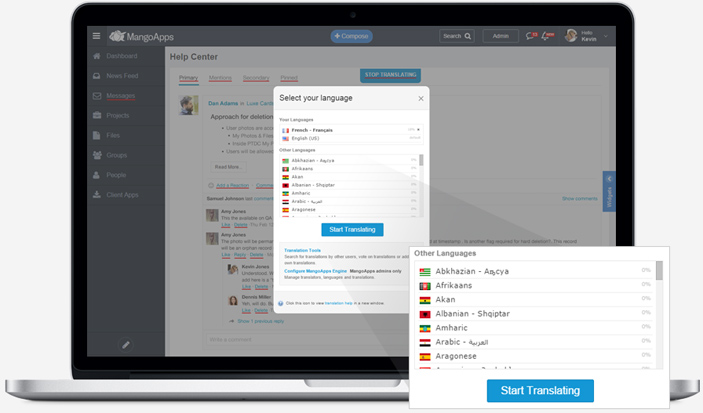 Administration tools for configuring all aspects of the language translation engine
In Private Cloud and On-premise deployments of MangoApps, domain admins have access to the complete translation libraries which can be used to manage translations in their domain. There is a dashboard to review translations which provides rules for case and context, and even a prohibited word list -- to prevent the submission of prohibited/curse words. Translation management in Shared Cloud is managed by the MangoApps Team, you can contact us at support@mangoapps.com.