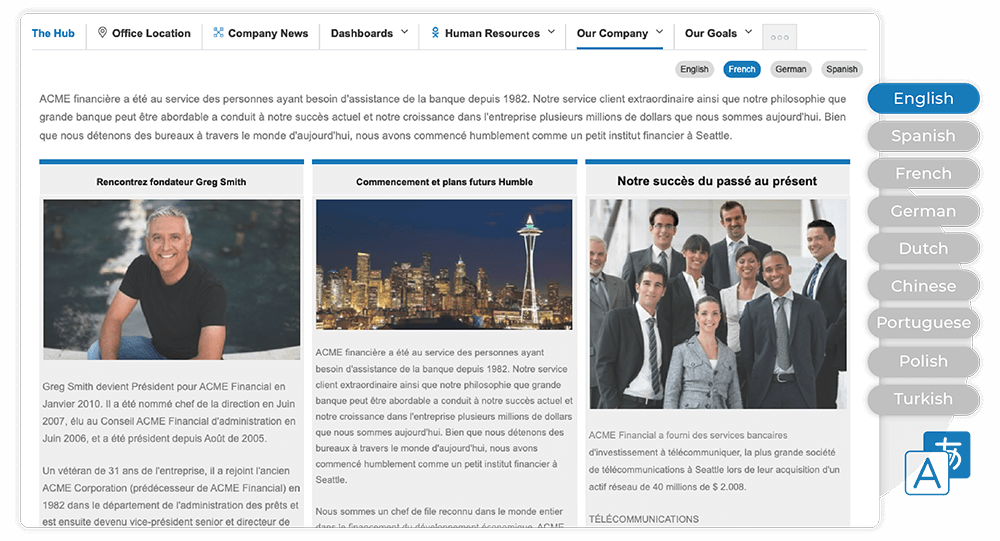 Out-Of-The-Box Support For All Popular Languages
MangoApps supports following popular languages and allows company admins to choose a primary language for their company domain.
Chinese (Traditional)
Chinese (Simplified)
Dutch
English
French
German
Spanish
Turkish
Portuguese
Polish
Individual users have the option to set a language of their choice in their individual account. Support for additonal languages can be added upon request.
User Content Translated Automatically Into 54 Languages
Translations happen automatically between the input source language and a target output language among 54 supported languages. This translation requires no manual effort or extra steps for the user when sharing a status update, posting a question, or creating a post.
These languages include: Afrikaans, Albanian, Amharic, Arabic, Azerbaijani, Bengali, Bosnian, Bulgarian, Chinese (Simplified & Traditional), Croation, Czech, Danish, Dari, Dutch, English, Estonian, Finnish, French, French Canadian, Georgian, German, Greek, Hausa, Hebrew, Hindi, Hungarian, Indonesian, Italian, Japanese, Korean, Latvian, Malay, Norwegian, Persian, Pashto, Polish, Portuguese, Romanian, Russian, Serbian, Slovak, Slovenian, Somali, Spanish, Swahali, Swedish, Tagalog, Tamil, Thai, Turkish, Ukrainian, Urdu, and Vietnamese.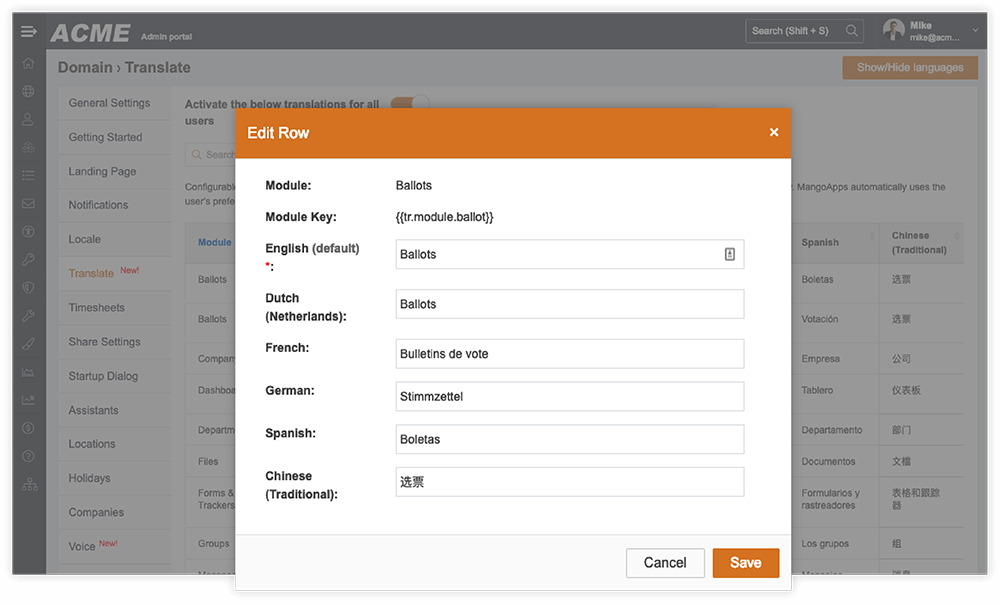 Translate Custom Module Names
The title used for top level modules in MangoApps can be customized by domain admins to meet the needs of the business. This is no exception when MangoApps is being translated. By default the module labels can be set to translate to the selected language for the locale. Domain admins however can edit the out-of-the-box module translations to further suit their needs.
Bring your frontline and office teams together on one common platform
It has never been this easy to create the perfect employee experience for your deskless and deskbound workers. Contact us to discuss requirements, pricing, rollout and support. Get your free demo today!