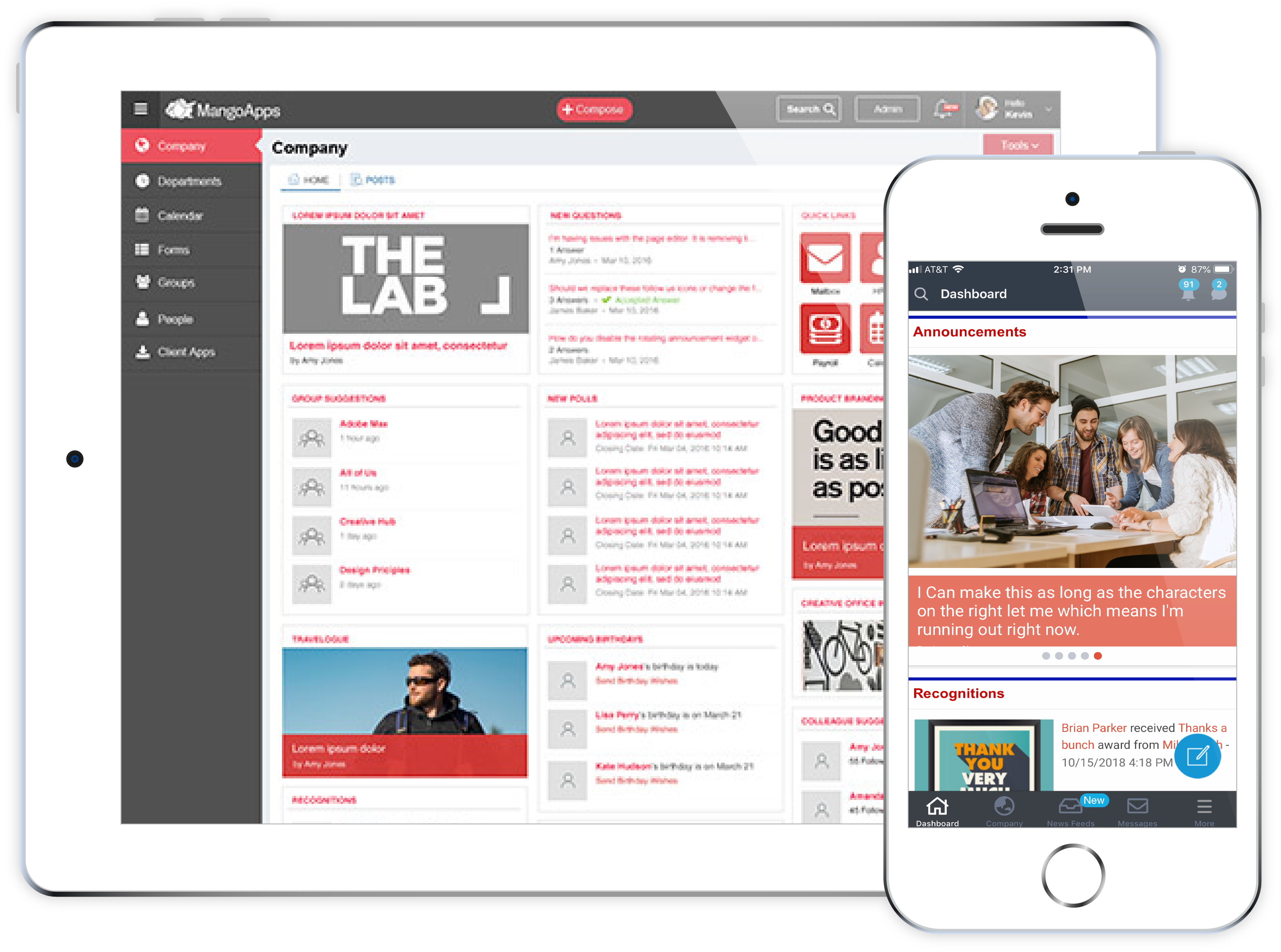 Mobile Information Hub For Any Workforce
MangoApps for mobile team collaboration offers the same powerful Intranet for non-desk employees as the ones who are in front of their PC. This provides a smart and easy-to-use information layer that connects multiple sources of news and information across the company.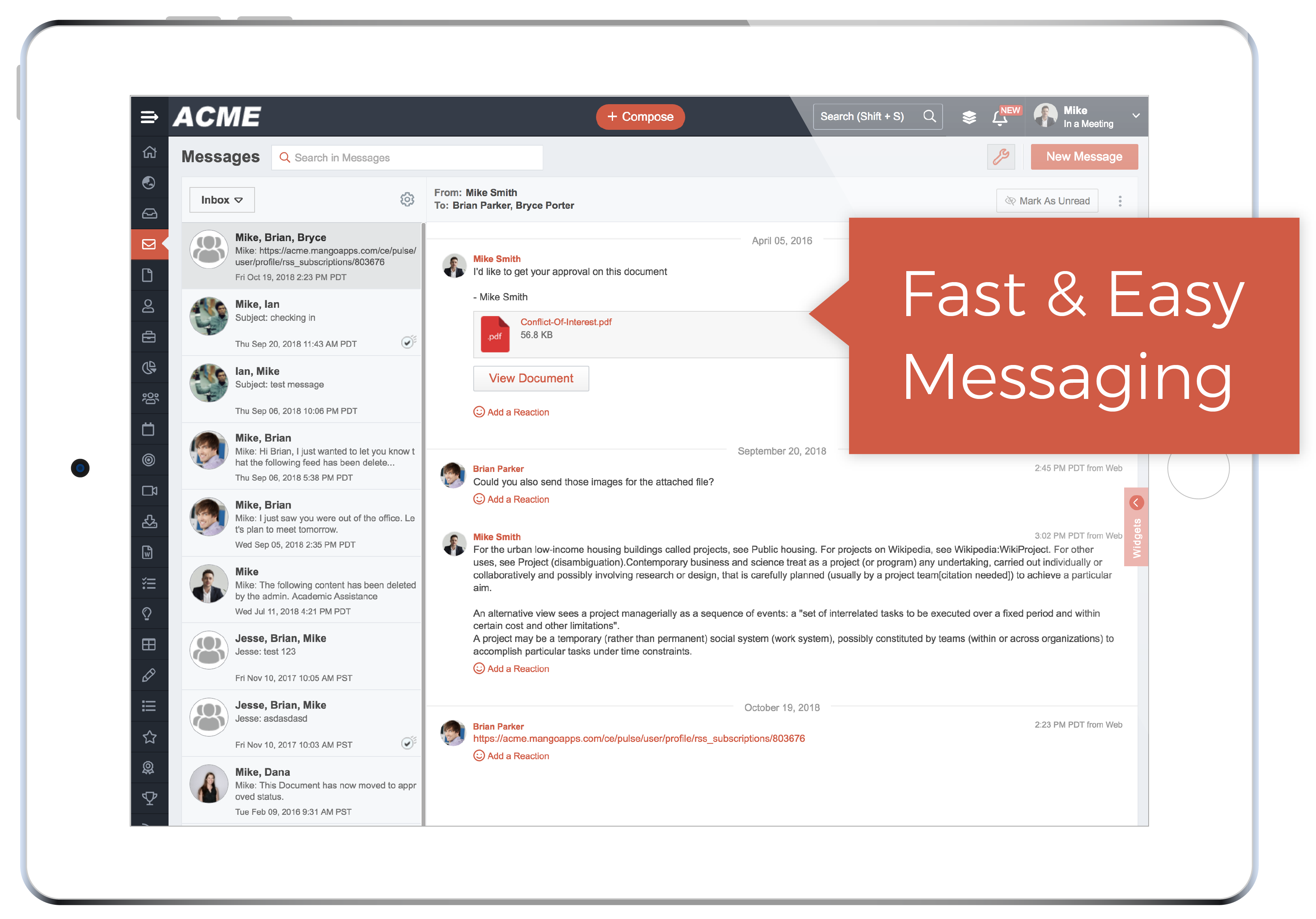 Replace Email For Private Messaging
Create focused one-to-one and one-to-few conversations directly from MangoApps mobile app with rich-text included. No need to remember email addresses, or wade through the distractions of an email inbox. Users send private messages from their mobile app to any employee, even a frontline or production worker with no email address. As with private messaging on web, users can also send and receive email messages to system approved internal or external email addresses.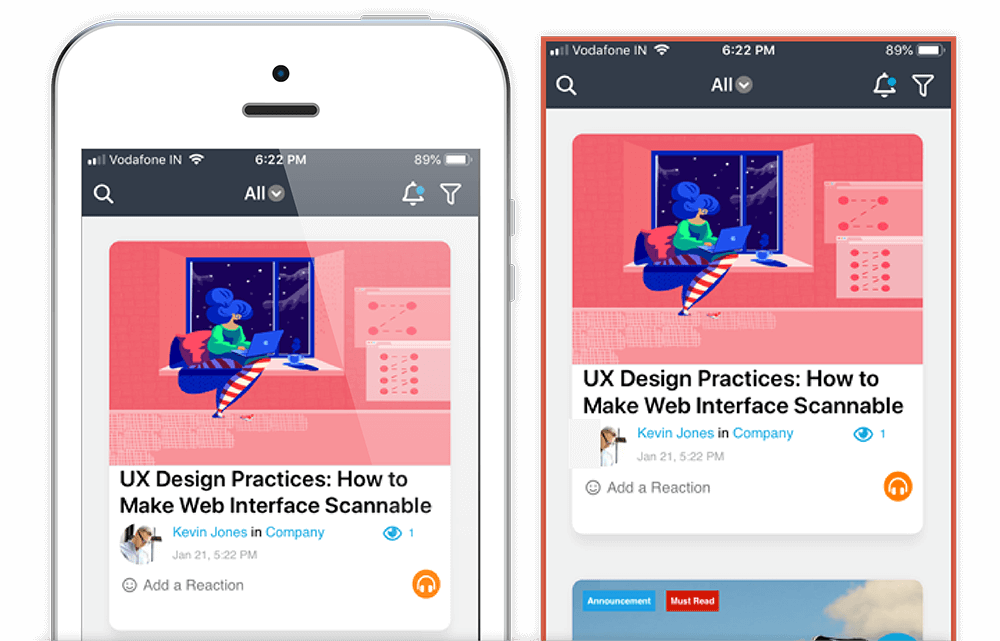 Share, View, and Listen To Posts
Users can share posts from the app with multiple teams, groups, departments, projects, or the company. Creating posts on mobile is easy, allowing users to quickly select their audience, add text, media and files right from their mobile device. When viewing posts, users can filter by category or type, and voice enabled posts can be listened to directly from the post or subscribed to as a podcast.
Company Posts Converted to Podcasts With Voice
Podcast enabled posts not only make it easier than ever to stay up to date with company news, announcements and newsletters, but allows various digest options fit the listening preference of your users. Users can subscribe to posts in Apple podcasts for listening on the go.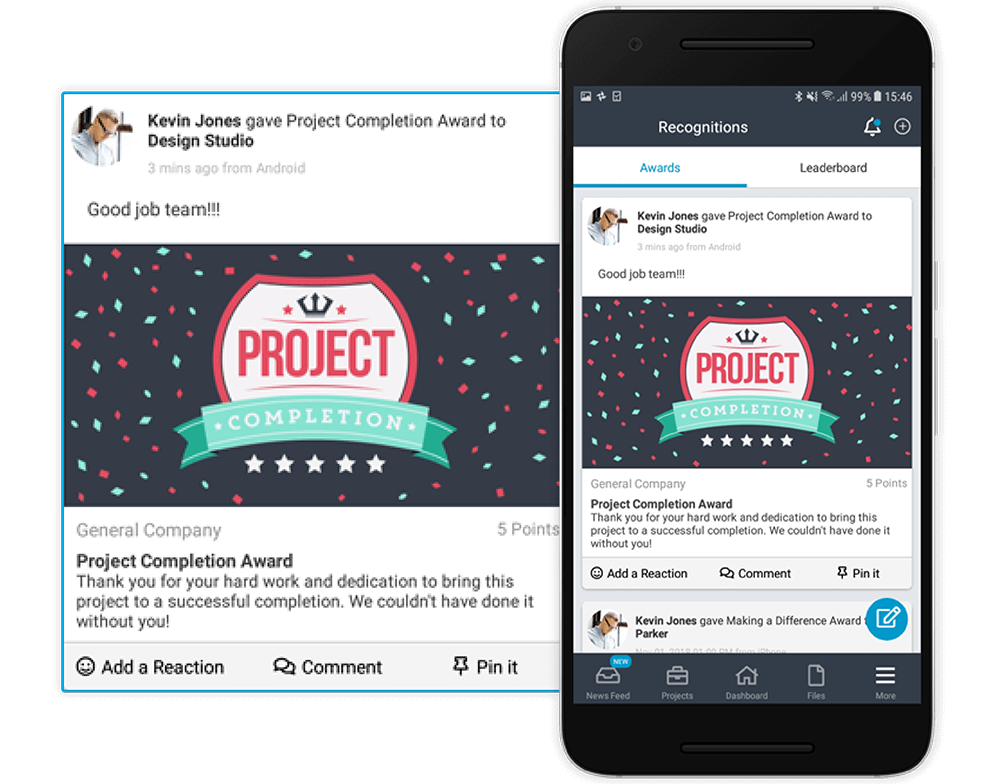 Give Recognition To Colleagues and Teammates
Recognize employees, supervisors, teams, and specific teammates right from the mobile app. Endorse others for their strengths, while bringing each employee's contributions to life. The awards are chosen from a pre-defined list of categories, include an image, and personal message.
Additional Mobile Intranet and Collaboration Features
Branded Mobile App
Like web, get your company branded mobile apps on iPad, iPhone and Android. Choose to distribute it via the Public App Store / Play Store or register for Apple's enterprise developer program and then distribute the apps via an internal channel.
Learn more about Customization and Branding
Enabling a Secure Mobile Experience
Lost or stolen? No worries, your data is still protected. Remotely logout a user and delete MangoApps application data on a lost or stolen devices. Further enforce all employees to set a secure PIN and with all communication from any device being encrypted over HTTPS, your company's confidential information is safe.
Keeping Departments In Sync
Department feeds, posts, pages, files, and are accessible, no matter where the user is. Reach all department employees to ensure engagement and acknowledgement of important updates and more.
Mobile Employee Directory
Secure employee directory that helps any user find the right people in the company, regardless of when they need them or from where.
Celebrate Important Dates
Never miss birthdays, holidays, and other important company events and dates with helpful mobile notifications.
Ask Questions, Get Answers
MangoApps questions module is available for use on iOS and Android devices. Users can ask questions, provide answers or view/filter responses as they browse.
Set and Edit File Meta Data or Hashtags
In addition to managing files on the go, mobile users can set and etc meta data, custom fields, and hashtags right from the mobile app.
How Our Customers Use Mobile Intranet and Collaboration
1

Give employees access to all of the tools and information on MangoApps from anywhere, anytime.

2

Increase the exposure and engagement of content or anything important by ensuring a more global reach.

3

Track tasks and important assignments on-the-go

4

Keep employees in sync with each other, with immediate access to email replacing messages or chat.