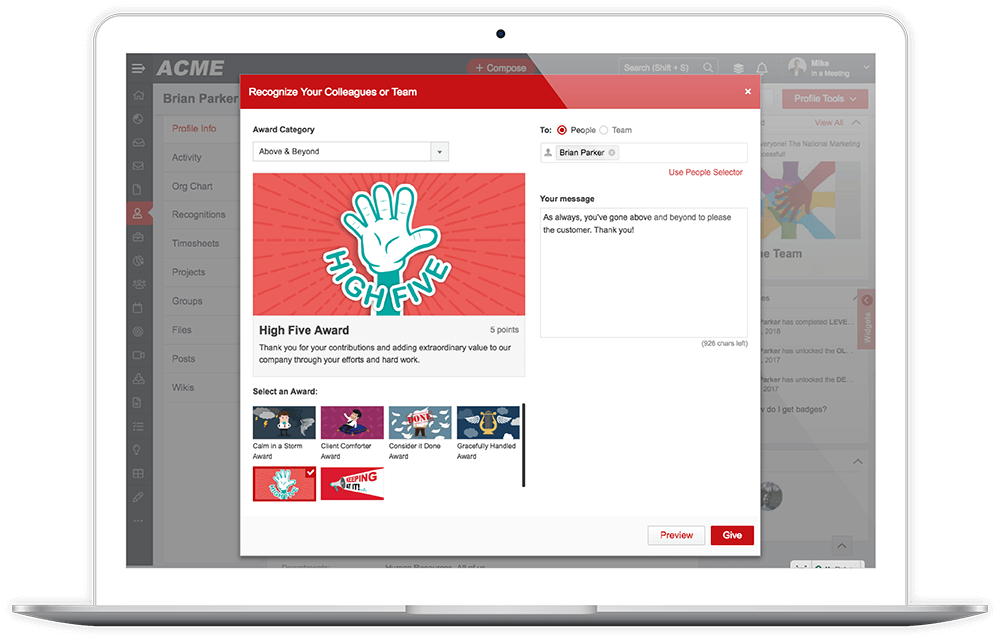 Giving An Award Is Quick and Engaging
Easily accessible from the quick compose button at the top of any MangoApps page, recognizing any colleague or team with an award is quick and easy. Users customize awards by selecting from a number of pre-shipped categories and templates, and add a personal message to create authentic human connections and better engagement.
Customizing Awards and Categories
Admins can streamline the policy of giving recognition in the company to ensure that it lines up with corporate goals and is cohesive with company culture. Admins can create any number of custom awards for every use case, with custom images, GIFs, names, points and descriptions. Determine who can give awards, and activate/deactivate awards or categories. Awards can be customized to allow all, or limit access to only certain users, or manager/admins.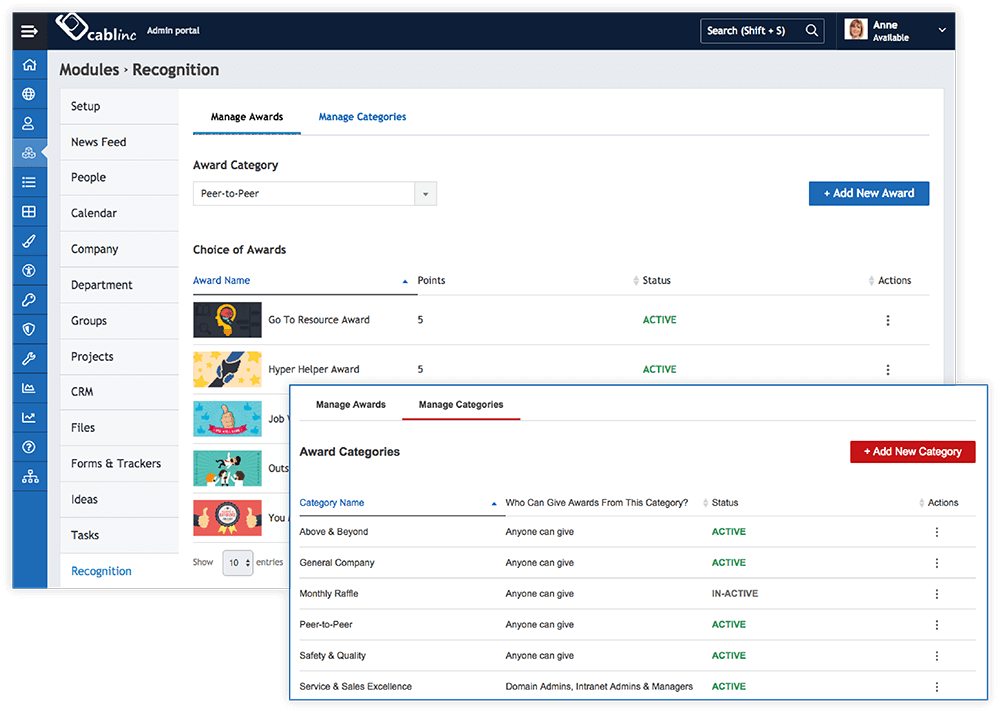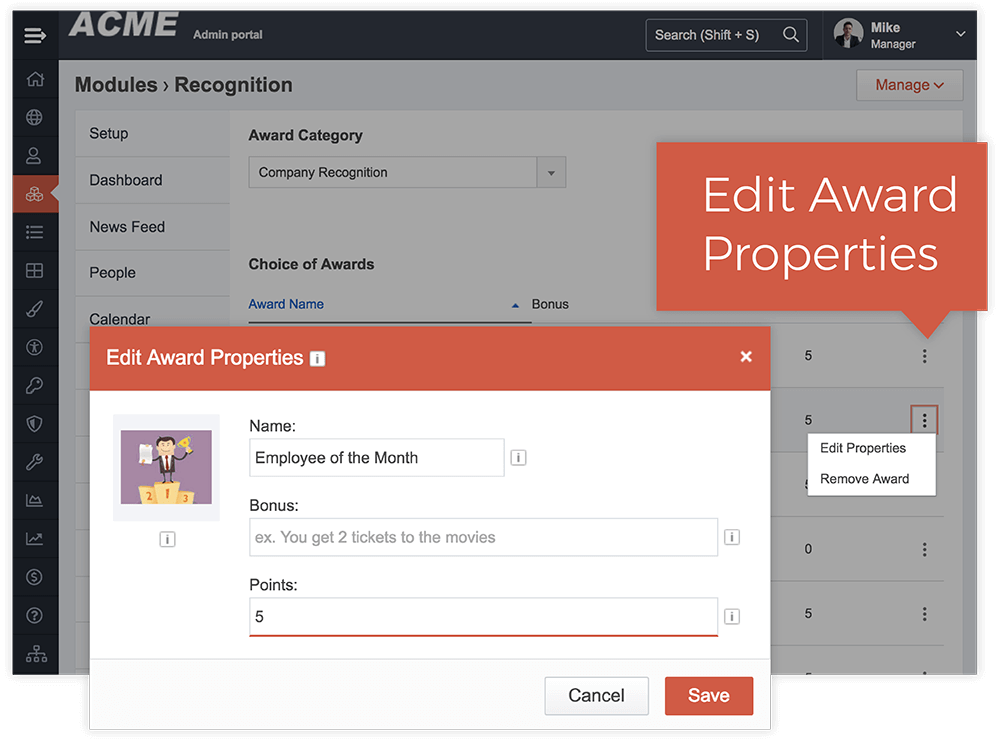 Custom Points To Align With Corporate Gamification
Assign custom points or bonuses to any award as per the company policy or gamification goals. This makes it not only unique to the company, but allows an easy way to reward employees with specific earnings or prizes (ie: movie tickets, or other redeemable earnings).
Recognize team members and boast their achievements to the team. Awards can be given to specific team members, with award notifications going out to all team members, and posted in the team newsfeed for all to see. Although this recognition happens only in the team environment, the award still appears publicly on the recipient's profile page. Users can opt to only notify recipients if they wish.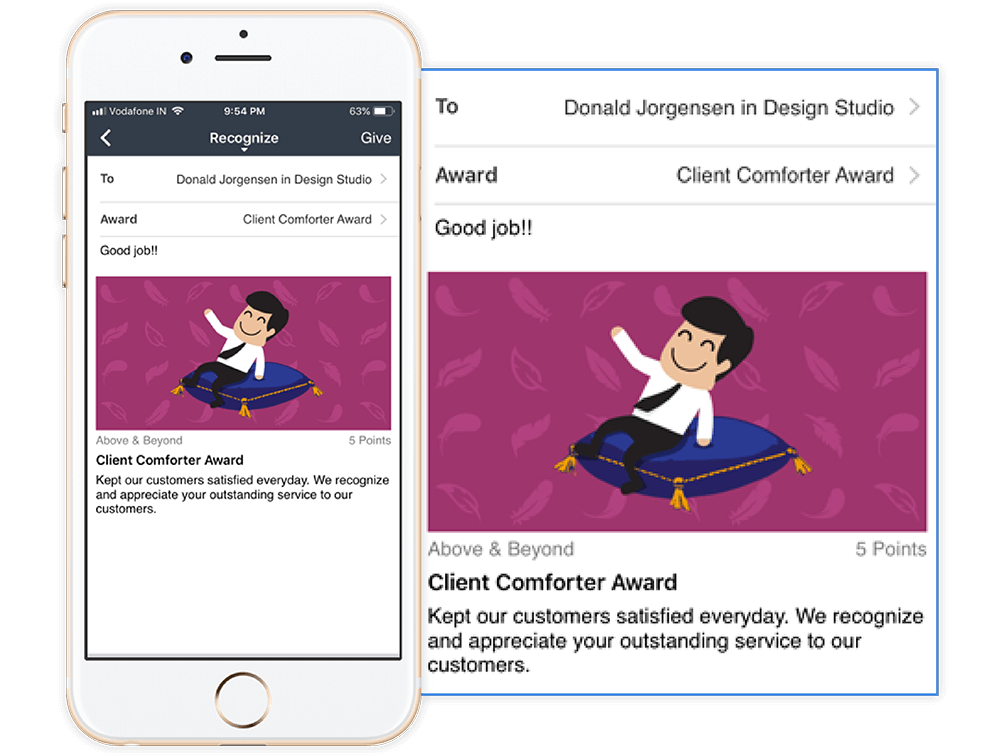 Rewards and Recognition On The Go
The recognition module is available for all iOS and Android devices that have the MangoApps application. Users can view all recognitions given on user profiles or the newsfeed, view recognition leaderboards, and give recognition to specific members as they would on the web.
Awards With Reward Points
With the rewards points feature turned on, domain admins can assign reward points to awards. Unlike gamification points, which simply earn online badges, reward points are redeemable by users to earn things per your company settings and 3rd party rewards application. A reward approval process ensures approval by a direct manager or domain admin when the sender has an insufficient points balance.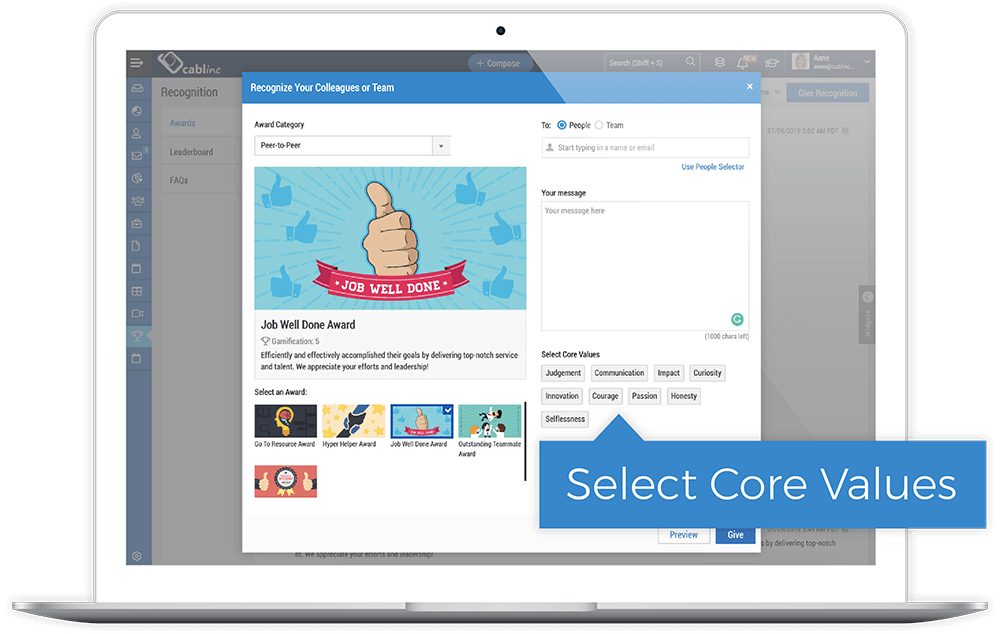 Awards Tied To Core Values
MangoApps ships out-of-the-box with a set of core values that the domain admin can manage and set. When giving recognition awards, they can be associated to align with the company's core values. The user giving the award can select one or more code value tags to associate. Core value recognition can also be filled and featured on user profiles.
Automation for Birthday and Anniversary Greetings
Ensure that employees get timely and personalized recognition for their birthday or work anniversary. Domain admins enable automation rules for birthday greetings or anniversary recognition that goes out automatically on the day of the event. Settings allow for customization of when the greeting is delivered, and the content.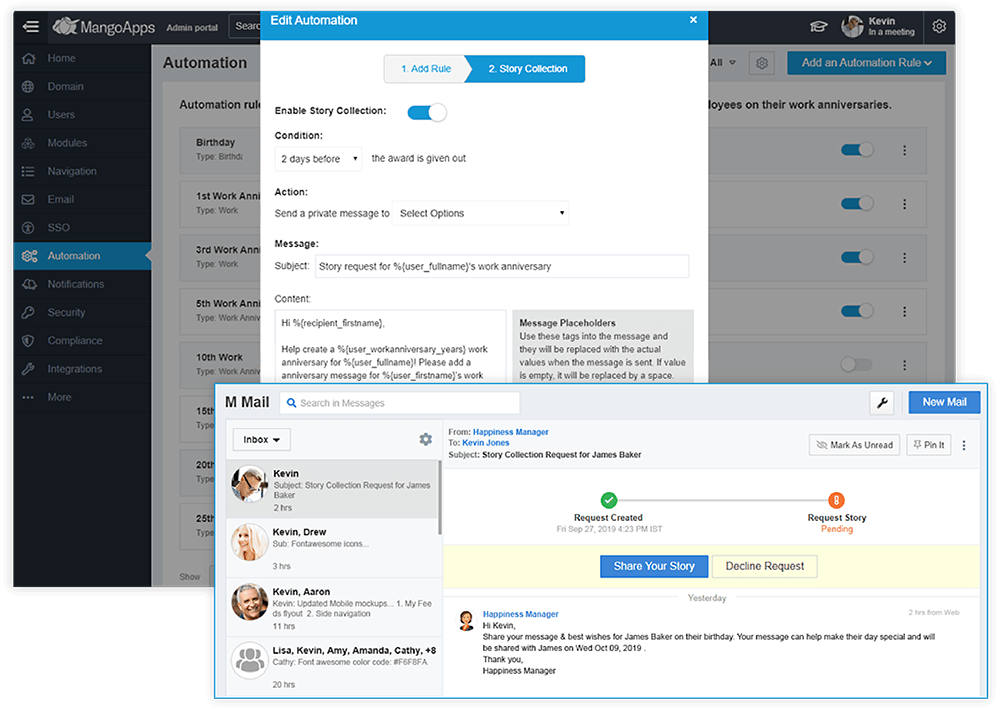 Story Collection for Birthdays and Anniversaries
Collecting wishes or stories from managers, peers, reports, or followers makes celebrating special moments more colorful and personal. Story collection requests are private messages customized and sent out to recipients 2,5,10 or 15 days before the event, and automatically attach to the greeting post when live.
How Our Customers Use Rewards & Recognition
1

Create a fun company environment with healthy competition and gamification

2

Improve company culture by allowing employees to engage and reward each other's effort

3

Customize awards to match company needs

4

Assign and provide custom points or associated prizes for redemption

5

Thank and recognize a team of people for their help or contribution to a project
Bring your frontline and office teams together on one common platform
It has never been this easy to create the perfect employee experience for your deskless and deskbound workers. Contact us to discuss requirements, pricing, rollout and support. Get your free demo today!