Admins can provide both static and dynamic team pages in almost any language. Multilingual pages help companies stay prepared for any unexpected communication needs and are, of course, necessary if team members speak another language or if there are legal translation requirements.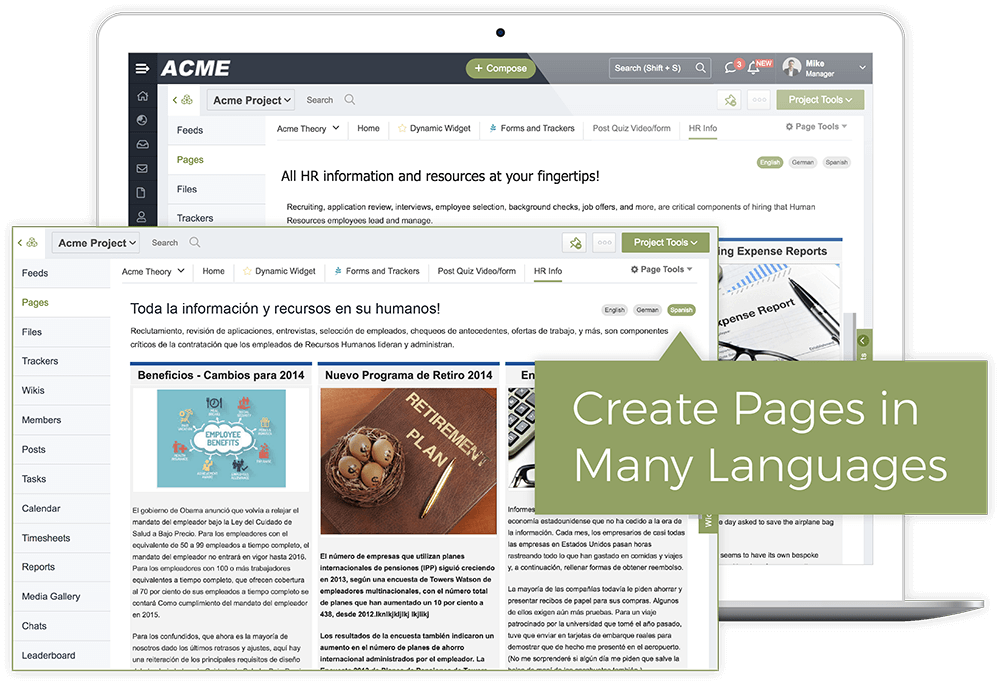 Additional Team Pages Features
Easy Administration
Both static and dynamic team pages are easy to set up and simple to maintain with helpful page templates, a straightforward editing interface, and quick content creation and publishing abilities.
Simple Navigation
Team pages are easy to navigate and are a centralized space for important team information, helping teams find the content they need without providing distractions to other employees.
Indexed and Searchable
Content inside team pages are automatically indexed after page updates making all of the information searchable, easy to find and up-to-date.
Never Lose Changes
Team pages track and save every edit made to them, allowing admins to see and compare different version and restore old or accidentally removed information.
How Our Customers Use Team Pages
1

Use static pages to share important and generally unchanging team information

2

Keep team members informed of regularly changing content with dynamic pages

3

Organize and store content without cluttering newsfeed or distracting other employees

4

Effortlessly and reliably translate content into additional languages
Provide a unified employee experience with MangoApps
Bring intranet, teamwork, training and content management into an integrated employee experience. It has never been this easy to create the perfect employee experience. Contact us so we can go over your requirements, demonstrate MangoApps, discuss pricing, rollout & support.