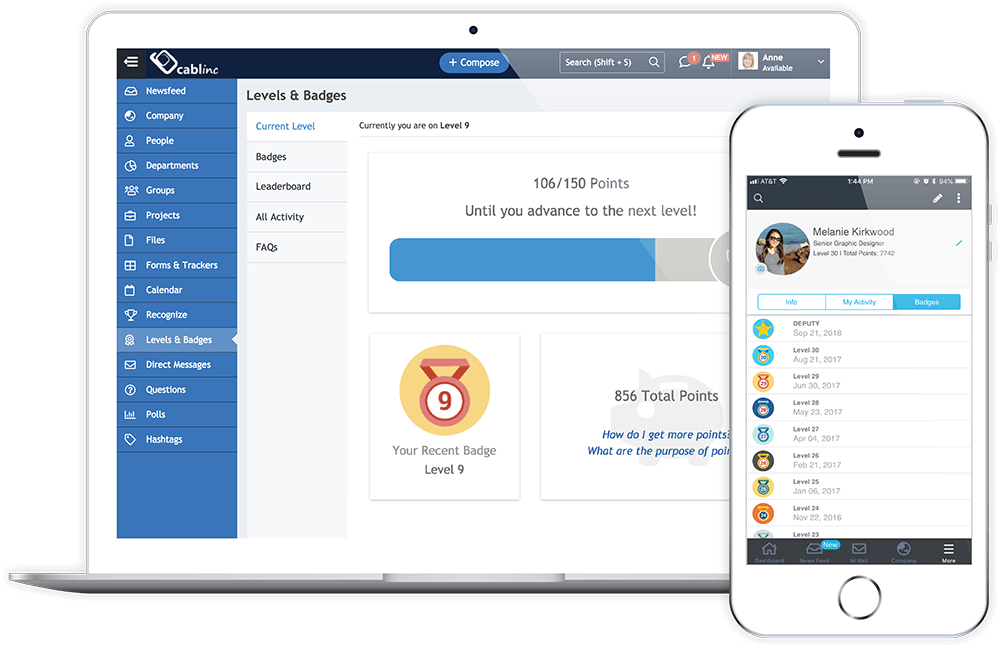 Digital Reputation Based On Employee Engagement
Take your company culture and employee engagement to the next level by allowing employees to build their individual brand by while being an active daily user. Users work their way up through 60 levels with activities such as making posts, providing answers, uploading files, or creating projects to earn points towards the next level.
Accumulate Points for Activities
Points are allocated for activities a user performs across the domain. Receiving points also depends on key attributes such as frequency of participation, contribution type, contribution to projects, etc. The points create a sense of progression for the user, adding to the gamification and engagement strategy.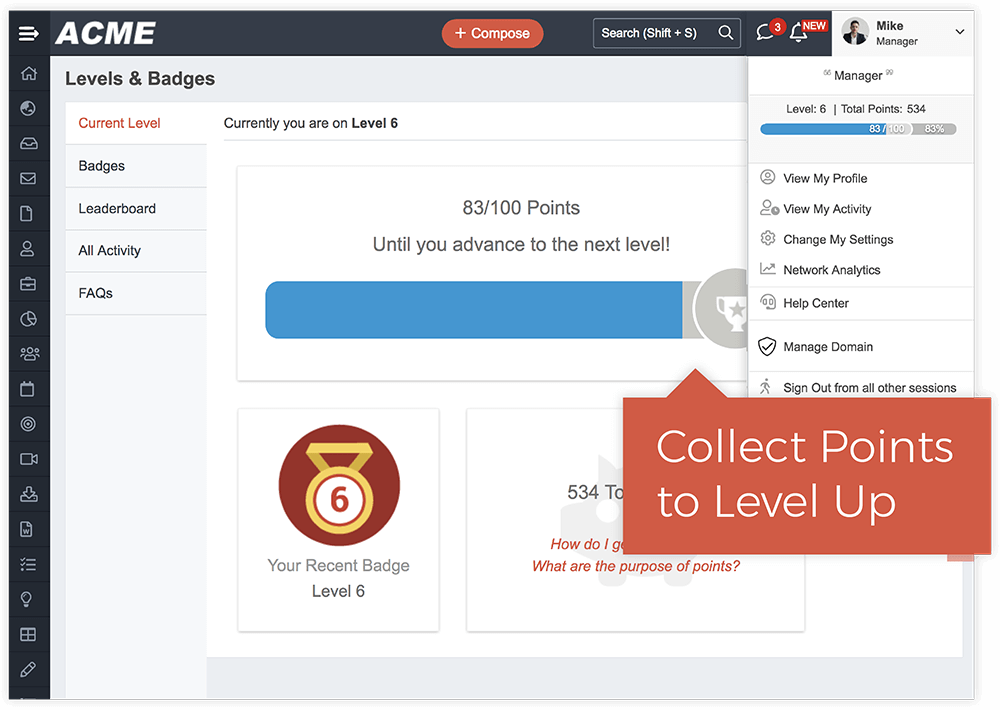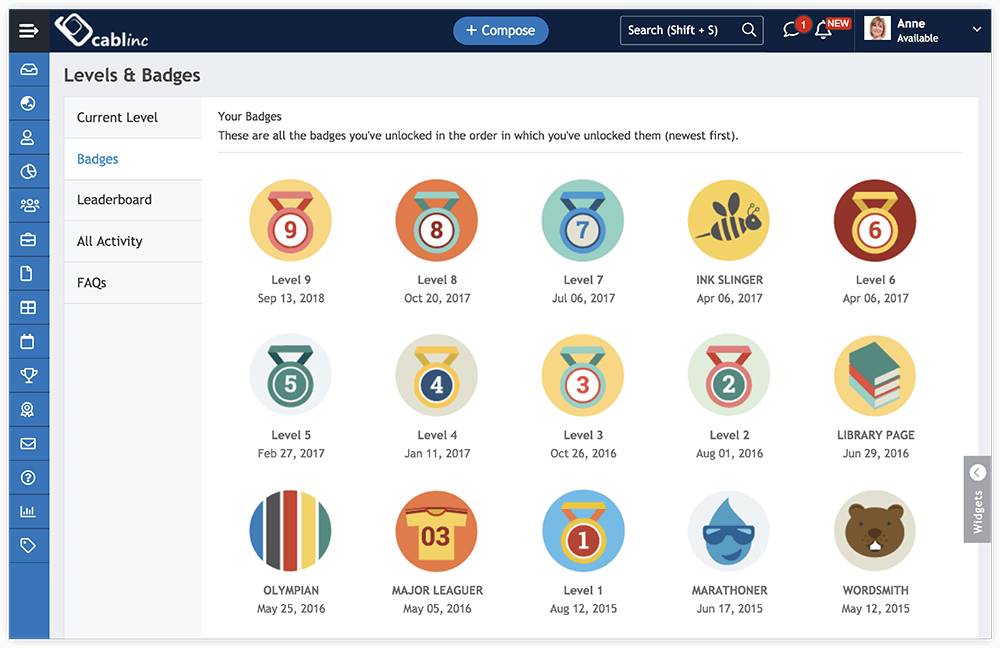 Earn Badges While Working and Exploring
In addition to badges earned for certain levels and points, users are awarded badges based on specific actions and mission completions. As they gain followers, complete tasks, sign in consistently or explore new areas of MangoApps, they get badges to proudly display on their profile.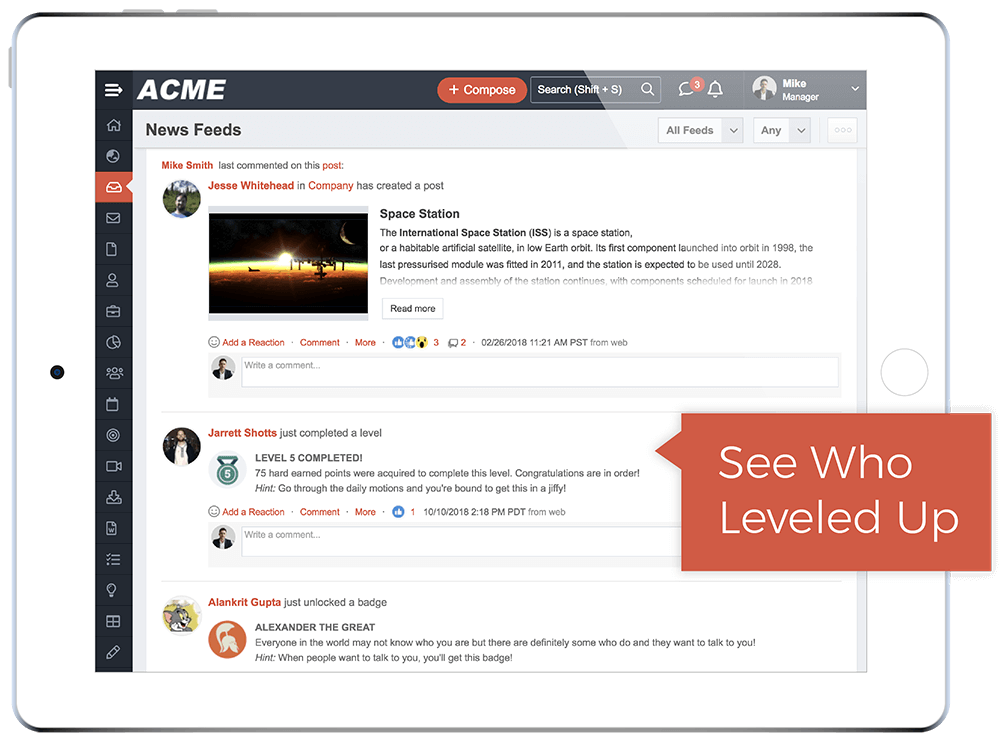 Well Deserved Bragging Rights
As employees unlock badges, and level-up, the activity and point balance is visible in a number of places including the Levels and Badges activity feed, as a dashboard widget feed, or on a user's profile or employee office card. As these achievements are shared on the activity feed, colleagues can react and comment to congratulate each other.
How Our Customers Use Levels and Badges
1

Increase company culture and engagement

2

Give employees a reason to login everyday and remain active

3

Earn more points and badges by exploring new areas of the platform and try new tools

4

Create healthy competitive energy between colleagues

5

Track and compare company activity and influence with monthly and all-time leaderboards
Bring your frontline and office teams together on one common platform
It has never been this easy to create the perfect employee experience for your deskless and deskbound workers. Contact us to discuss requirements, pricing, rollout and support. Get your free demo today!