Encourage Participation With
Levels & Badges
Gamification points in MangoApps create an air of friendly competition, incentivizing engagement with levels and badges.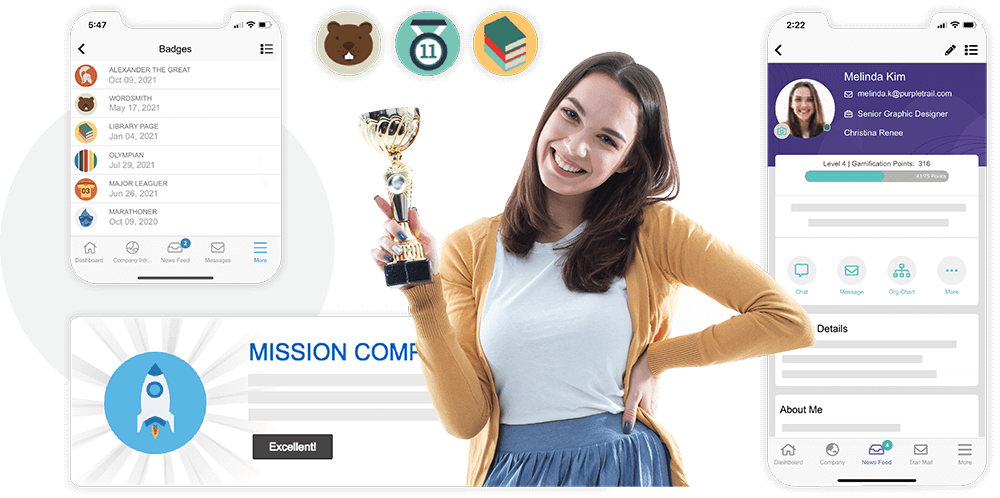 Build A Digital Reputation
Take your company culture and employee engagement to the next level by allowing employees to build their 'individual brand' while being an active daily user.
Accumulate Points
Points are allocated for activities a user performs across the domain. Receiving points depends on key attributes such as frequency of participation, contribution type, contribution to projects, etc.
Earn Badges
Users are awarded badges for earning a certain level, amount of points, or completing a specific action/mission. Badges can be displayed on a user's employee profile.
Once a week, we put up all the awards and badges, and you can tag the people and say congratulations. I love that it's an easier way for us to spread our culture. It's become a two-way conversation.
- Kati Deason, Marketing Manager, Ram Tool

Competitive Leaderboard
Users are able to check the leaderboard to see the top influencers or contributors in the company, providing acknowledgement or competitive spirit.
Daily Limits
To deter users from completing excessive daily activities just to get points, there is a daily limit of points earned.
How Our Customers Use Levels & Badges
Improve Company Culture
Increase company culture and engagement
Keep Employees Active
Give employees a reason to login everyday and remain active
Bragging Rights
As employees unlock badges, and level-up, their activity and point balance is visible to colleagues
Foster Competition
Create healthy competitive energy between colleagues
Track Activity
Track and compare company activity and influence with monthly and all-time leaderboards
Explore New Tools
Earn more points and badges by exploring new areas of the platform and trying new tools