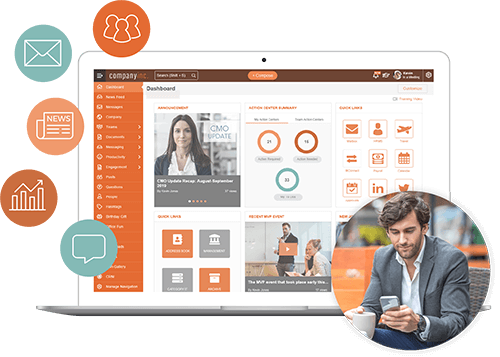 Your Employees' Point Of Entry
Made up of flexible, interactive widgets, each employee's dashboard in MangoApps can be customized to put everything they need in one place, exactly how they want it.
Our team members now use MangoApps as the jumping-off point to get to all the tools they need to do their jobs. Our decision to set up our intranet with that functionality in mind was very deliberate, and our setup has worked remarkably well.
- Debra Helwig, Senior Internal Communications Manager, KCoe Isom

Horizontal vs Vertical Navigation
Admins can assign horizontal or vertical navigation bars depending on the user segment.
Extensive Widget Options
Dashboard users have access to more than 50 powerful widgets, including integrations with their email, task list
and calendar, as well as feeds of key projects or groups, quick links and many other time-saving functions.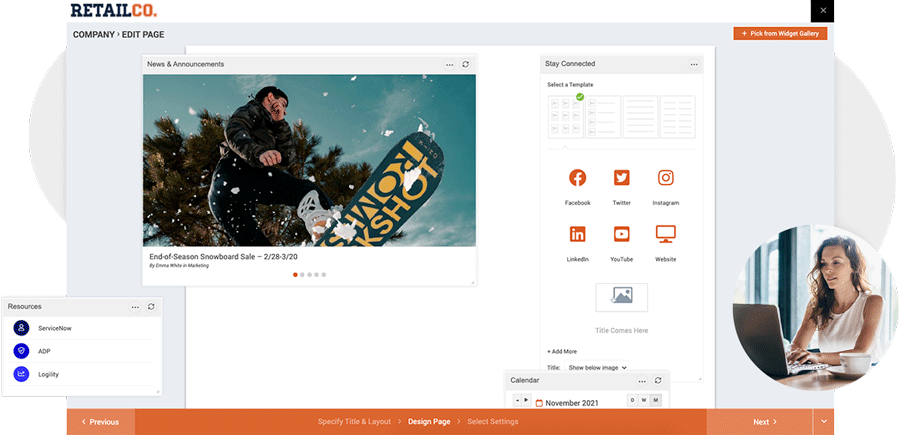 Easily Integrate Content
We make it easy to bring in content from other applications and access it on your dashboard, giving you access to everything you need in one centralized location.
Flexible Dashboard Designs
You can add, remove, reorder, and organize widgets right from the dashboard, or choose from several preset layouts.
Customize Your Mobile Dashboard
You can enable and customize a dashboard specially for your mobile device, without changing your web layout.
Admin-controlled Updates
Admins have the ability to add, remove, or update widgets across all employee dashboards, making global changes straightforward and easy.
Designated
Landing Page
Admins can make MangoApps personalized dashboards the default home or landing page for all employees.
How Our Customers Use Dashboards
Personalized Homepages
Create relevant and personalized homepages unique to your daily work
Dashboard
Establish a quick overview of everything you need, all in one location
Stay Connected
Review, receive and respond to the latest and most up-to-date information
Posts & Newsletters
Share important company announcements corporate wide and in real-time
Quick Links
Set up quick links to important and regularly used applications and services