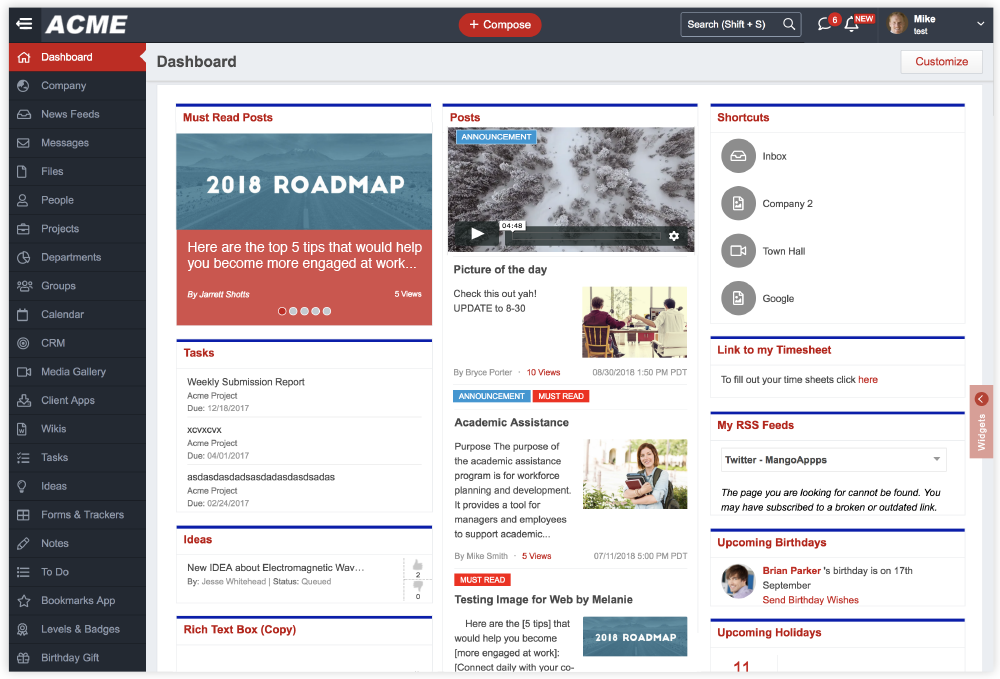 Your Employees' Point of Entry
MangoApps personalized dashboards are how employees start work right and stay productive. Dashboards include all kinds of organization and time management widgets like personalized task lists and custom calendars, helping employees visualize work, organize assignments, establish priorities and stay effective.
Dashboards allow employees to access personalized tools and information tailored to their specific office location, team, department and unique needs. Admins can also assign content to employees or create a quick link widget based on their location, job title, employment length, department or any other kind of need.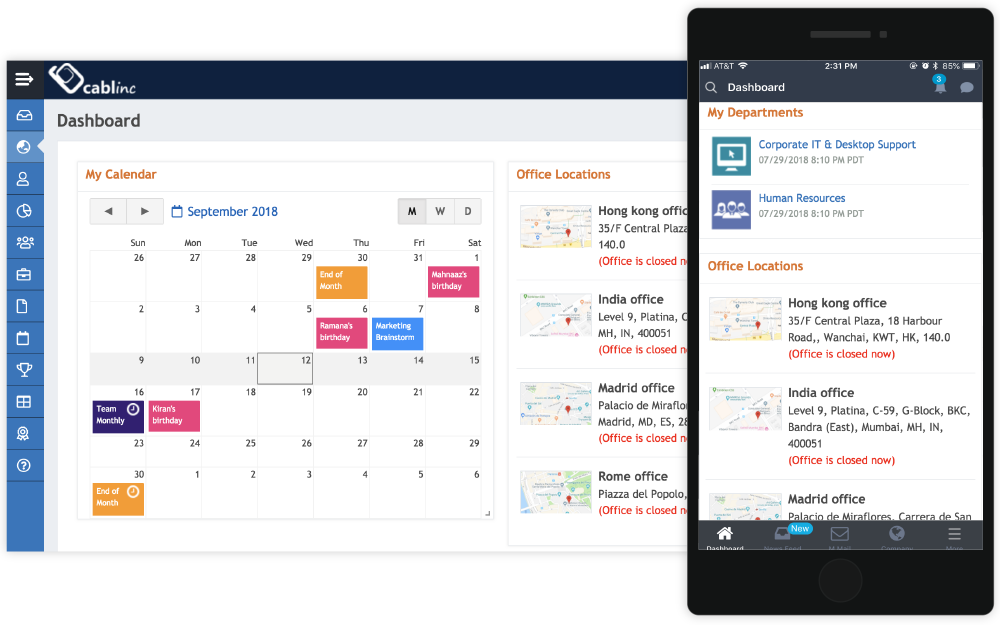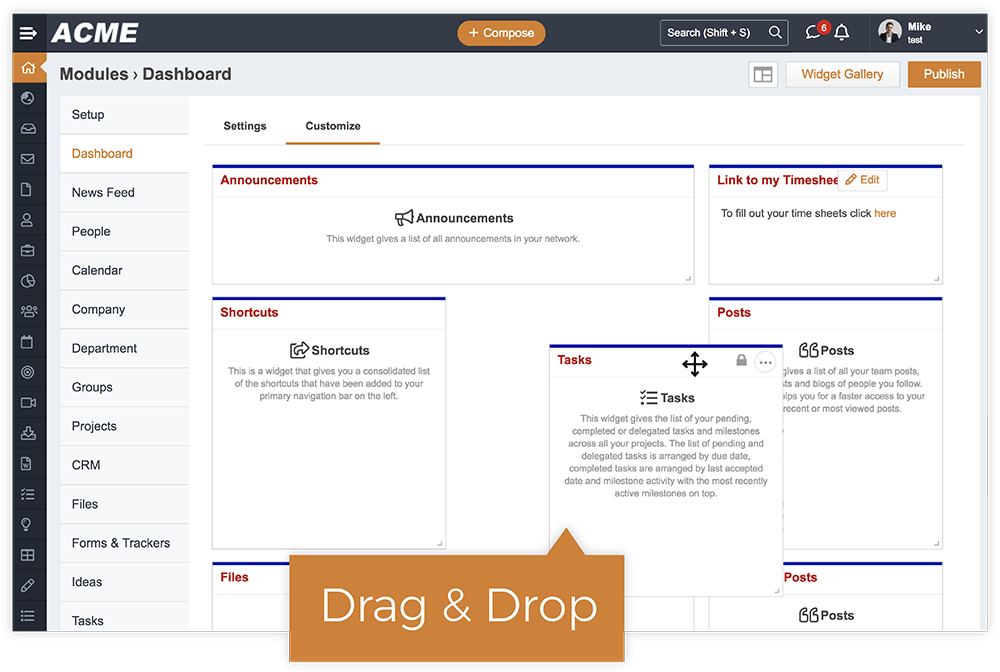 Admins can allow employees to have full customization, some customization or no customization over their dashboards depending on their unique preferences and needs. They can also designate "sticky" or permanent widgets that are present on every personal dashboard and cannot be edited or deleted by employees.
Dashboard users have access to more than 50 powerful widgets in the widget gallery. All of our widgets are user friendly, business focused and never require any kind of software or IT experience. Our most popular widgets include: announcements, company news, customizable links, upcoming holidays and RSS feeds.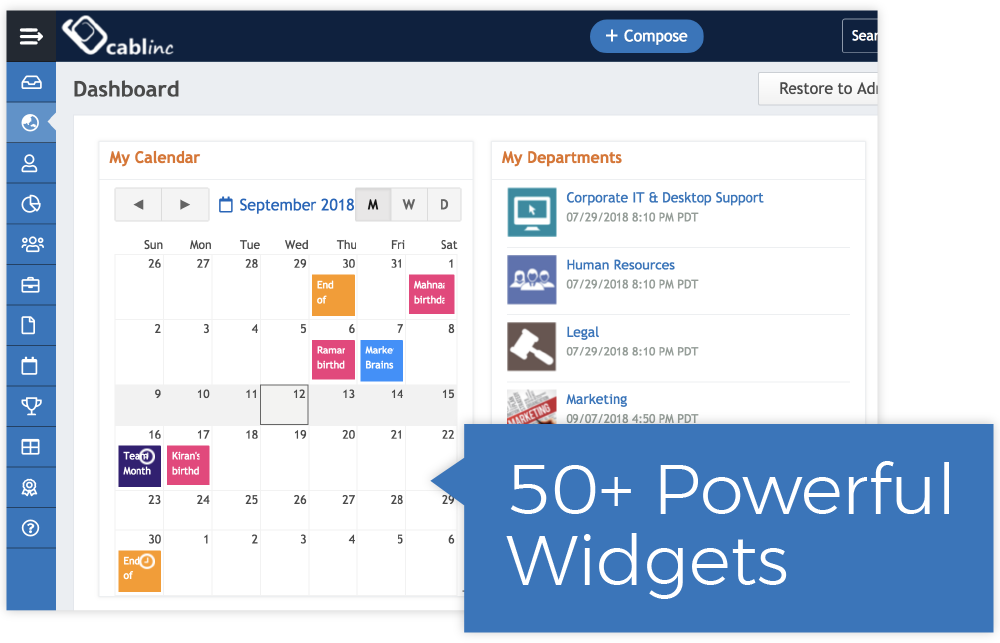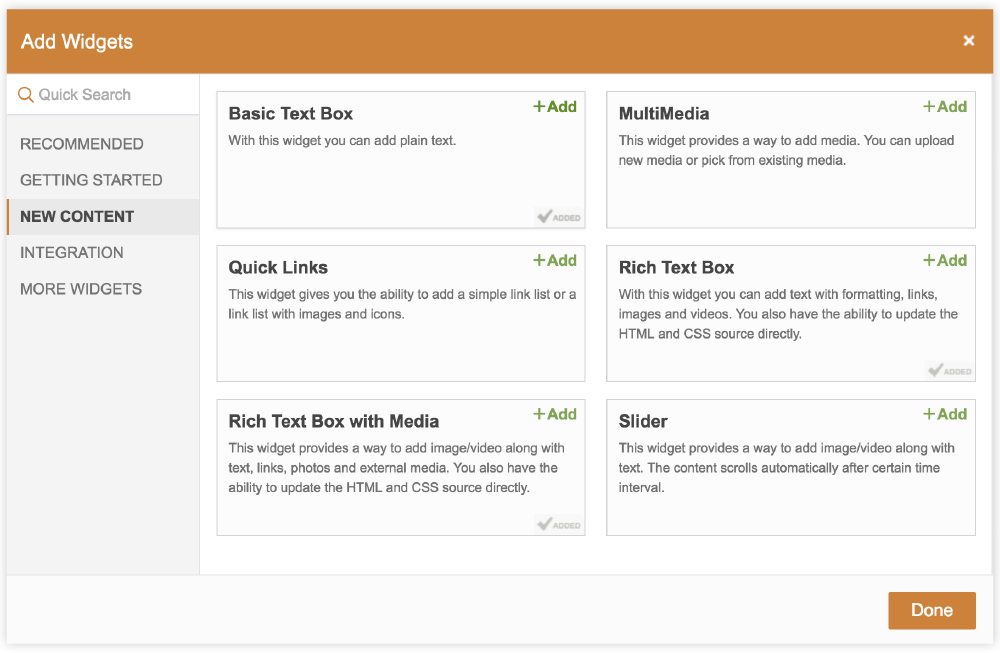 Our dashboards are built to be the central hub for all of your employees' important, relevant and up-to-date information. So, integration widgets are a must. We make it easy to bring in content from other applications and access it on your dashboard, giving you insight and access to everything you need in one easy location.
All dashboard widgets feature a once click refresh tool, guaranteeing that important announcements, calendar events, team updates and any other information is always current and organized. Employees also receive notifications for any changes made to their dashboard items helping them stay up-to-date and informed.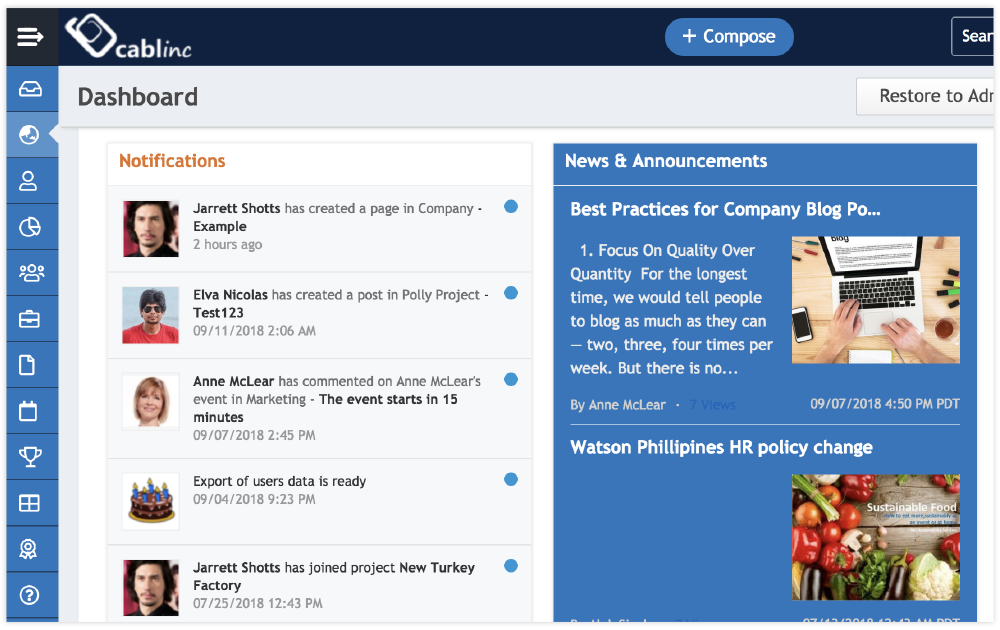 Additional Dashboard Features
Flexible Dashboard Designs
Our large widget library makes creating a custom homepage easy. You can add, remove, reorder and organize widgets right from the dashboard or choose from several preset layouts.
Admin Controlled Updates
Admins have the ability to add, remove or update widgets across all employee dashboards, making global changes to company or team communication straightforward and easy. With the option to only push changes to the user's dashboard, admins can make changes without impacting the user's customization.
Adaptable Widget Abilities
Widget features like size and location and other internal properties are also highly customizable. You can order, arrange, adjust and adapt your widgets until you find the perfect fit.
Designated Landing Page
Admins can make MangoApps personalized dashboards the default home or landing page for all employees, making sure they see it right after signing in and regularly throughout the day.
Instant Dashboard Loading
After a user visits the dashboard once, the data is cached to make all subsequent visits instantaneous. Even when there are updates to widget feeds or changes made by domain admins, a refresh is only needed for those effected items, making the loading experience instant even after a change.
How Our Customers Use Dashboards
1

Create relevant and personalized homepages unique to your daily work

2

Establish a quick overview of everything you need all in one location

3

Review, receive and respond to the latest and most up-to-date information

4

Set up quick links to important and regularly used applications and services

5

Share important company announcements corporate wide and in real-time
Bring your frontline and office teams together on one common platform
It has never been this easy to create the perfect employee experience for your deskless and deskbound workers. Contact us to discuss requirements, pricing, rollout and support. Get your free demo today!