Users create ballots for any use in minutes, and immediately notify voters in real time. Select an audience, create a title and include details or special instructions, set ballot settings, labels, and voting options, impose voting start and end times/dates, and set the permissions for viewing results, revoting or leaving comments.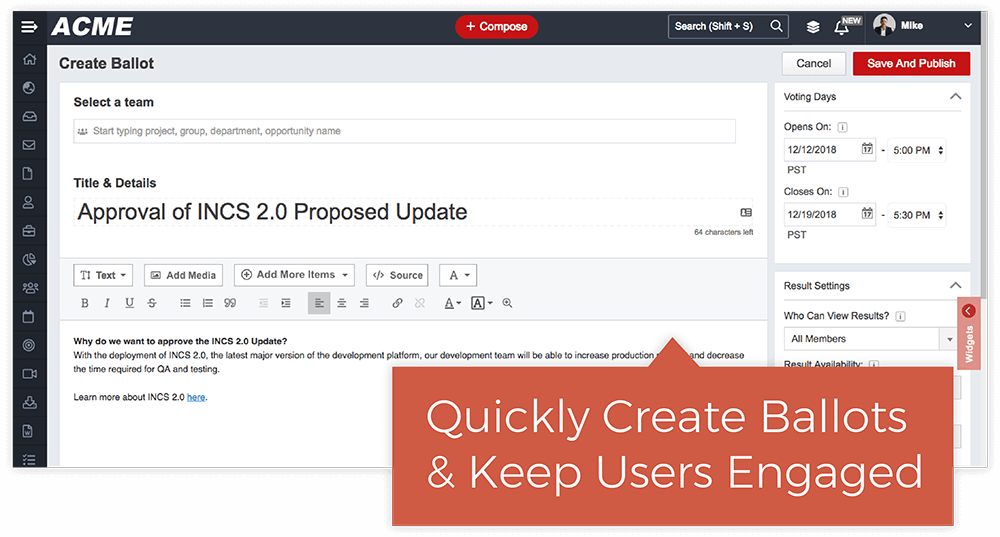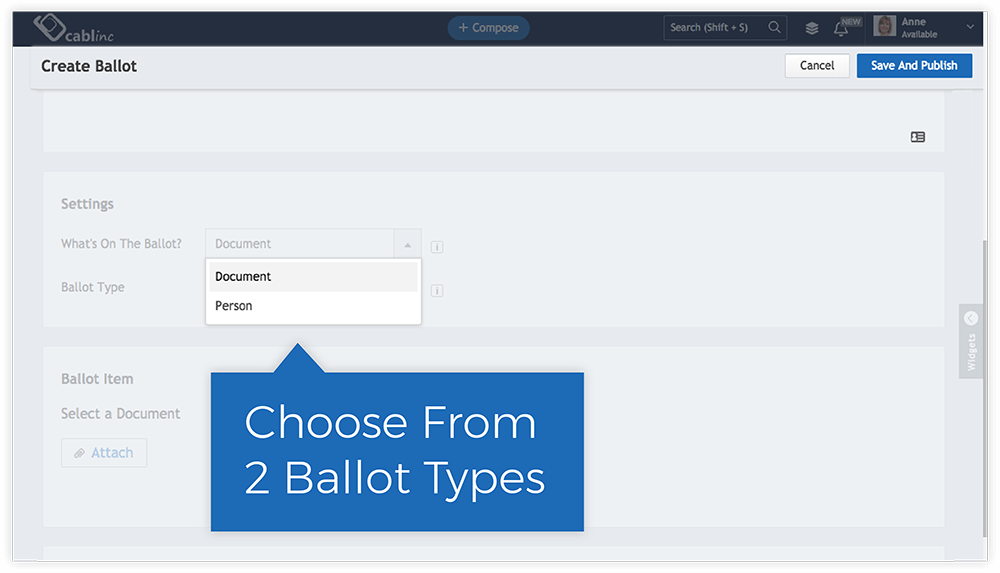 Match Ballot Type To Content
MangoApps supports choosing from two types of content on every Ballot: Document or Person. A document allows voters to read and react on one or more attached documents, while the person option allows for voting for election of one or more people. The ballot type is determined by the use case, allowing for multiple choice (election style) or single choice (yes/no).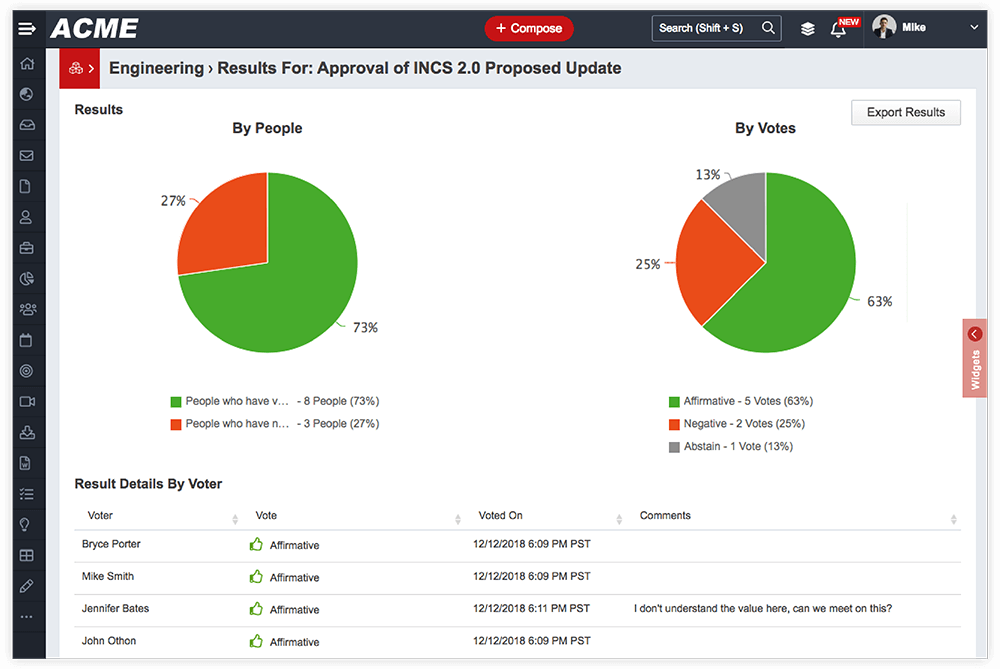 Meaningful Audience Responses
Votes that are cast are reported on the ballot results page, and are visible based on the visibility settings for when/who. The results are reported in two sections, results summary, and results detail by voter, and can be downloaded in an XLS format. The ballot creator, and admins can always view the results of a ballot when available.
Communicating With Voters
Notifications ensure that ballot changes are communicated to users, allowing them to have control on the specific ballot notifications they wish to be notified about. A smart reminder automatically goes out to all voters (who have not voted yet) one day prior to ballot close date. If enabled, users can also comment on a ballot even if they are not a voter.
Voter lists can be auto-managed as per team membership, meaning as new members are added to the team, they are automatically added as a voter to open ballots in that team. Members who are removed from a team will also lose their ability to vote on a ballot. Custom voter lists can also be created to house a specific list of team members, which will not be auto-managed.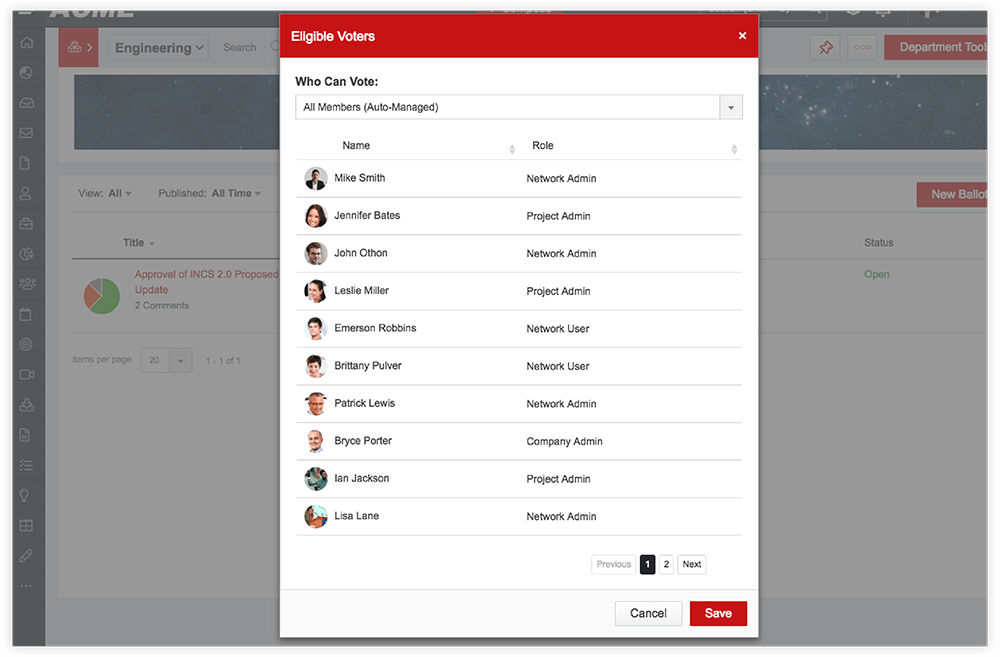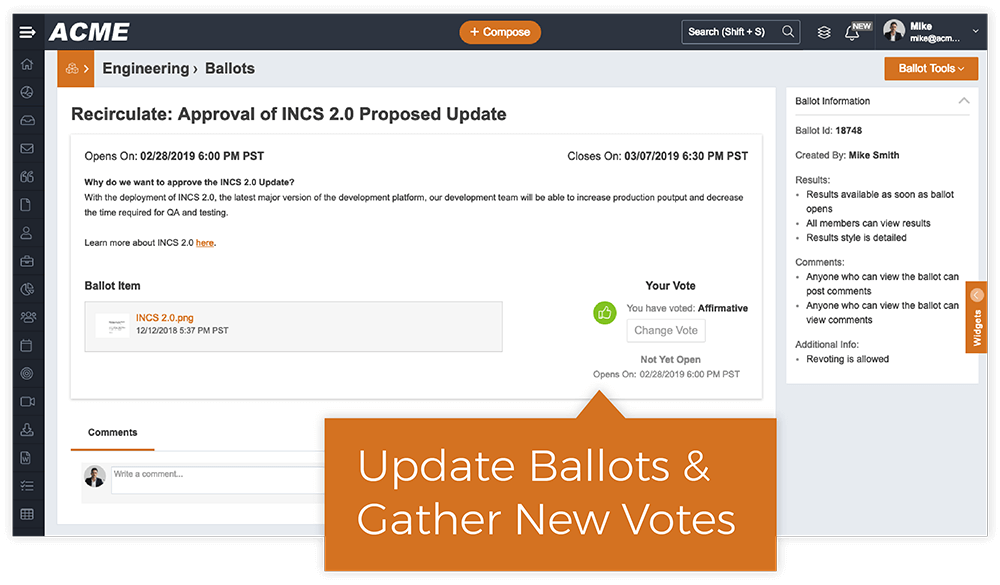 Re-circulate Ballots For Conclusive Results
In some cases despite participation of users, the voted results of a ballot may not be conclusive enough to make a decision. Ballots in these cases can be re-circulated to gather new votes based on any additional or updated information or voting options. Re-circulated ballots are only available to members who previously voted.
Additional Ballots and Voting Features
Setting Custom Voting Action Labels
Admins have the ability to assign custom labels for the voting action buttons as needed to match the business use case or industry terminology.
Re-publish Ballot With Amendment
When changes are made to an existing ballot, the change is noted and made visible to everyone who can see the ballot. Voters are notified of the change if their notification settings for amendment is enabled.
Re-circulate As New Ballot
Re-circulating a ballot closes the current ballot and re-opens a new ballot with all the information copied over to the new ballot including the votes, comments and ballot audit history. A re-circulated ballot will have re-voting turned on by default, and voters will be able to change their existing vote as needed.
Change Vote On Behalf Of Others
Ballot creators and admins have the permission to change a vote on someone else's behalf as needed. The change is tracked and indicates the requesting user and who made the change.
How Our Customers Use Ballots and Voting Features
1

Allowing Associations to make amendments and approve documents/procedures/processes

2

Elect Chairperson(s) for board of directors

3

Vote and make key decisions on policies or business processes

4

Elect partners, trustees, or representatives in various businesses or communities
Bring your frontline and office teams together on one common platform
It has never been this easy to create the perfect employee experience for your deskless and deskbound workers. Contact us to discuss requirements, pricing, rollout and support. Get your free demo today!