Everything You Need to Collaborate Comes Built-In with MangoApps
MangoApps is the most feature rich social collaboration platform on the market. It offers hundreds of features and modules that can be tweaked to suit your needs without any programming necessary. If you can check a box, you can customize MangoApps in minutes.
Enterprise Social Networking
Keeping everyone in the loop and connected
Threaded Conversations. Like, Watch, and Link to any feed. Attach files, pictures, videos up to 2GB to any Feed. Auto preview when sharing links. Convert a feed to a task. Learn more about enterprise social networking
Dynamic activity stream.

Conversations are much easier to follow when they are threaded. You can easily see which comment is the latest at a glance. Nearly every feed item, such as status updates, project wikis, document updates, and new ideas can all quickly be converted to personal or team tasks. And the best part, all of the conversation gets copied to keep the context.

Open or private conversations

Replace your internal emails with Private Messages in MangoApps. No file size attachment restrictions, auto threaded conversations, and no chance of forgetting to "reply all". Start a discussion or ask a question and receive immediate feedback. You'll soon find you are connecting with colleagues you never knew before.

Rich user profiles with LinkedIn and Active Directory

Import your LinkedIn account to quickly and easily fill in your MangoApps profile with contact information, past work experience, and expertise. Find the experts in your organization easier when everything in your profile is searchable.

Security is our number one priority too.

Privacy and security are the top two concerns for businesses. MangoApps addresses these critical needs by ensuring compliance with internal and external regulations, hosting in world class data centers, employing 256-bit AES encryption, and offering more advanced security options than any other social software provider.
The New Intranet Made Social
Company and Departmental Pages
Create the Intranet you have always wanted with rich, powerful departmental pages for every department in your organization. No limit to how many departments you can have. Learn more about the new intranet
Post departmental announcements, policies, and procedures

Make sure every member of your department knows what's going on throughout your company. Keep everyone up to date with departmental announcements, policies, and procedures.

Easy content creation and management - no coding skills needed

Use our "what you see is what you get" page editor to quickly and easily update your site whenever you want - no coding knowledge required. Adding content and make adjustments is as simple as writing an e-mail or blog post. When it comes to managing your MangoApps, we put you in the driver's seat and the flow of traffic in your hands. Take control of your intranet with ease.

Users can follow unlimited departmental pages

Always be in the know by following updates from any department's page. Want to know what's going on in sales? How about marketing plans? Or HR's discussion of adding a new floating holiday next year? Answers are just a click away with MangoApps.
Agile Project Management and Execution
Get work done
Unlimited Projects - Create and manage as many projects as you need. Generate templates to save time on similar or recurring projects. Learn more about Projects
Invite unlimited external guest users into a project

MangoApps eliminates collaboration barriers. Invite an unlimited amount of guest users into any project at no additional charge. Partners, suppliers, contractors, customers, or any other external parties with whom you want to securely communicate and collaborate with can join your network for free.

Public, private, and secret projects

Choose your project's privacy and control who internally or externally has access to the content. Determine individual permissions for editing wikis, uploading, downloading and the seeing of files, updating messages, events, and project IM chats.

Customize projects from simple to full featured

Simply choose from up to 18 advanced functionality modules to create the perfect workspace for your next project. Eliminate clutter or confusion by adding only the features you need. Add more modules as the scope of a project grows. Make your project as simple or complex as you desire.

Tasks, posts, milestones, polls, links library, chat history, video conferencing, KPIs, leaderboards

MangoApps is the only social software that gives you all of the tools you'll need to get work done. Full task management, IM Chat, KPI, and a whole lot more.
Unlimited Groups
Informal team collaboration and sharing
Gather in virtual groups for any purpose, whether by interest, department, location, or just an ad hoc group for an immediate need. Set the privacy to Public, Private, or Secret to control who can see and join the group. Learn more about Groups
The Process of Innovation
Where is your next billion dollar idea?
MangoApps aims to eliminate limitations on innovation. We are not one to tell you how innovative you can be. So create and manage as many ideas as you need to without software barriers or limitations. Learn more about Ideas
Post Ideas from Anywhere

Web, Desktop, or Mobile - the best ideas often come when you least expect them. Never lose an idea again to the morning commute, the shower, or foggy morning brain – submit your ideas from anywhere in the world.

Idea Tagging & Searching

Use Tagging options to make your ideas searchable, easy to find, and apparent to your colleagues. Searches will look at the tags, the title, the description, and even your attachments for keywords. We make it easy to organize and search for your next big idea.

Convert Ideas to Projects for Implementation

You can convert any idea into a task within an existing project, or create a whole new project for your great idea. Depending on the scope of the work, choose the conversion that fits.

Rank Ideas by Colleague Likes/Dislikes

Sort your ideas by most discussed, most liked, which are patentable and more. Quickly find the next great idea based on your criteria.
Task Management
Keep your whole team on task
Create, assign and manage as many tasks as you need without limits. You can assign tasks to yourself, to others or to a Milestone. Full task workflow from start, review, delivery and completion. Learn more about Tasks
Drag & Drop interface to easily manage tasks

Single bucket of tasks, or a 3 bucket view to drag and drop based on priority or general organization. Your tasks, your view. Time to get work done.

Gantt Chart View of Tasks

Quickly see the schedule of tasks assigned in your project. Plan additional tasks or re-assign tasks to get your project done sooner, without waiting for dependencies.

Task Pool for unassigned tasks

Want to create a few tasks, but not sure who is going to work on them yet? No problem. Just assign a task to a milestone or a project, and when team members have free time, they can view the task pool and self-assign tasks. Efficient and Fast!

Easily Follow Status of Tasks throughout their life cycle

Unassigned, started, finished, delivered, approved/rejected, finally completed. There are options to bypass a few of these steps to make the process simple for your own tasks.
Cloud File Sharing
A document repository that you will actually use
We make it super easy for you to organize your files. Share in a group or project, and we automatically file it for you to quickly find later. Upload your updated document; we'll take care of the version history for you. And we'll sync your files automatically to your PC or Mac automatically. What else could you need? Learn more about Documents
Simultaneous search across all supported repositories


No need to remember where you uploaded that document you are looking for. MangoApps will simultaneously search all supported file repositories and display the results for you. Simply choose the file and attach to your update.

Detailed access history of file downloads and views


Know who has viewed and/or downloaded your document. Even check which version they viewed to make sure everyone is up to date on the latest document version. All access history is time and date stamped, so you know exactly when colleagues or external partners accessed files.

Files & folders view on web and mobile apps


Easily access and view your files from anywhere. Rest assured everything is synced and up to date across all platforms -- web, desktop, and mobile. Accessing files while mobile has never been easier.

Choose how to share files with external users


Invite a guest user to collaborate on a file with full access, including commenting, tasking, versioning, and more. Or simply send them a link to download and view the file without a sign in requirement.
Full-text Search

Find everything you need from a single search box
Anything that has ever been posted (conversations, updates, wikis, posts, profiles, and more) can be easily searched from a single search box. Results are categorized by module and you can easily limit the scope of your search to get to exactly what you need quickly. Learn more about Full-text Search
Social CRM
Meld MangoApps with your existing CRM solution
It takes a village to close a sale. But how do you get the villagers involved? Nexus helps you bring the best team to every sales opportunity! Stay up to date with all of your Opportunities; see your customers' information, associated files, and team members on the web and iPad devices. Stay in the loop for any opportunity you are following as soon as information or status changes.
Learn more about Opportunities
Event Planning, Coordination, and Execution
Bring your office together
An engaged guest is a happier guest. Empower attendees to contribute to your company events. Collaborate with attendees before the event to encourage guests to participate in the discussion.
Learn more about Events
Microsoft Connectors
Stay connected where you work today
Find, open, co-author, and save files without ever leaving Word, Excel or PowerPoint. View updates and comments on your files from your MangoApps sidebar right inside Outlook. Easily drag and drop files to attach to a new email. Collaboration at its best!
TinyTake by MangoApps
Quickly and easily grab a screen capture, add a comment, and an arrow or a box to share important details and information with colleagues or customers. Upload it to MangoApps with one click. You can also copy the image to your dashboard, email it, save it locally, and print it. Drag and drop any image file from your desktop into a TinyTake window to upload it and make it share-able in one step. All files you upload to MangoApps are available from the files and folders list, and you can grab a public sharable link anytime.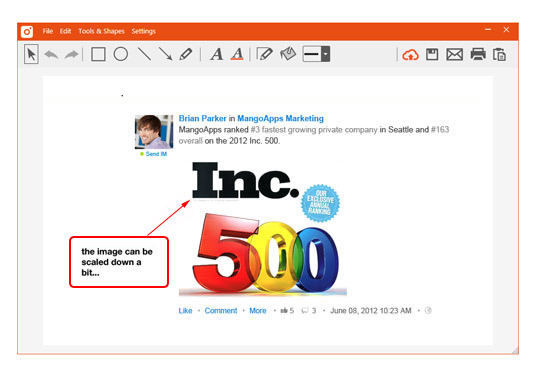 Wikis
Dynamic discussion pages
Add wikis to any project or group to collaborate online from anywhere in the world, with a simple what-you-see-is-what-you-get style editor. Organize, pin, and see real-time edit updates. Full revision control lets you see the changes and roll back to a previous version if you need to. Convert any Wiki to a PDF for sharing finished or stable documents.
Personal Notes
Just as easy as a notepad, but easier to find
Personal Notes are just as simple to use as a notepad, but password protected and safe. With MangoApps there are unlimited note pages, and no need for legal pads or Post-Its. Personal Notes are searchable and simple to add, change, or delete to keep information relevant.
Praise a good job, it's appreciated
MangoApps comes with a set of social applications, like birthday reminders and employee recognition that help create a sense of community and encourage peer acknowledgment. Share work related pictures and articles, recognize employees for birthdays or accomplishments, and show your support of good ideas and jobs well done with a 'like'.
To-Do-List
To-Do-List – Everything you need to keep on track
Keeping yourself organized has never been easier! Simple, prioritized lists of personal tasks makes it easy to add, read, and complete tasks right from your MangoApps dashboard.