Mango 360Enterprise Overview
Mango 360Enterprise combines Employee Intranet, Collaboration, Messaging & Learning in one seamless system. With an intelligent employee platform at its core, Mango 360Enterprise has everything you need to create a connected, informed & happy workplace.
Stay informed through official company Intranet
Vibrant and interactive single source of information that is accurate, up-to-date.
Connect and collaborate from near and far
MangoApps transcends geographical obstacles by allowing you to connect via mobile, web, and desktop clients.
Collaborate on projects with co-workers and partners
Full featured workspaces to discuss, communicate, share, plan, manage and track progress across multiple projects.
Search the company brain
All conversations, files, and profiles are fully achievable and searchable.
Engage in focused communication
Short status updates provide critical updates in a succinct and digestible communication.
Create accountability and transparency
You'll have better visibility and gain insight on core business activities, challenges and accomplishments.
Securely share and store files of any size
No need to get stuck emailing large files or worrying about where the most recent version of a document is.
Capture and manage ideas
Easily capture, refine and provide feedback to manage the life cycle of new and existing ideas from colleagues.
Get up to speed fast
Easy to read activity feeds give you a manageable at-a-glance way to get informed of all the goings-on relevant to you.
Connect with experts
Have a question and unsure of who to ask? Post up a message and get the answers from your company experts.
One click collaboration
One click launches a one-on-one chat or a group chat session so you can review docs in real-time and edit on-the-fly.
Implement change based on data
Use analytics and detailed reports to improve workflow
Everything in One Place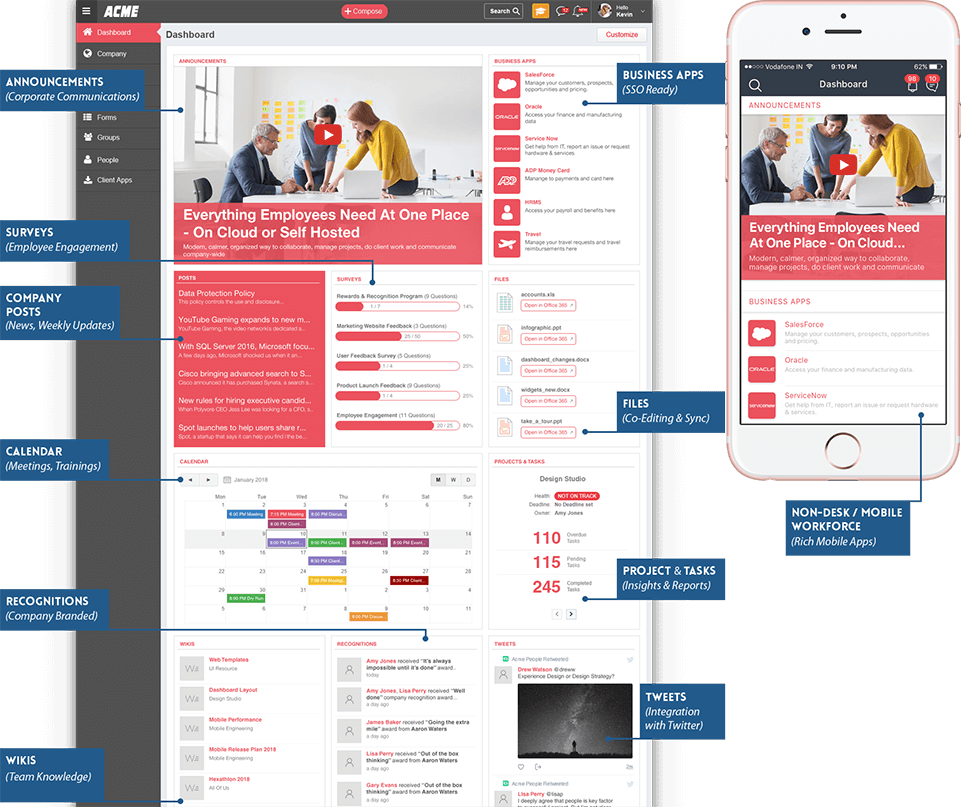 You're in good company
Thousands of companies around the world have made MangoApps the leader in cloud-based intranet, engagement, collaboration and HR software.
Simple Subscription Pricing
Starting at just
$12USD
per user, per month.
We are proud of the product we have developed and are excited to show you around. Please schedule a demo so we can better understand your needs, give you a live product walk-through and an accurate quote. Your contact information is used only for scheduling demo and nothing else.
Benefits of an Integrated Experience
The current set of workplace tools are outdated, restrict information distribution, are frustrating to use and are rarely mobile friendly. When employees take things in their own hands, the situation gets even worse due to issues related to shadow IT, tool sprawl and proliferation of information tools.
Outdated Tools

Frustrating User Experience
No central place to go to find, connect, learn
No mobile access
Company knowledge is all over
Low Employee Engagement & Usage
Promotes non-collaborative, meeting-happy, culture
Leads to waiting-around for email & info hoarding
Many tool related confusion & chaos
Expensive to Buy, Deploy & Maintain
Nightmare to administer & manage
Spotty security & auditability
Hard & expensive to customize
License costs add-up quickly
Mango 360Enterprise

Seamless, Organized Experience
One place to find, connect & learn
Fully accessible from mobile
Company knowledge in one place
High Adoption & Increased Productivity
Promotes collaborative, open culture
Fast & efficient sharing in real-time
Clear tool purpose, little to no training
Inexpensive to Buy, Deploy & Maintain
Easy, point-click, administration
Secure & auditable
Easy extensibility & customization
Save more money by replacing other licenses
In short, businesses are transforming. The modern workplace is dynamic and social. What is required to run the modern workplace is a well-designed, integrated, digital platform. MangoApps is that platform!
FAQs
Where is my data hosted?

We use Amazon AWS for all of our computing needs. Based on your location and regulatory needs, shared cloud customers can pick one of the five AWS data centers during sign-up. For private cloud customers, we can host your data at the AWS data center of your choice.

How often do you make new releases? What if we need a new feature?

We do between 8 to 10 releases a year.

Click here

to see our release track record. If you need something custom added, we are happy to discuss it with you in more detail.

Who are your customers?

Mango 360Enterprise is designed for mid-to-large enterprises. We are fortunate to have customers in a wide range of industries and geographies.

Click here

to see some of our customer case studies.

What's the size of your largest customer?

We serve customers from 50 user start-up to large enterprises. Our largest enterprise customer is 50,000 users.

We have over 100,000 users around the world. Can your system scale?

Absolutely! MangoApps is designed to support the largest enterprise on the planet and can easily scale both horizontally and vertically.

What services do you offer to ensure a successful rollout?

We approach all sales as a partnership. As you begin planning your MangoApps roll-out, your dedicated customer success manager will help you with branding, setup, onboarding, training, support and ongoing care.

Learn more »

Do you offer volume or non-profit discounts?

Yes, we offer both volume and non-profit discounts. Please note that all our enterprise products require 200+ user license and are billed annually. Contact us for more information.
How much storage is included?

There is 15GB of storage per user, and the total amount of storage is aggregated. If you require additional storage, we are happy to add more for a small fee.

Do you charge anything for guest users? Is there any limit?

Guest users are free. However, to prevent abuse of the system, we limit the number of guest users to 10 per network user (e.g. If you have 52 network users, you can invite up to 520 guest users).

Who can see our company information?

Your company's privacy and security is our top priority. We've taken measures to make sure no one outside of your company can access the information you share in your domain. Checkout our

privacy policy

here.

Do you offer a self-hosted version of MangoApps?

Yes, we do. Schedule a call with us so we can provide you with the details.

How long have you been in business? Where are you located?

We started MangoApps in 2008 and have been focused on building workplace software from day one. Our company headquarters are in Issaquah, WA with international offices in Pune and Mumbai.

Click here

to learn more.

Why should we pick MangoApps?

We have been building employee software for 10+ years and are the only company focused on providing complete employee experience. We are obsessed with making sure you get outsized value out of our products. Our customers regularly cite the strength of our product, continual product innovation, commitment to customer success, and super-fast support as some of the reasons they love working with us.

Have more questions?