Executive Management
As executives we know you need to stay up to date with everything that is happening. You want your team to be innovative and get work done. You would like your employees to be faucets for ideas and at the same time show quality in their work, not just punch a time clock. You want to support your culture and unify the vision at all levels.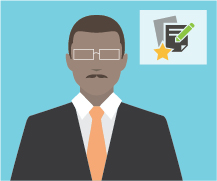 Why Executives Like MangoApps:
Departments become organized, using tools that allow for cross-collaborating and leveraging of each other's work.
Employees have the right tools to get their job done, no matter where or what device they use.
Visibility into exactly what employees are working on, right now, with real-time micro status updates.
Employees stop resorting to using insecure, consumer-grade tools to store proprietary information.
Projects are well managed, on schedule and under budget like you want them to be.
Employees are innovative as they have the tools to easily contribute and collaborate on ideas.
Company culture is stronger with a more unified vision at all levels.
With a public social media outlet for employee praise and recognition, morale soars.