Groups
Give your teams a place to discuss. gather feedback, share files
Provide structure to discussions
in your organization
Groups reduce email by providing a structure to discussions and activity happening in your company and are a great way to keep up with teams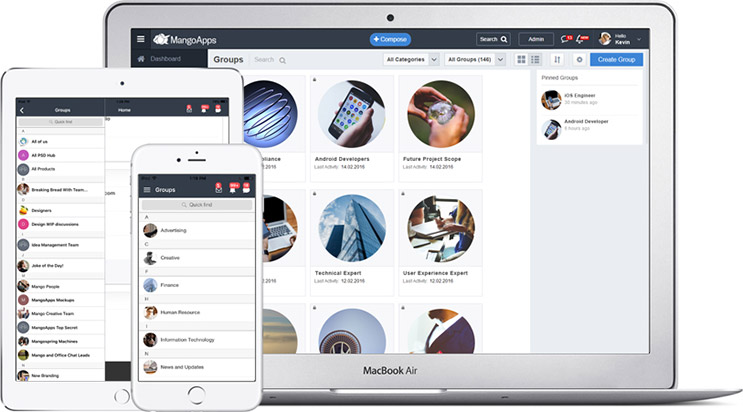 Private, public and secret groups
Based on the purpose of the group decide whether you want to keep it public for everyone in the company to view it's content or only have the content visible to it members. Private groups the content is visible to members (& domain admins) only but they are shown in the group listing so users can send it their join request. Secret groups are not even listed and are known to members only.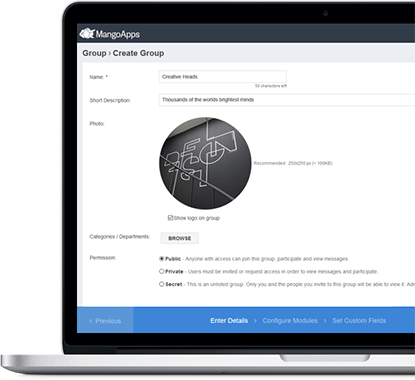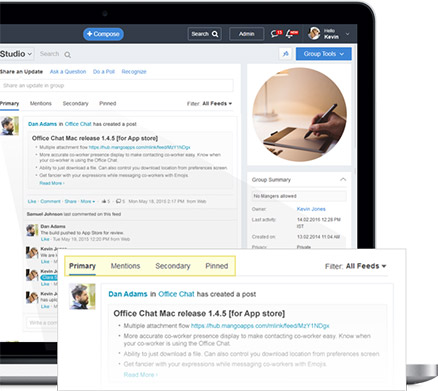 Little more conversation, a lot more action
Share an update, ask a question, do a poll, recognize a team member - all helping to stay up to date on the latest employee discussions and resources
Accelerate discussions & consensus with group chat and huddle
Great for online meetings, getting a question answered quickly, a quick informal status check on an issue and just for getting things done with the team that are time sensitive.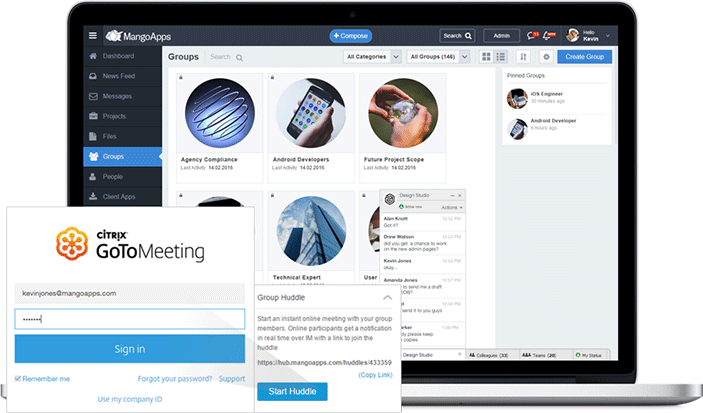 Integrate data from 3rd party
business system
Connect all the tools you use to MangoApps and avoid all that constant switching between apps. Set up your integration so that you get all your notifications directly within MangoApps —from support requests, code check-ins, and error logs to sales leads—all of them searchable in one central location.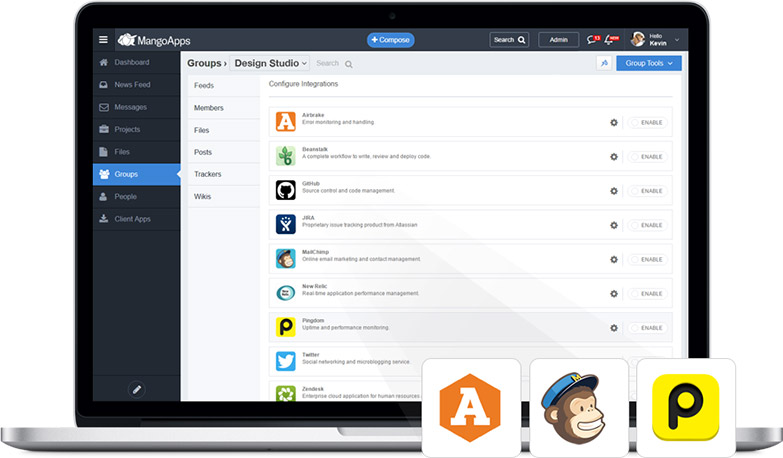 Connect with Active Directory
or LDAP groups
Keep your AD/LDAP groups and group membership in sync with MangoApps. You can also add a filter to get only a subset of AD/LDAP groups into MangoApps. Additionally you can map specific AD/LDAP attributes to MangoApps group custom fields and ensure that you keep the information that matters to your users in sync and visible in MangoApps.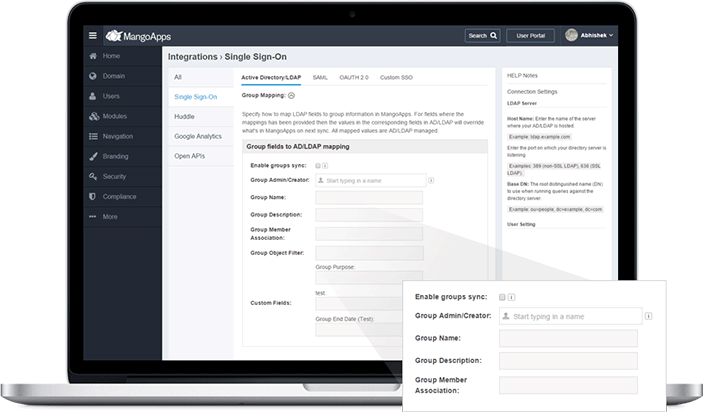 @mention another group or
non-member in a specific discussion to bring in wider perspective and expertise
When you need to involve multiple teams into a discussion and yet want to keep 1 single conversation thread, @mention of the other teams is the way to do it. Examples include collecting feedback from marketing and sales department on the new logo design, or you want to make sure different project teams are in the loop about the upcoming event schedule.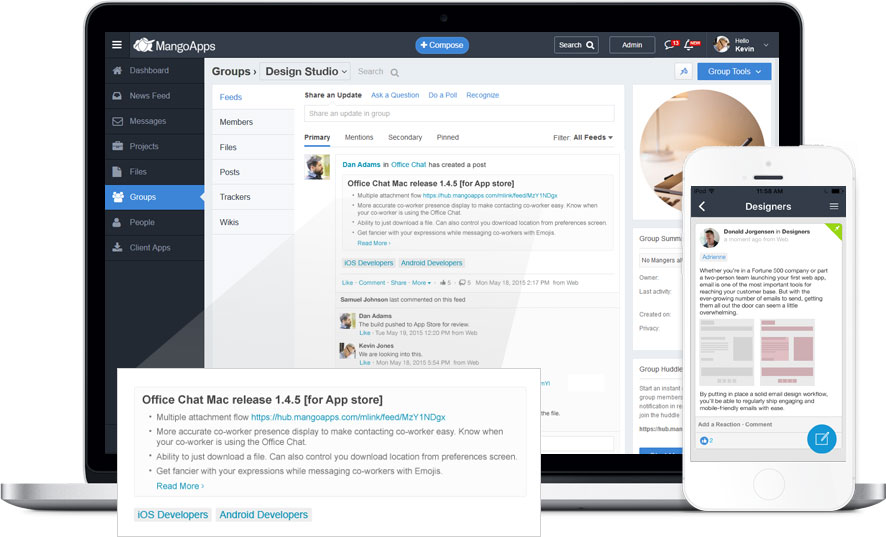 Folders to keep your
group files organized
Employees are more productive in the way they service, market, and innovate because they always have the files and information they need.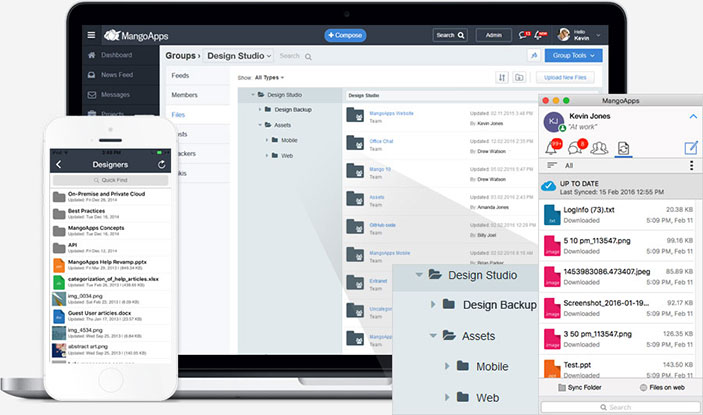 Posts to share important group
notes and announcements
Posts are a great way to share group specific news and announcements. Use must read posts to capture important notes which everyone in the group can benefit from.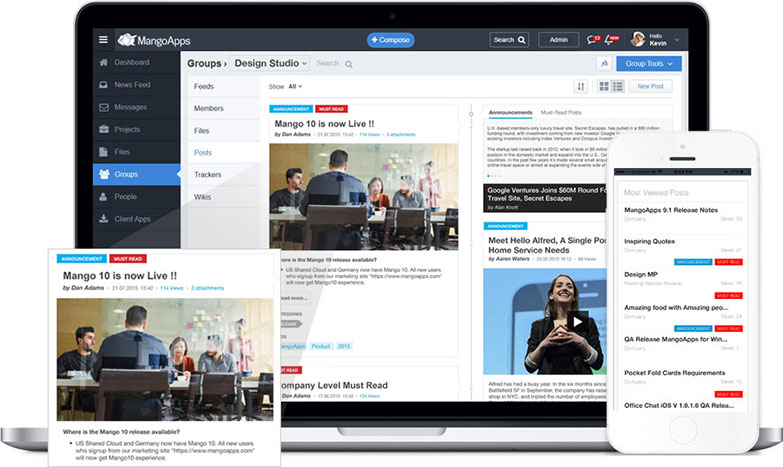 Group calendar to plan events
Group calendar allows you to manage your group events via the single interface. Categorize events for better at-a-glance views and integrate easily with outlook and google calendar.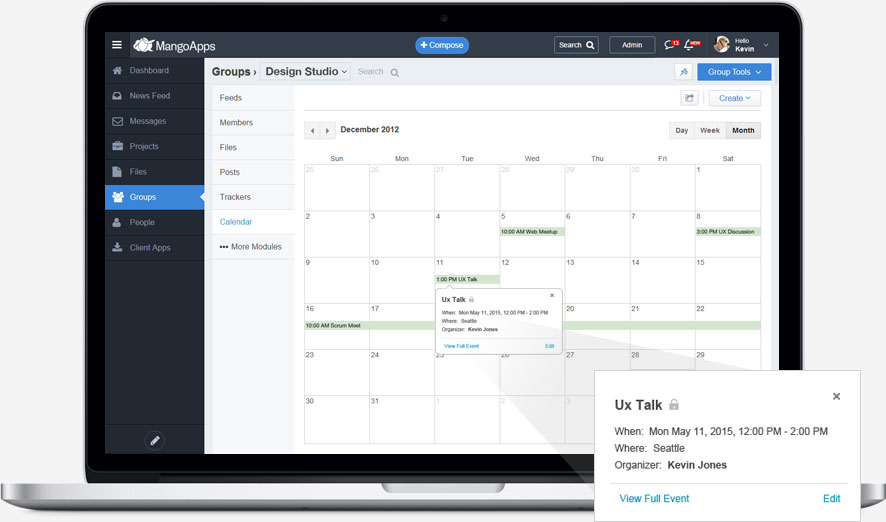 Trackers to coordinate or track list of requests & submissions
From simple task lists to complex processes, trackers drives results for all teams. You can work from any device, anywhere, and create your own custom tracker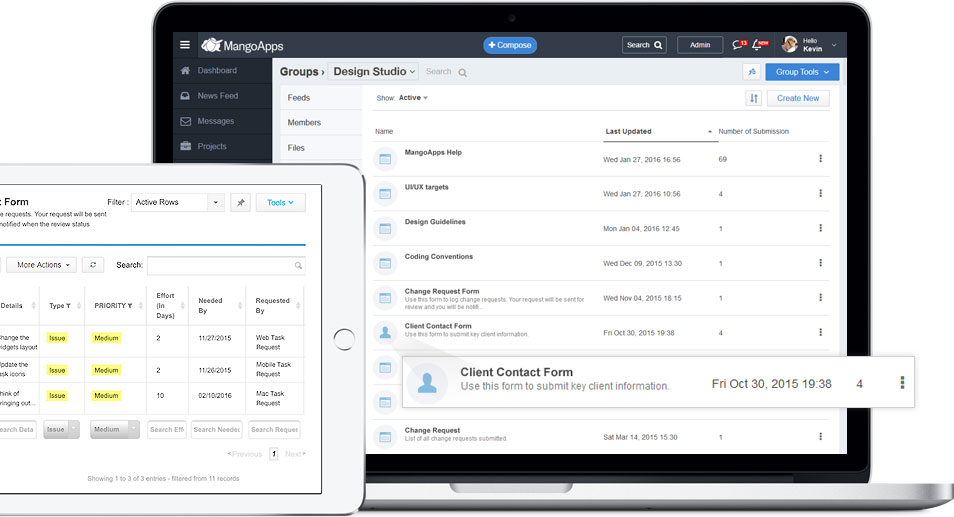 Administration tools for control
and moderation
Group admins can configure certain options of the group that they are the admin of. From group settings, membership management, who can view the content, who can join the group, posting group announcements, sharing must read posts, setting up integrations and more.