Feature Rich, Yet Easy to Use!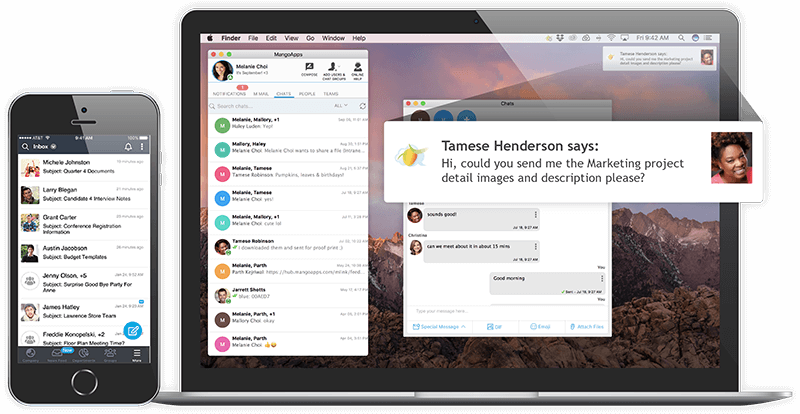 Mango Messenger is the simplest way to communicate with co-workers in real-time. In this digital age, there are a lot of ways to communicate with each other. Email, Phone Call, Meetings, SMS, Facebook among others. However, when it comes to communication with your office colleagues, Mango Messenger is the best. Don't settle for anything less.
Fast & familiar desktop messaging experience
Delivery Confirmation
Know when messages are delivered and seen
Auto-Login
Get automatically logged in when you start your computer
Instant Notifications
Receive new message pop-up even when you are not in the app
Simple Way To Show Availability
Show co-workers what you're up to with custom status messages
Priority IM
Send priority messages that get flagged as important and remain at the top of the recipient's inbox until read
Categorize people & conversations into groups
Create Unlimited Groups
Create groups focused on topic, department, location, expertise
Search Chat History
Easily find old conversations by searching chat history & files
Control Who Can Create Groups
Only want admins to be able to create groups? Not a problem!
Broadcast To Everyone
Easily broadcast message to all employees in the default All Of Us group
Voice, video & screen sharing
Chat to video is one click away
Video conferencing is built right into 1-to-1 chat. Take any discussion from keyboard to camera with just one click
Easiest way to share your work
Lost for words? Let your work do the talking with screen sharing
No installs, no plugins
No need to download anything extra. 1-to-1 voice & video conferencing are built into Mango Messenger. It's simple, quick and made for instant communication
Invite a 3rd user
Invite anyone on your team to join the call with a secure URL
Chat while on the go
Available Everywhere
Mango Messenger iPhone, iPad, Android & Web browser allows you to chat even when you are not in office
Notification On Your Phone
Receive instant notifications of messages on your phone when you are out
Same Features as Desktop
Mango Messenger mobile apps provides the same rich set of features as desktop so you are not limited in anyway when you are mobile
Free Mobile Messaging
There is no additional cost for using Mango Messenger from your mobile phone. So, no more paying per message or per platform. It's all included in your flat-price subscription
Get setup in minutes
Start using it within 5 minutes.
100% cloud based. No server to install & manage. Sign up, download clients and you are ready to go!
No email required for employees
Employees don't have email? No problem! Easily setup employees with common names / user ids
One account for all your office locations
As Mango Messenger is cloud-based, you can add employees from all your office locations to the same Mango Messenger account
Import users in bulk
If you have active directory, easily integrate it using Mango Messenger web interface or use our bulk import feature to bring all your users in at-once
Configure exactly how your company works
Point & click administrator
Easy to use web interface allows administrators to customize almost all aspects of the service. If you can read and click, you can configure and manage Mango Messenger
Data retention & compliance
Using Mango Messenger web interface, you can easily configure messages and file retention policy that suits your business
End to end encryption
All of your data is transmitted over a secure/encrypted channel. Even on disk, data is stored on encrypted disks
Monitor all activity and messages
Administrators can view all messages between all employees, including 1:1 private messages
Enterprise-grade security
Two factor authentication, message retention policy, end-to-end encryption, detailed access & security logs, ISO 27001 compliant data center - all this adds-up to be the best security and control any cloud service can offer!
Numerous other configuration & controls
Mango Messenger provides tons of other controls allowing you to configure it to match your business needs. These configurations and controls have been carefully built over last 5 years and require zero IT knowledge