Create and share web forms on your Intranet
Streamline business tracking within your Intranet with MangoApps forms. By making paper-based forms electronic and accessible via your Intranet you can save valuable employee time, as well as improve the accuracy of information.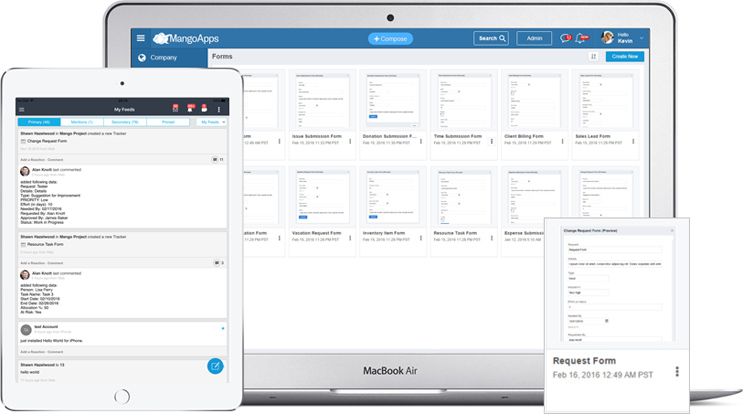 Submit a vacant request, expense reimbursement, change request form and more
Simple 1 page web forms to submit a request of any kind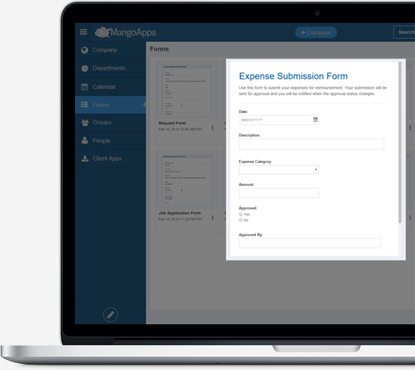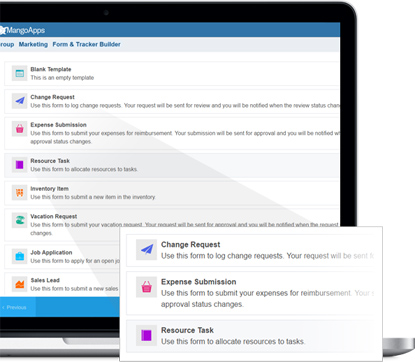 Easy to create and customize starting with web form templates
MangoApps online web forms are easy to create and customize. It's the perfect tool to effortlessly collect any kind of information in your company.
Fully customizable columns
Create trackers with columns varying from rich text, dropdown, date, price, file, look ahead list and more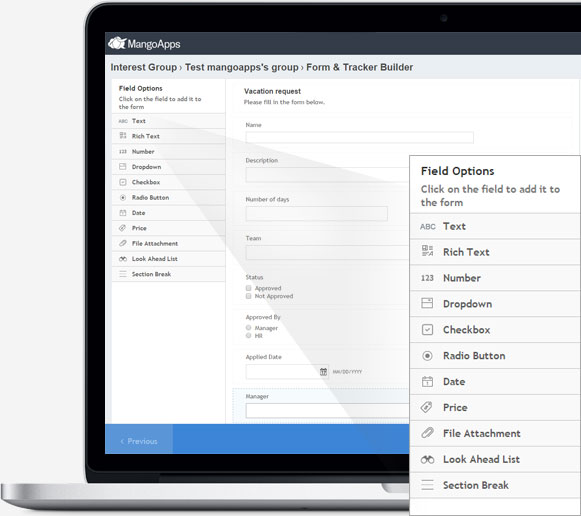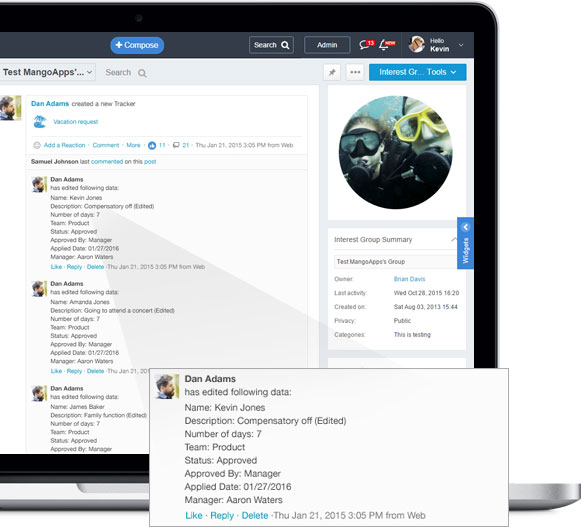 Get automatic updates from your team on any device
Track changes to your tracker with in app-notifications and emails
Building web forms can be hard, MangoApps form designer makes it easy
MangoApps form designer provides the tools for anyone to easily drag and drop an amazing form in just a few short minutes. Whether you're a secretary or the resident IT ninja, it can help you collect data without writing a single line of code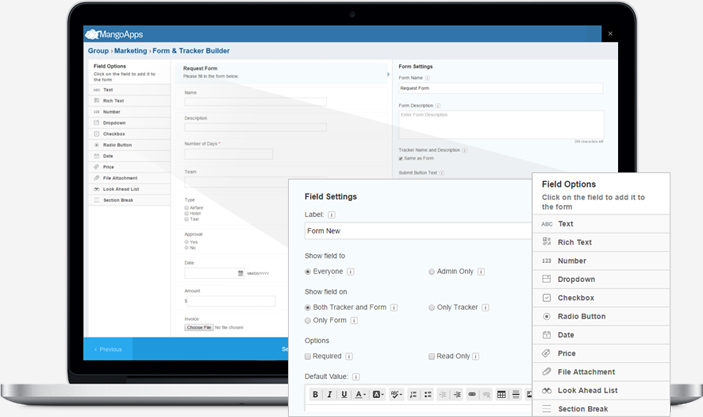 Easy to share via a link or embed code
MangoApps web forms provide a share link or the copy-and-paste code option to help you embed your form internally on your Intranet page, post or share it publicly in a email newsletter or a Facebook page.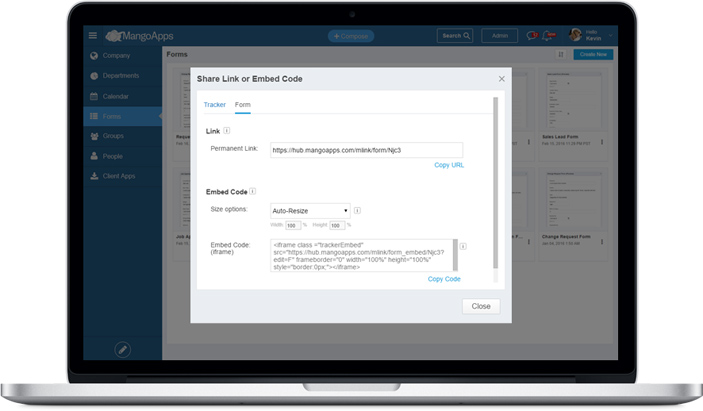 When you design a form you can make any field required, specify a valid range and MangoApps will take care of enforcing these validation on the input data. Plus, we show all the errors in easy to understand prompts to help keep your employees fill in the correct data.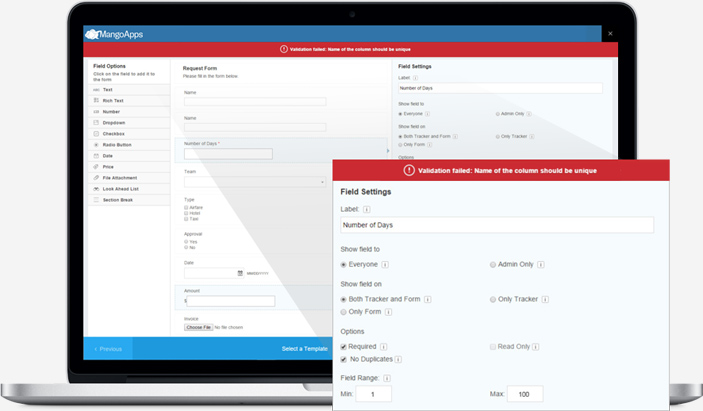 Instant notification in the department or group
Your teams and businesses depend on the ability to react quickly to the requests, approvals and submissions gathered from the form. Because forms are automatically integrated with the powerful trackers in the department or group, that means you can immediately track, take action and manage the data you collect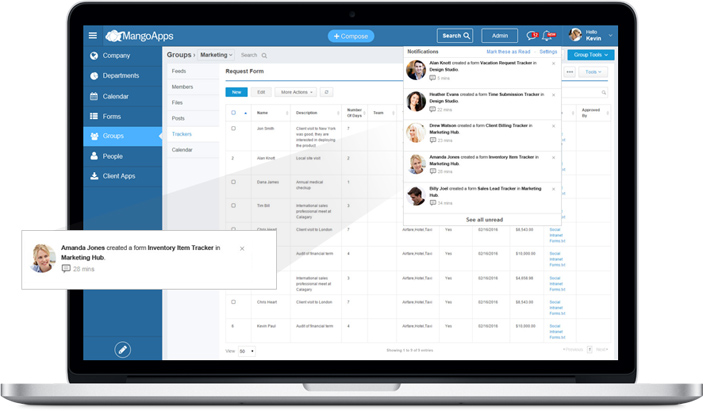 Collect documents and file attachments
With our file upload field, you can have your employees upload documents, photos and other media along with the other data you collect from them via your Intranet web form. This makes it really convenient to ask for screenshot of an expense receipt or accept resumes in PDF or Word on an employment referral form. The possibilities are endless when you can easily accept and store files from your employees.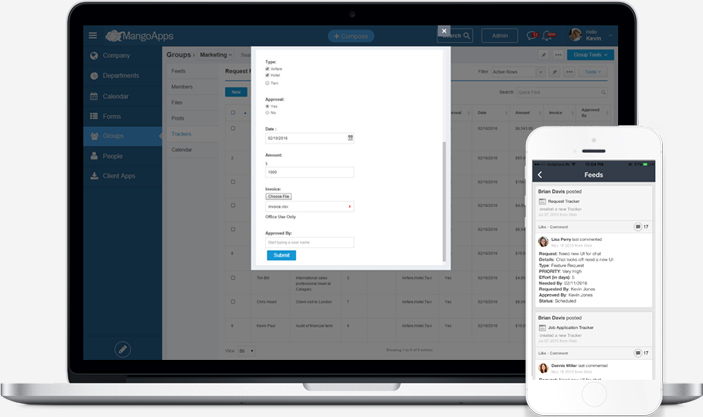 Audit & compliance tracking
of assets
With capabilities like locking rows, archiving rows, export of the full list and the ability to notify all changes made to the tracker, you can now track efficiently countless items, audit lists and compliance checklists in your company.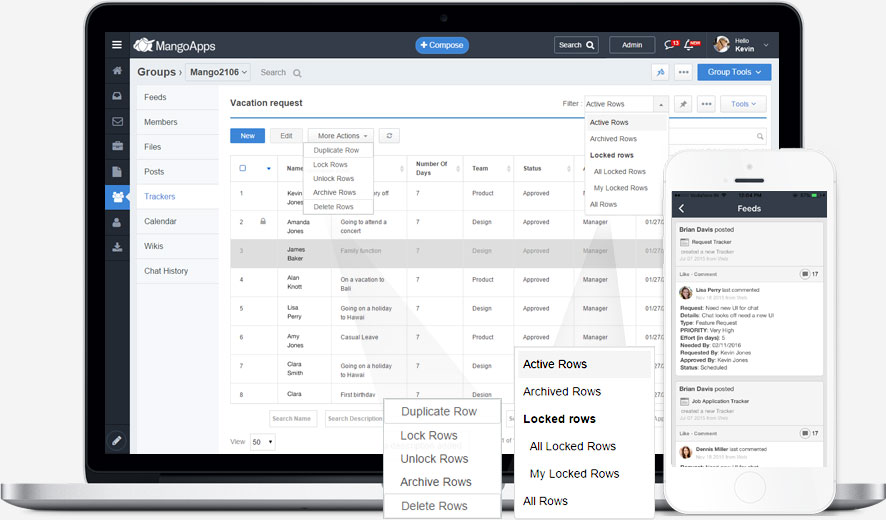 Powerful search to quickly
narrow down matching items
Use the tracker search all of your entries for whatever information you're looking for.