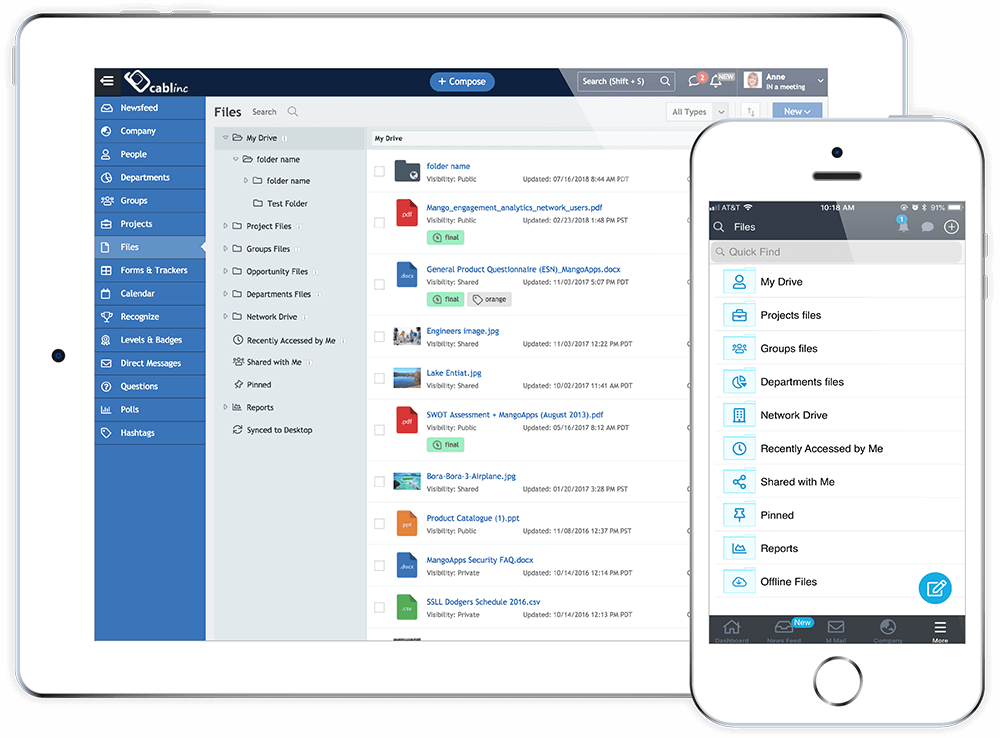 MangoApps offers a powerful online content management solution, built for any size business. With 15GB of storage per user, safely and securely store and organize any kind of document, media or file into folders and sub-folders. Uploading files up to 2GB is quick and easy, allowing users to drag and drop large files into the network drive or into a team folder.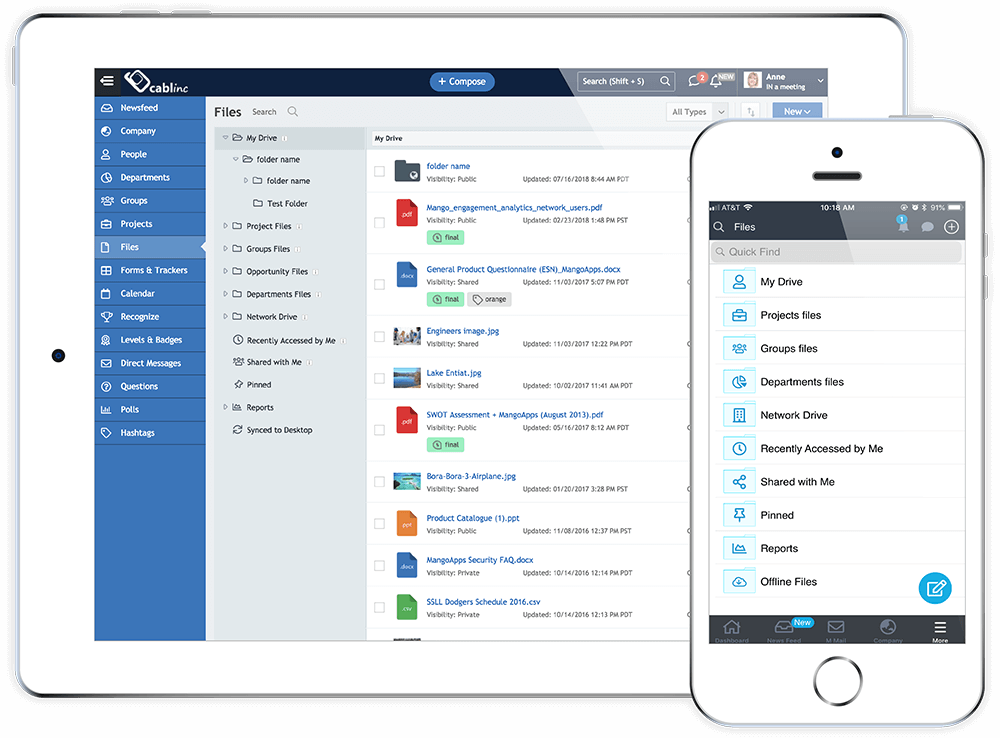 Attach and View Files From Any Device
Uploading files to any page, discussion or post is effortless, and allows users to attach any number of files as needed up to 2GB per file. The built-in file viewer powers viewing of file content on any browser by converting documents into a format that displays beautifully in web or mobile apps.
Users can search deep inside files to find anything they are looking for. Supporting content search within documents, inside zip files, pdfs, html/xml files, rtf, text files, and more. Enhance the search tool by associating custom meta-data with documents, making it easy to search and explore.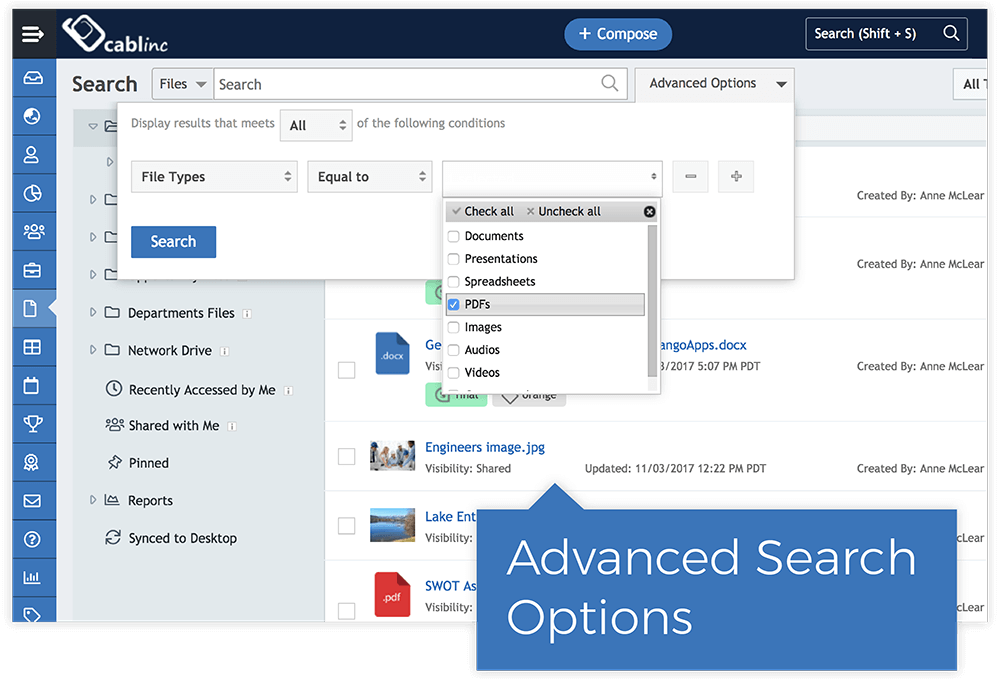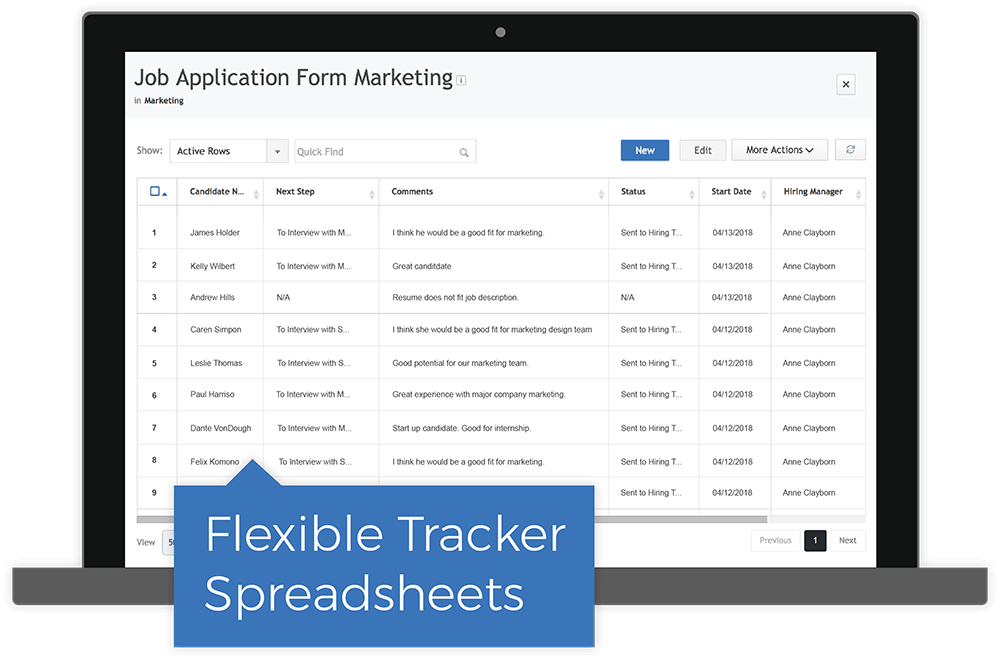 Track Important Data Using Custom Trackers
MangoApps trackers act as a modern database, allowing users or admins to maintain and manage crucial information. Users and admins get access to flexible data tables just like spreadsheets, with powerful database tools allowing users to search, share, modify, import/export, share, or use the data in a number of ways.
Use Wikis to create & capture knowledge
MangoApps' wikis are great tools to collaborate online and capture knowledge, create, share and discuss your documents, ideas, minutes, milestones and projects. Capture the tacit knowledge of your co-workers, often trapped in email, in wikis – where it's never lost.
MangoApps takes all the necessary precautions to ensure confidential information and files stay safe. Files are kept secure by including safeguards such as file transfer over HTTPS from any device, 256-bit encryption at rest, HIPAA compliance and certification for EU, and Swiss safe harbor frameworks as provided by AWS.
Full Administrator Control
MangoApps is truly built for Enterprises, giving all the necessary tools and power to the admins to set up and personalize the portal to the needs of the business and the company culture. Admins decide how to setup the portal, select necessary modules, organize primary navigation, lock in the templated design and features, and determine the level of personalization and permissions given to their users.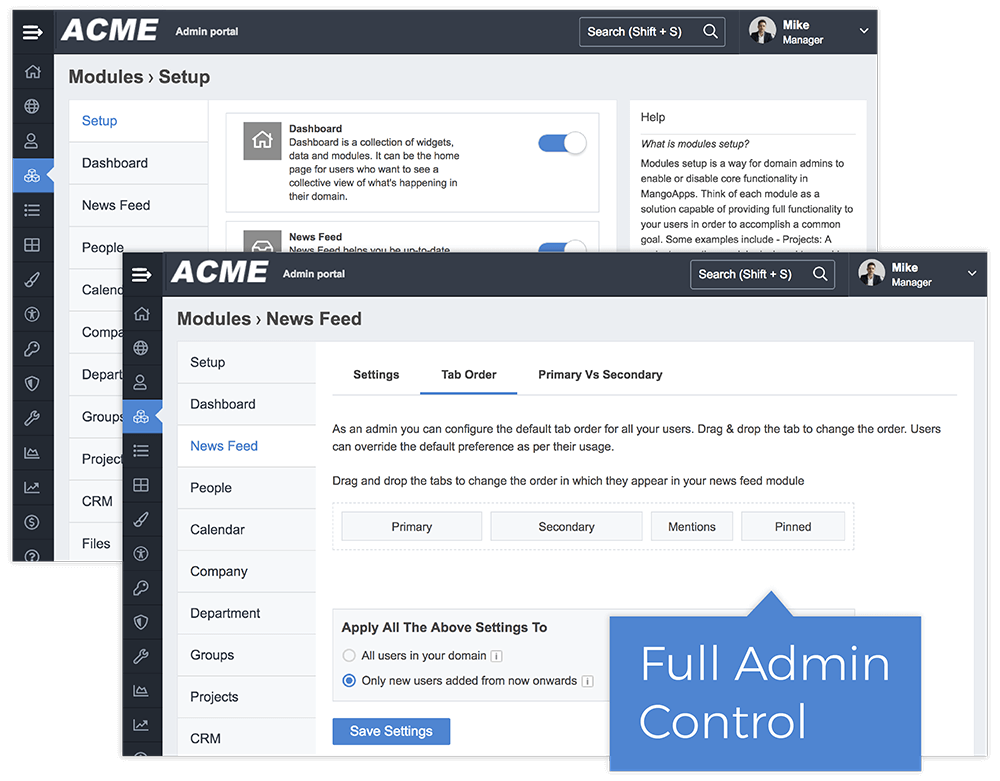 Here's what our customers are saying about us
We're using the filing capability in a really strong way… it's allowed us to put all of our stuff online in a really easy manner...I would say that [Mango Cloud CMS] exceeded our expectations in how much it would help up with document management, document sharing, and documentation.

Tom Perrine

TeamHealth CIO

I can get to my files whenever and wherever I am, that flexibility is fantastic. The ability to access those files remotely is huge.

Antony Moore

Tatts Group Head of Retail for Lotteries

You can not only store information in one place but you can easily index it and search for it when you need to… now [content] is literally just three keystrokes and enter away.

Vojta Borovian

Kelly-Moore Paints IT Director of Infrastructure & Services

Before [Mango Cloud CRM], everyone was creating different documents on their own hardware but they never really shared it with other people. Now we're starting to see sharing and collaboration going on and that's fantastic. We're starting to see what the best documents are that we're creating and making sure that once we do something we share it with everyone.

Phil Ward

Huber+ Suhner Data Centers Market Manager

MangoApps is an easy way for us to share our best documents. Where employees can learn from each other, see what we're doing across the firm, and use those examples as inspiration for our clients.

Arshia Sultan

CCS Director of Knowledge & Learning
See how MangoApps works. Get a personalized demo.
Schedule an introductory call so we can go over your requirements, demonstrate how MangoApps will meet those requirements, discuss pricing and help you decide if MangoApps is right for you.