All the Features you Need
Mango CMS has all the capabilities you'd expect from the world's leading content management platform. A partial list of features is included below. To see all the capabilities, please schedule a demo.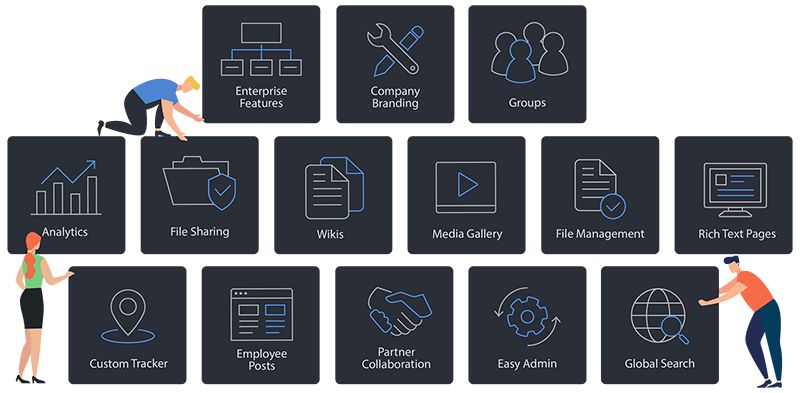 FEATURES

File sharing
File management
File sync
Wikis
Rich text pages
Employee posts
Custom trackers
Global search
Partner collaboration
Media gallery
Groups
More File Features
Company Branding
Easy Administration
Enterprise Features
More...
FEATURES
File Sharing
MangoApps File Sharing simplifies and streamlines team communication. Employees can share and edit files together, providing access to important information and encouraging team collaboration.
Share files with employees in any team, with instant file sharing available anywhere in MangoApps
Collaborate effectively on a post by sharing feedback, adding reactions, offering ideas and providing edits
Upload files into MangoApps with an external email address, easily sharing any kind of information
Ensure only safe and secure files are uploaded with automatic virus and malicious threat scanning
View feature details >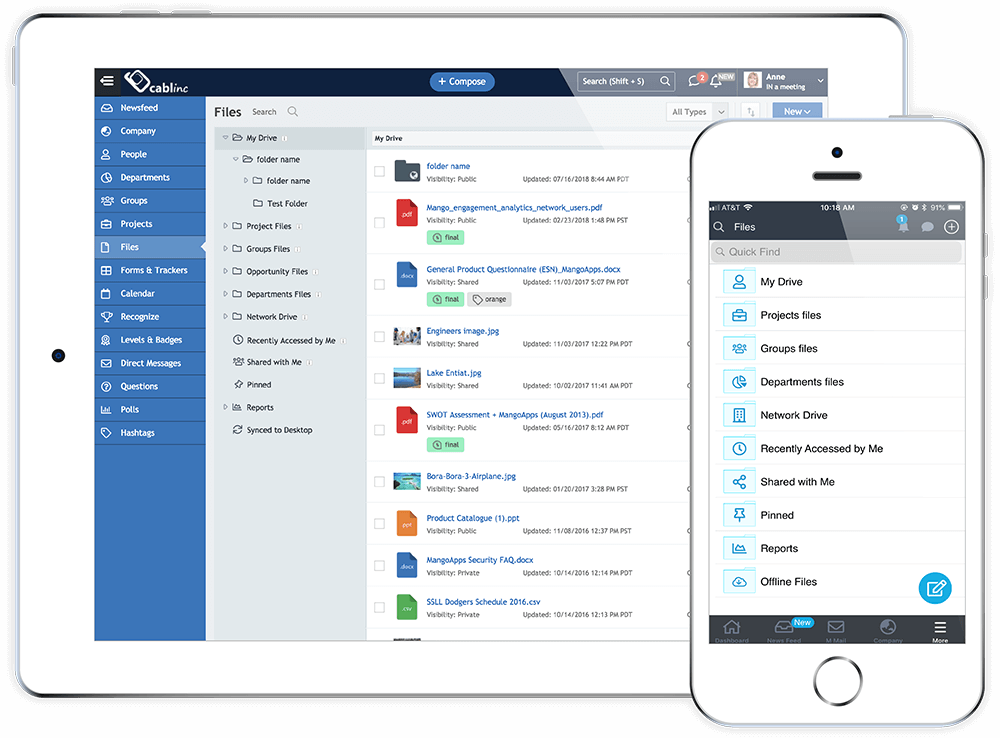 File and Folder Management
MangoApps File and Folder Management provides complete cloud-based document organization, sharing, and storage solutions for businesses of any size. We keep content safe, organized, and easy to find.
Keep documents and media easily organized with 15GB of storage per user designed for any kind of content
Find information from anywhere with deep content searches for files, documents, images, pdfs and more
Check-in and check-out files for editing, ensuring updates never overlap and are always up-to-date
Integrate with Office 365, making it easy to view, create, and co-edit Office documents in MangoApps
Set file permissions and track file downloads, uploads, and comments, with full visibility file reports
Ensure file safety with 256-bit encryption at rest, HIPPA compliance, and other surefire security measures
View feature details >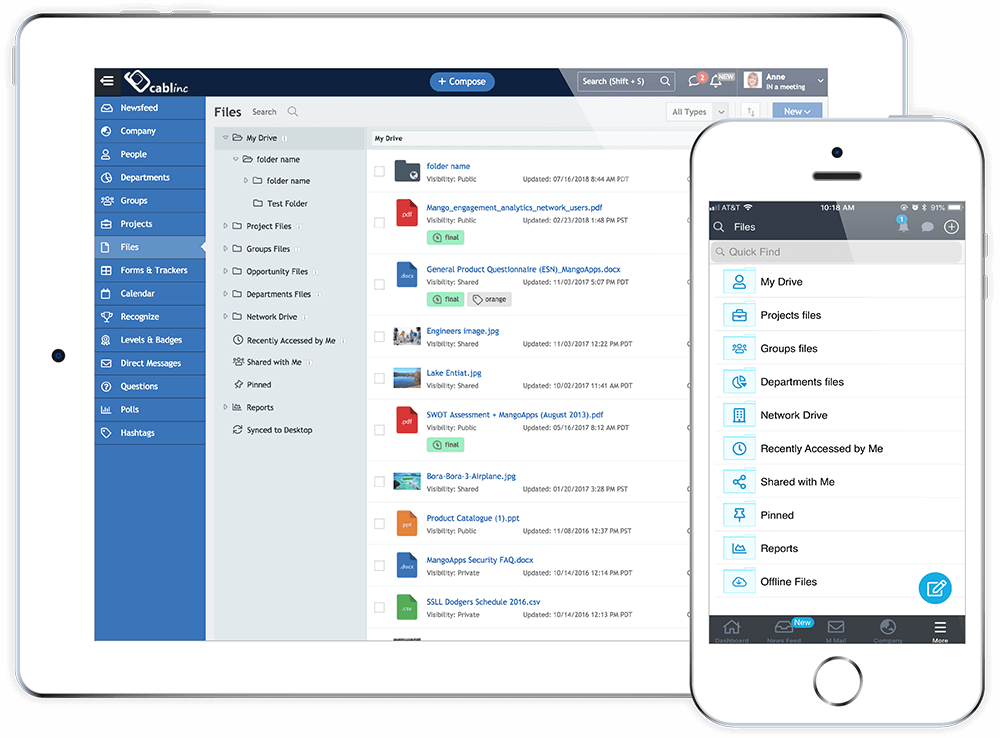 File Synchronization
MangoApps File Synchronization keeps documents organized and up-to-date. With synchronized files, employees always have access to the most relevant content and the most recent version of a document.
Automatically and securely synchronize all work files between employee desktops and online folders
Provide offline access to all company content with automatic syncing whenever a device is online
Help users work effectively while on the go with file synchronization in the MangoApps mobile app
Never worry about uploading a large file again with file synching capabilities of up to 10GB in size
View feature details >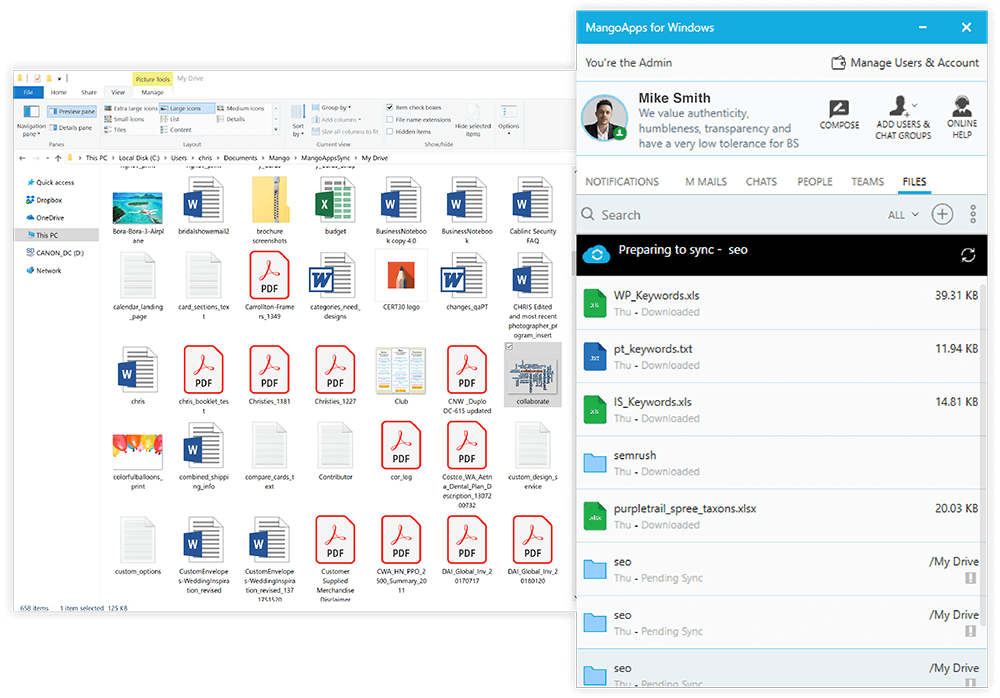 Wikis
MangoApps Wikis are built for storing, recording, and updating team information. Wikis help teams manage ongoing or flexible information, ensuring everyone stays informed and details are always up-to-date.
Store content that is often edited or regularly changing in a centralized, easy to access space
Collaborate together and create comprehensive content with multiple wiki authors and contributors
Set wikis as public or private, designating which employees are able to view or edit the information
Easily transfer wikis from one team to another as groups reorganize or project priorities change
Add a table of contents and link to different subpages, keeping wikis organized and easy to navigate
Export wikis as PDF files, helping users print information or share details with relevant outside sources
View feature details >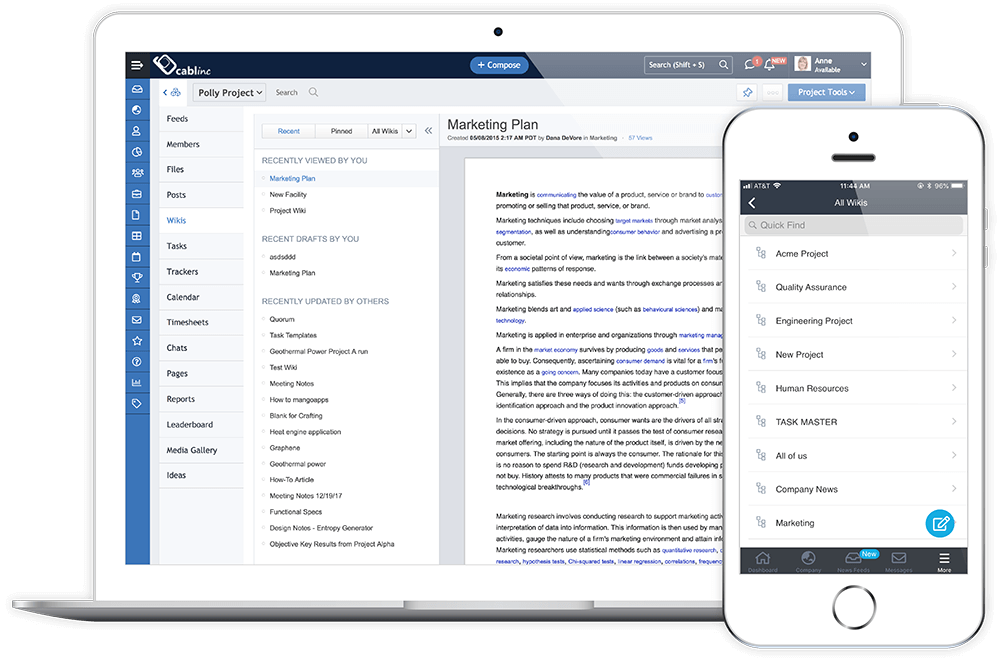 Rich Text Pages
MangoApps Rich Text Pages are designed to house media of every kind and are the perfect place to store important content or regularly referenced information for projects, groups, departments, or any other type of team.
Add reference guides, built an FAQ, provide resources, or store any other kind of content your team needs
Use out-of-the-box layouts and themes to display static or unchanging content in a visually engaging way
Utilize a wide variety of widgets to build dynamic pages with changing or regularly updated information
Expand your global communication and collaboration abilities with multilingual static or dynamic pages
View feature details >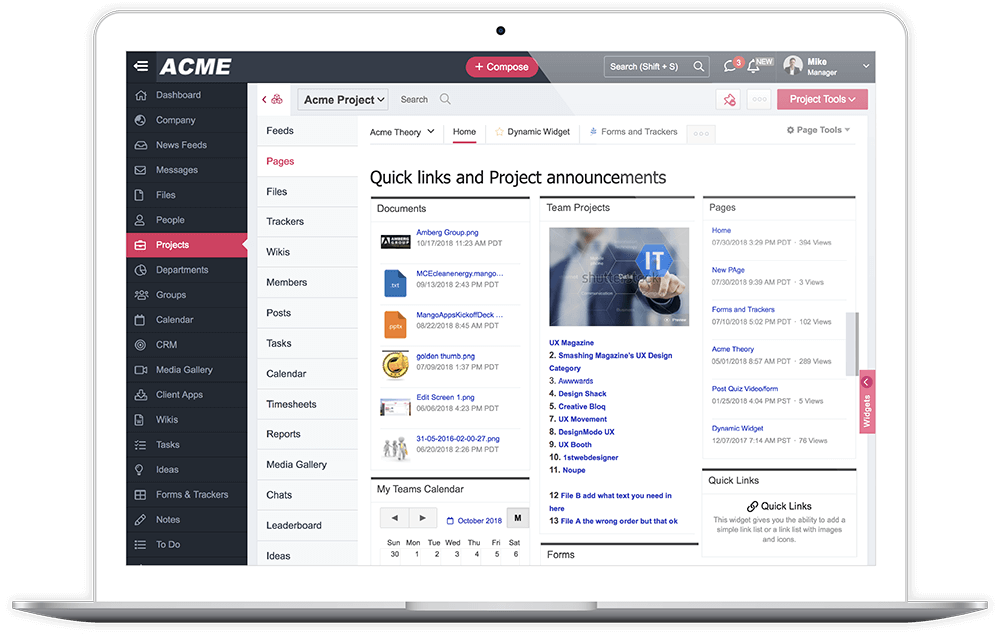 Employee Posts
MangoApps Employee Posts allow employees to quickly create visually engaging and detailed content for any team. Posts can incorporate text, videos, images, or audio, making them the perfect tool for team communication.
Create stunning content with more than a dozen ready to use templates, designed for media of every kind
Enjoy simple and intuitive content creation at any experience level with our easy to use Word-like-editor
Customize a post's individual settings to include categories, add hashtags, share with teams, and more
Receive important post feedback through comments and reactions from coworkers and other employees
View feature details >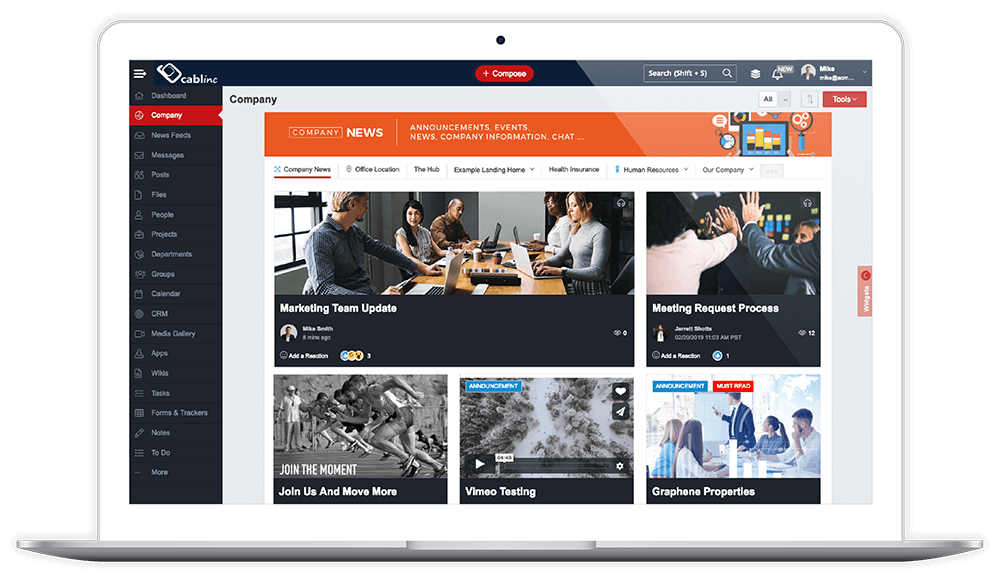 Trackers
MangoApps Trackers safely and securely collect information from forms created in MangoApps. Trackers allow employees to organize and analyze form information, helping them find and make the most of their data.
Safely collect and store data from all of your forms created in MangoApps in one centralized location
Establish a secure, centralized, and modern database for easy data maintenance and management
Utilize powerful search features to find, share, modify, access, or use your data however you need
Quickly export tracker data into a variety of different formats for easy internal or external sharing
View feature details >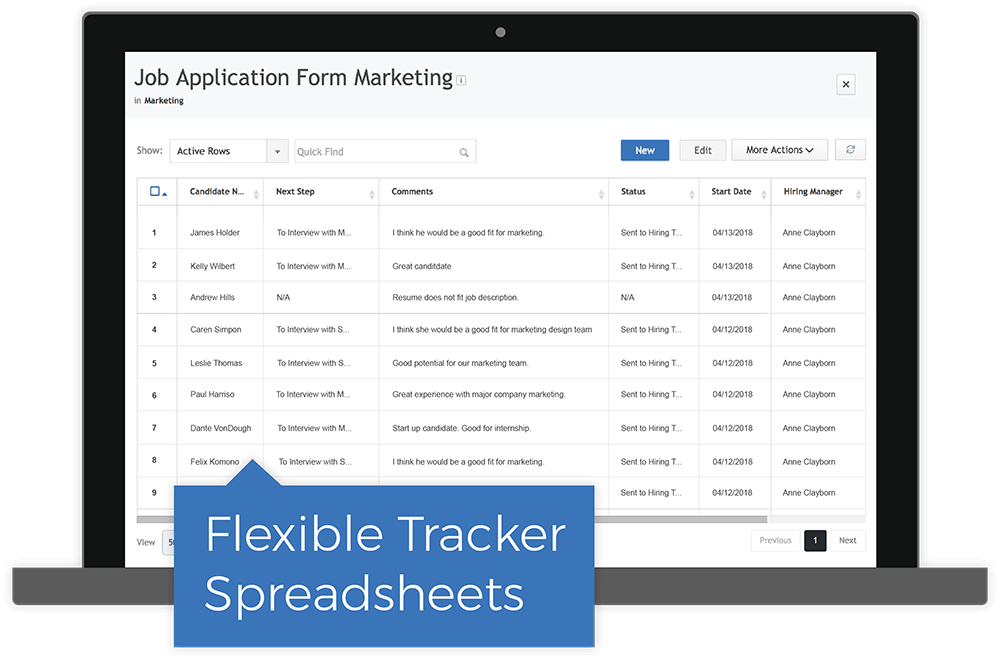 Global Search
MangoApps Global Search enables employees to conduct detailed and comprehensive searches throughout MangoApps. Users are able to easily find important content and locate information right away.
Quickly locate key information and find matching documents with powerful predictive search
Filter inquiries in any way with user, team, date, hashtag, metadata, and other advanced search filters
Conduct recurring searches right away by saving specific search features for easy future use
Find specific words or phrases within documents, files, and more, with deep, in-depth text searches
View feature details >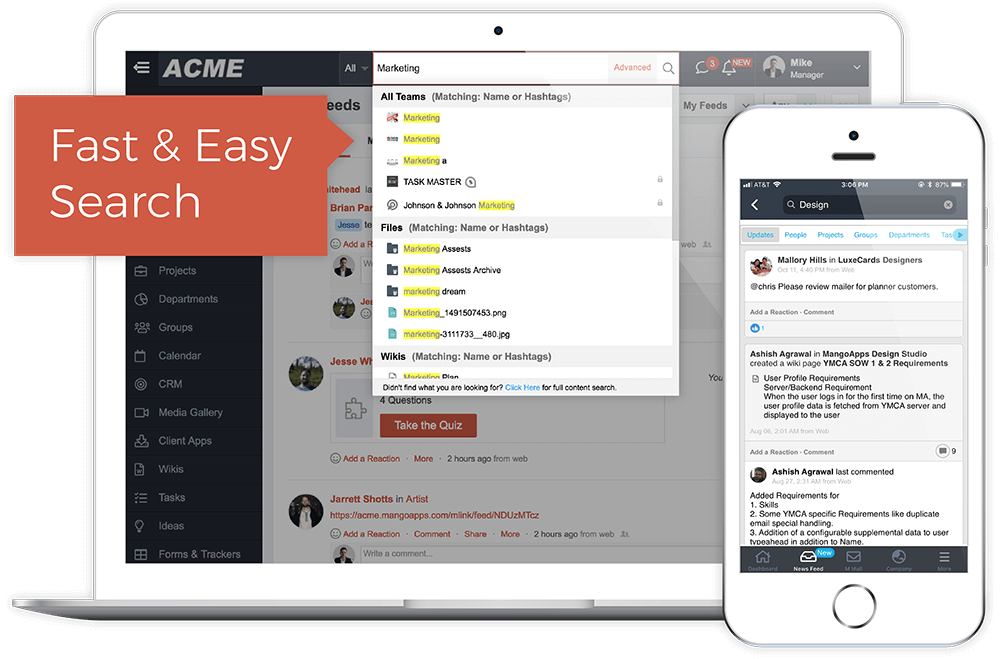 Partner Collaboration
MangoApps Partner Collaborations provide a simple, secure, and effective two-way communication with partners, vendors, customers, and employees. We make it easy to keep in contact with anyone at any time.
Allow important external members to view and participate in groups and projects as enabled guest users
Connect and communicate with your enabled guest users in real-time with MangoApps Instant Messaging
Send and receive secure messages directly in MangoApps from trusted external email and IP addresses
Keep communication and information from partners in one safe, searchable, and centralized location
View feature details >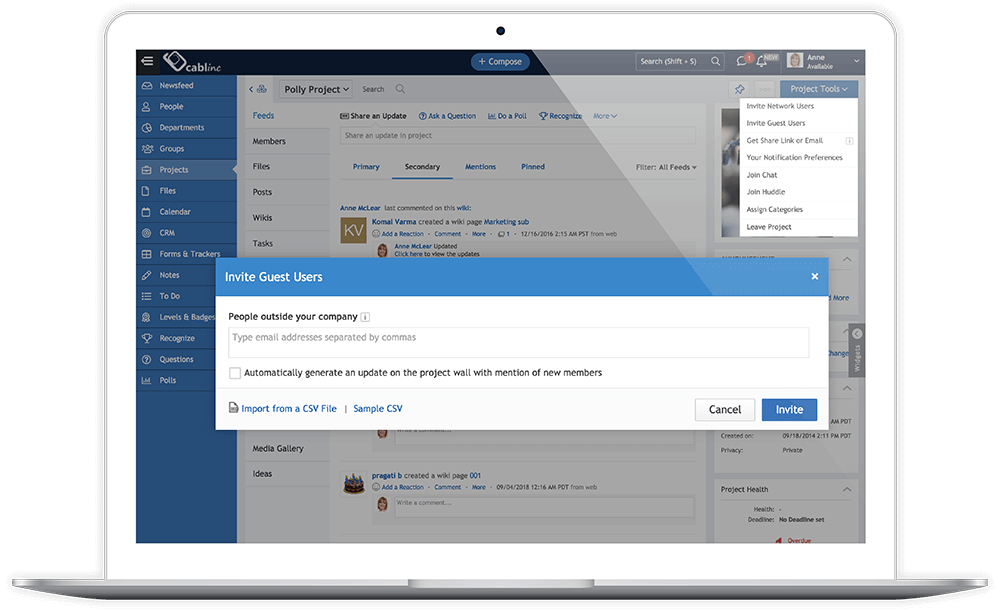 Media Library
The MangoApps Media Library helps companies organize and access media across MangoApps. The media library makes it easy to manage company photos, videos, and audio files, all in one user-friendly area.
Access media files published anywhere in MangoApps from a centralized and searchable location
Effortlessly store media across the organization with automatic updates to your media library
Set specific media file permissions, ensuring employees only have access to relevant information
Organize media files more effectively with hashtags, descriptions, custom metadata, and more
View feature details >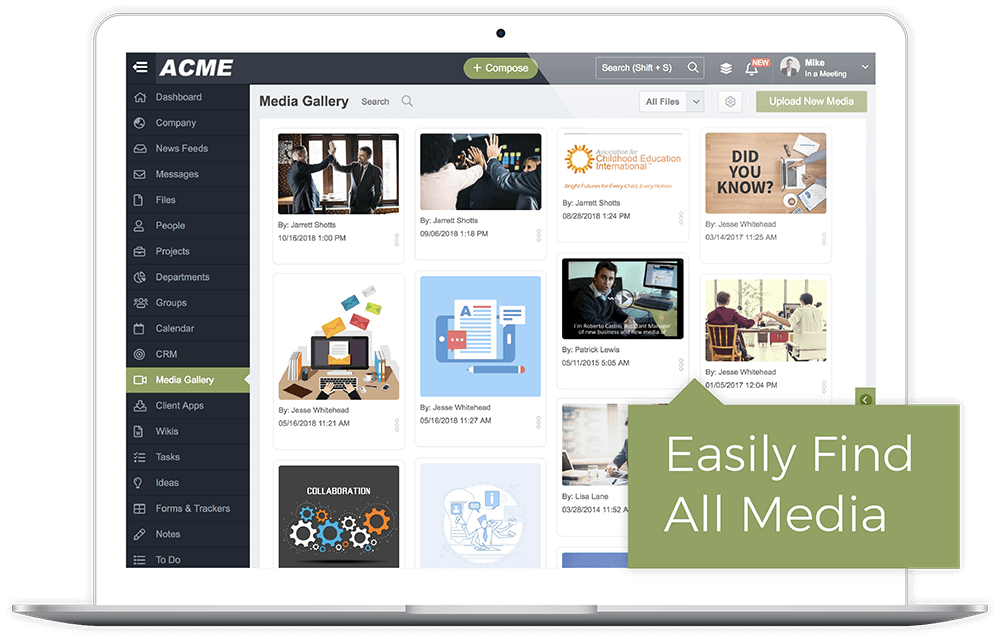 Groups
MangoApps Groups create a specific area for employees with similar locations, work responsibilities, interest, or anything else to effectively work together. Employees can easily share, work, and succeed together.
Give employees a designated space where they can communicate, collaborate, and work effectively
Sync up with Active Directory or LDAP to easily create groups and automatically keep them up-to-date
Share progress reports and updates in a centralized space, avoiding endless emails and extra meetings
Answer questions, make last minute plans, or troubleshoot an important issue with group instant messaging
Include vendors, clients, or any other external guest users into your group to work effectively together
View feature details >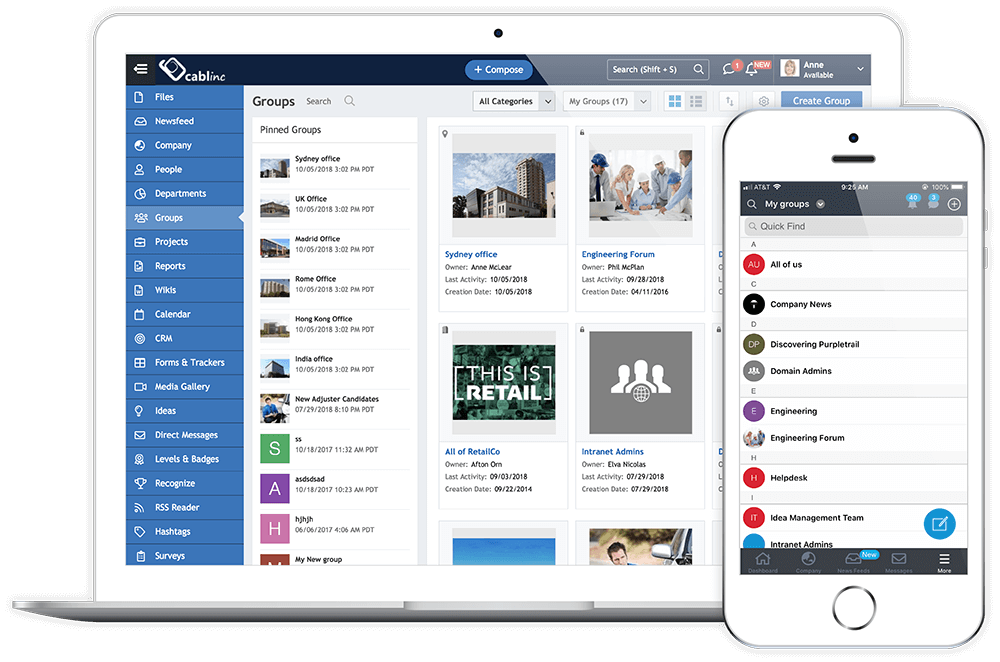 Additional File Management Features
Large File Support - Exchange large files quickly with anyone—even if they're outside of your company. MangoApps supports up to 2GB per file.
Folder Management - Easily create sub-folders, move, rename, add descriptions, tags and custom fields so your files are organized and easy to find.
Deep Document Search - MangoApps supports searching of content inside of documents, pdfs, html/xml files, rtf, text files, zip files and more.
Version Tracking - MangoApps manages the versions of files for you with ability to download or restore an older version when required.
Change Notifications - The hardest part of working on documents with other people is knowing when it's been updated. Change notifications solve that.
Check-in & Checkout - Check-in and check out options streamline file collaboration. This feature ensures no one makes edits to a file while you're working on it.
Approval Workflow - Easily share your work and ask colleagues to proofread or edit a file you're working on with our Document Review feature.
Online Viewer - You don't have to download to view. MangoApps file viewer powers viewing of file content on any browser and mobile device.
Detailed Access Log - You always know when anyone downloads, uploads, adds comments or views a document.
Virus Scanning - As you upload files, MangoApps automtically checks these files for over 1M+ viruses, malwares, trojans & other malicious threats.
Company Branding
MangoApps company branding features let administrators make their network truly their own. Admins can adapt and edit almost everything in MangoApps to create an engaging and interactive extension of their brand.
Incorporate your company's logo, themes, and unique branding into almost every aspect of MangoApps
Design your network with custom CSS capabilities to perfectly match your organization's look and feel
Enable or disable modules in MangoApps at any time, creating the perfect environment for every occasion
Keep terminology consistent by relabeling features to match what's already familiar in your organization
Create customized branding for outgoing emails by altering heading, signatures, colors, fonts, and more
View feature details >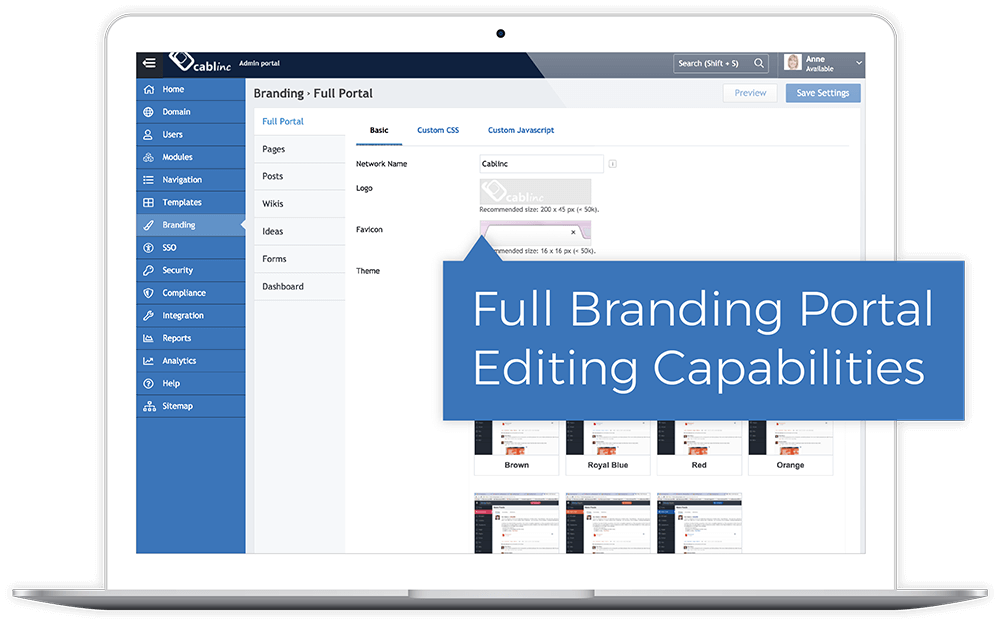 Easy Administration
MangoApps' comprehensive administration features are built to make management easy. We help admins organize and run their networks effectively so all employees can enjoy a safe, collaborative and effective environment.
Establish sharing permissions, set your time zone, and make other global changes across your entire network
Reset passwords, change emails, remove users, and make other changes to manage specific users
Understand every aspect of the employee experience with detailed user engagement reports and analytics
Enable or disable modules in MangoApps at any time, creating the perfect environment for every occasion
View feature details >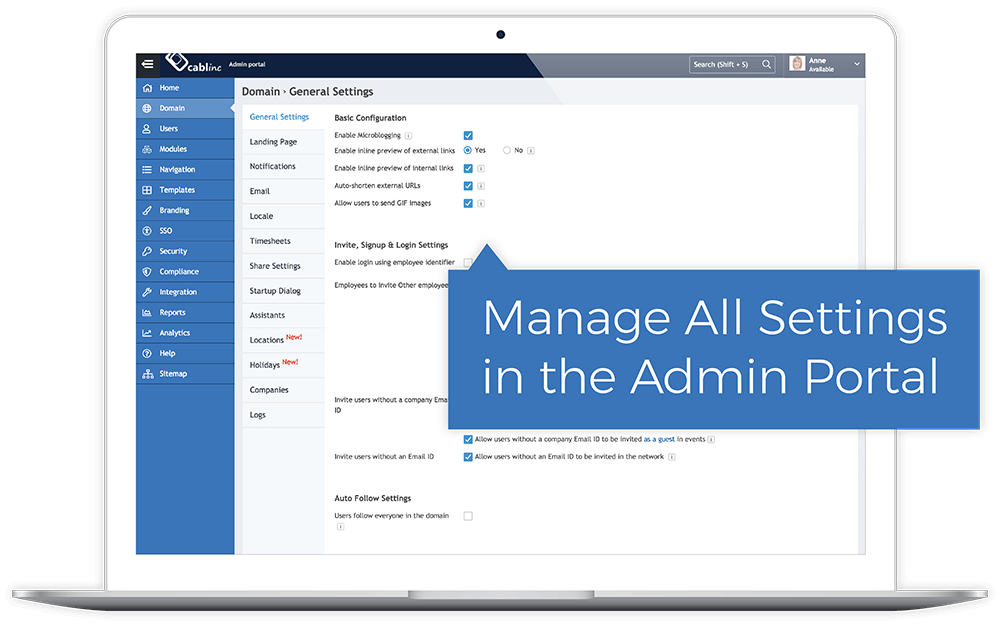 Secure, Extensible, Easy to Deploy and Maintain
As all of our apps are built on the MangoApps employee platform, all apps automatically benefit from 10+ years of carefully crafted capabilities that are part of the platform.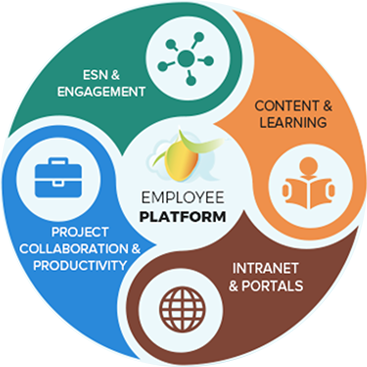 Did we mention there is a lot more?
As MangoApps is a modular and comprehensive employee platform there is lot more in MangoApps. Although you are can browse through complete list of features and functions online, it is likely easier if we can walk you through them.
Simply contact us to schedule a demo we are more then happy to listen to your needs and recommend a solution just for you.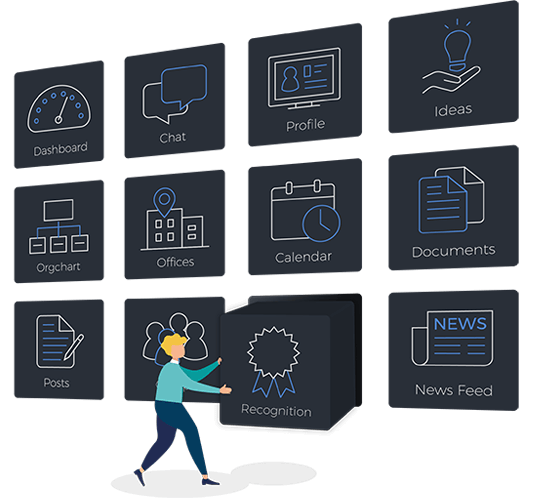 See how MangoApps works. Get a personalized demo.
Schedule an introductory call so we can go over your requirements, demonstrate how MangoApps will meet those requirements, discuss pricing and help you decide if MangoApps is right for you
Thank you for your request. We will review the information you provided and will contact you within 1 business day.